Number of homeless Southern Nevadans highest since 2015
Updated August 27, 2023 - 1:07 pm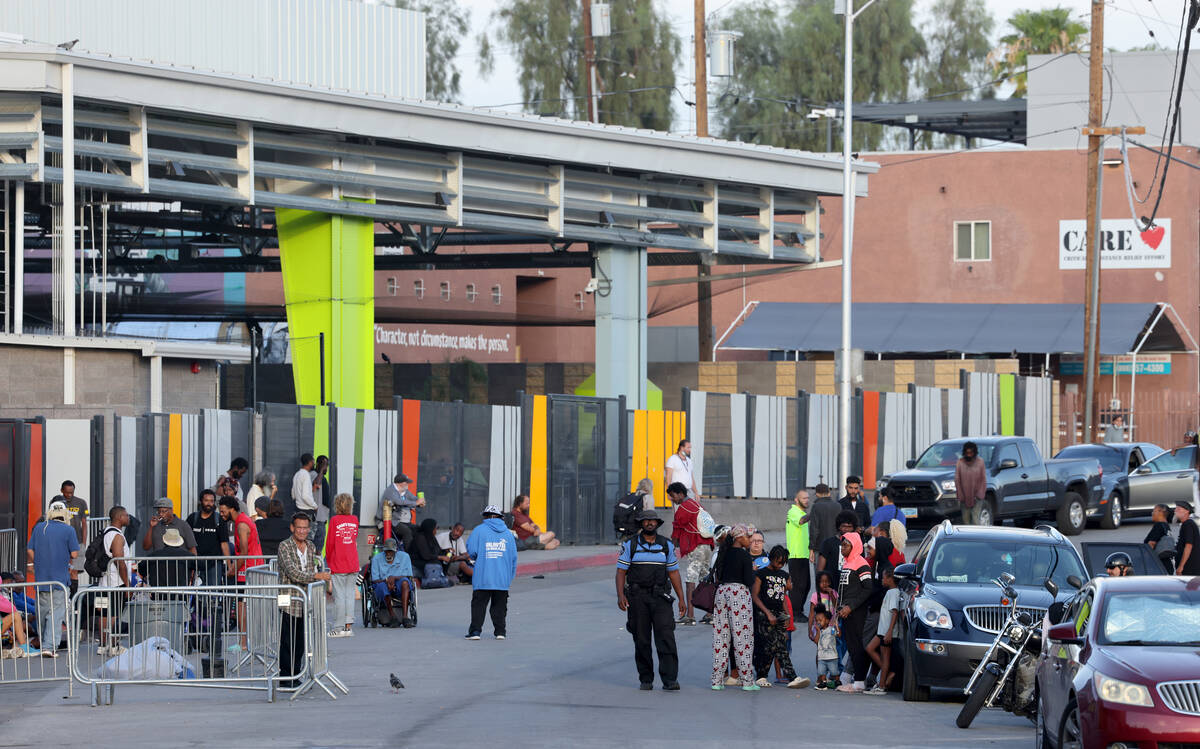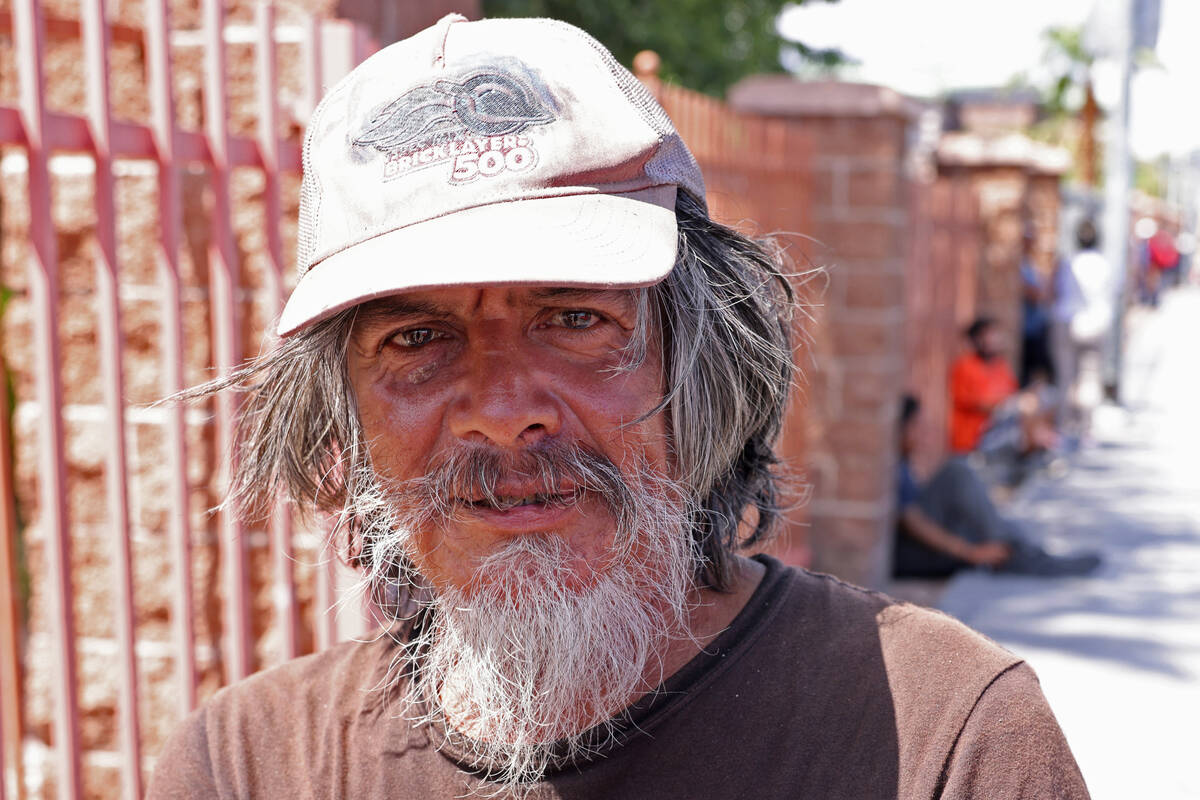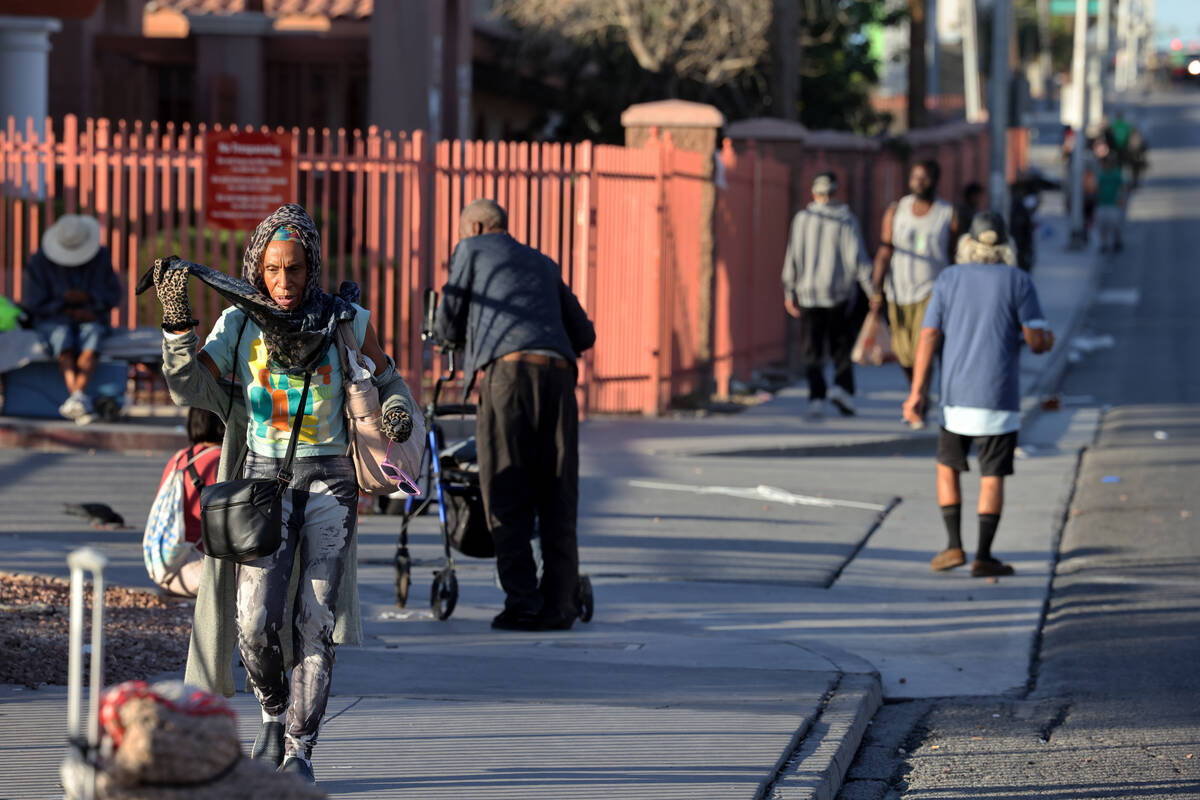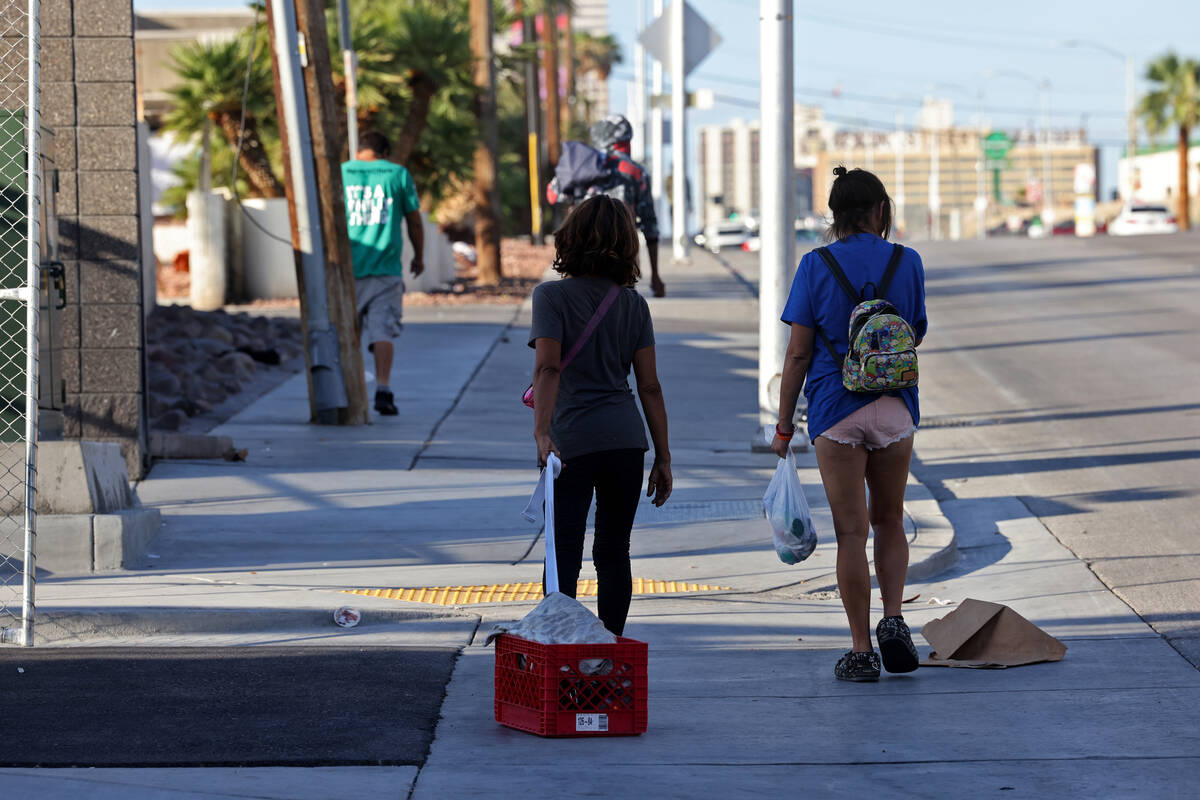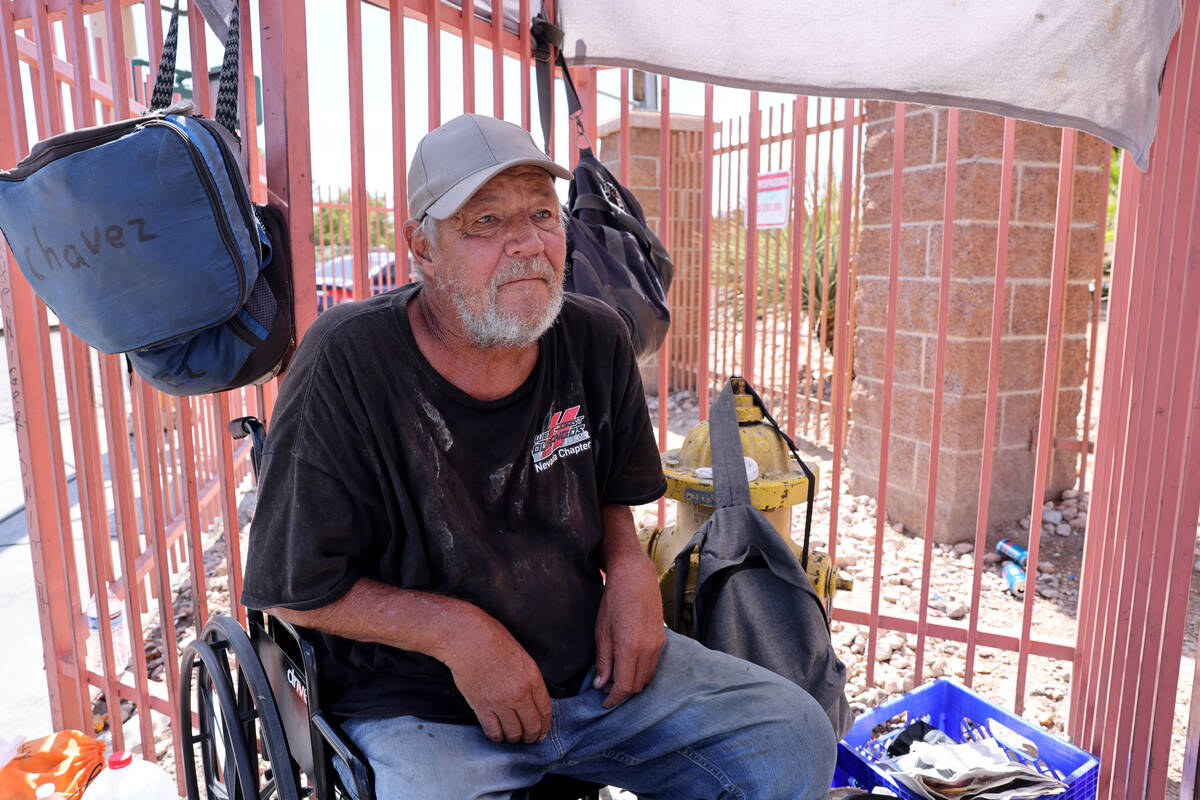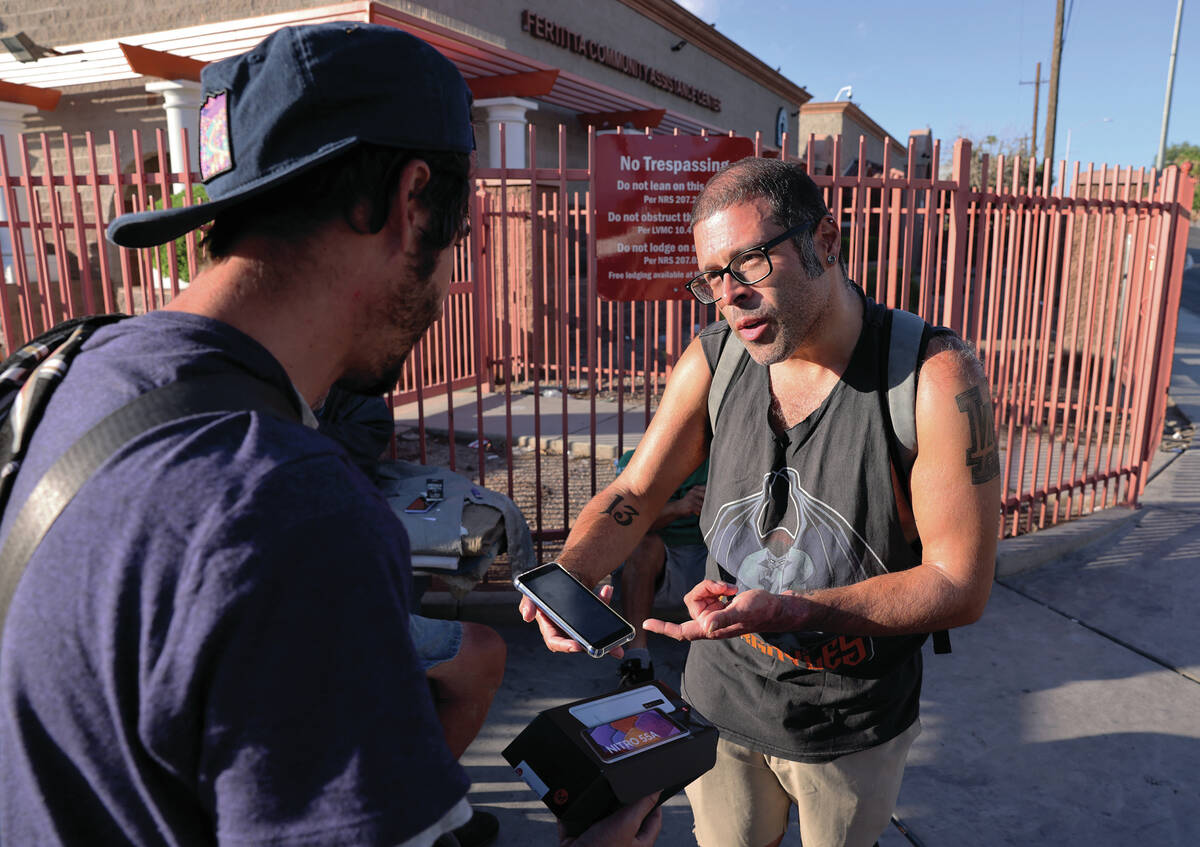 On a sidewalk where locals experiencing homelessness tend to congregate in downtown Las Vegas, a baby bounced on her mother's lap as a group of unhoused men enjoyed midday tacos.
The woman, who declined to give her name Tuesday, said she had dropped by with her little girl to visit with her father — the child's grandfather.
The man is one of thousands of homeless Southern Nevadans, a population that saw a 16 percent year-to-date increase this year, according to a daylong point-in-time census.
Volunteers in late January tallied 6,566 unhoused locals, the highest number since 2015, when 7,509 people were counted, according to recently released figures from Southern Nevada Homelessness Continuum of Care.
The widespread census effort comprises agencies, such as social services, and other outreach advocates.
About six in 10 homeless people live outdoors or in vehicles. The rest populate shelters or transitional housing units.
Two out of three people identify as male, and the vast majority — or 88 percent — were single adults. Nearly 800 were in families with children, 331 were unaccompanied youth, and 28 percent are deemed "chronically homeless." Nearly 1,000 people counted were veterans.
The local census also determined that 16,251 people will experience homelessness at some point during the year, another estimated 16 percent jump compared to 2022.
The count is conducted to guide local social services agencies on what needs it will address, but it's also mandated for federal aid.
Clark County, for example, was awarded a nearly $15 million grant from the Department of Housing and Urban Development in February, funds it will use throughout Southern Nevada over the next three years.
"There's every type of person out here, every ethnicity," said Cortez Yancey Foster on Tuesday.
Life on the streets
Foster, known in the streets as "Conquer," has been homeless since the onset of the pandemic after serving time in jail. His girlfriend, "Honeybee," slept on the sidewalk as he spoke to the Las Vegas Review-Journal.
The 52-year-old Memphis, Tennessee, native, said that services he was offered are "minimal," and that he wished officials also would provide activities to pass the time, such as church services, movies and sports.
Charles Leavitt, who uses a wheelchair, just turned 60.
"I got too old; can't work," he said.
The San Diego native relocated to Las Vegas a quarter-century ago.
Before breaking his hip, which led to medical complications and a lengthy hospital stay before he turned to the streets nearly two years ago, Leavitt worked at pumpkin and Christmas-tree patches, and traveled across the country working festivals and car shows.
"Now I really can't walk," he said.
"Some days are good, some days are really tough," he said about the streets, where fights, stealing and "screaming" matches aren't unusual.
Still, he feels fortunate to shelter at the city of Las Vegas-run shelter, where he said he enjoys food and rest. "I'm not complaining," he said.
Leavitt said he hasn't been approached about any other housing options.
"I'd love to," he said. "It'd be a place to sit and watch TV and go to my doctors' appointments — that would be great."
Reducing homelessness
Citing federal aid, HUD announced this week that a "surge" in homelessness was averted during the pandemic emergency, when there was a decline in shelter populations in 2021.
However, a Wall Street Journal report published recently noted that there was a roughly 11 percent uptick in homelessness across the country in 2023 compared to 2022 — "by far the biggest recorded increase since the government started tracking comparable numbers in 2007," the newspaper said.
Teresa Etcheberry, deputy director of Clark County social services, said that "there's not one particular reason why there's an uptick."
She cited inflation, rising rents, behavioral issues and people moving to Southern Nevada from outside jurisdictions.
Etcheberry said people would be surprised to learn how many unhoused people have incomes, yet no place to live because they've been priced out of the rental market.
"We have services now," she said. "(But) we always need more."
That includes diversion, outreach and emergency sheltering.
Etcheberry said that some people just need transitional housing to get back on their feet, while others might need longer-term help.
"We are looking at our response system and really trying to target homelessness prevention," she said.
Clark County, for its part, has been converting old motels into transitional housing. The federal government recently announced that it was overhauling the process to transfer public land to Southern Nevada for as low as $100 an acre for affordable housing projects.
Repeating the mantra about many locals being a few paychecks away from landing in the streets, Etcheberry said that homelessness has many facets, and not just that of those seen panhandling on street corners.
Despite the uptick in population, she said: "I am always hopeful that we are making dents and inroads into reducing homelessness."
A previous version of this story misstated the year the census began.
Contact Ricardo Torres-Cortez at rtorres@reviewjournal.com Follow on X @rickytwrites.