Nurses at Las Vegas hospital hold protest
Updated May 28, 2020 - 1:06 pm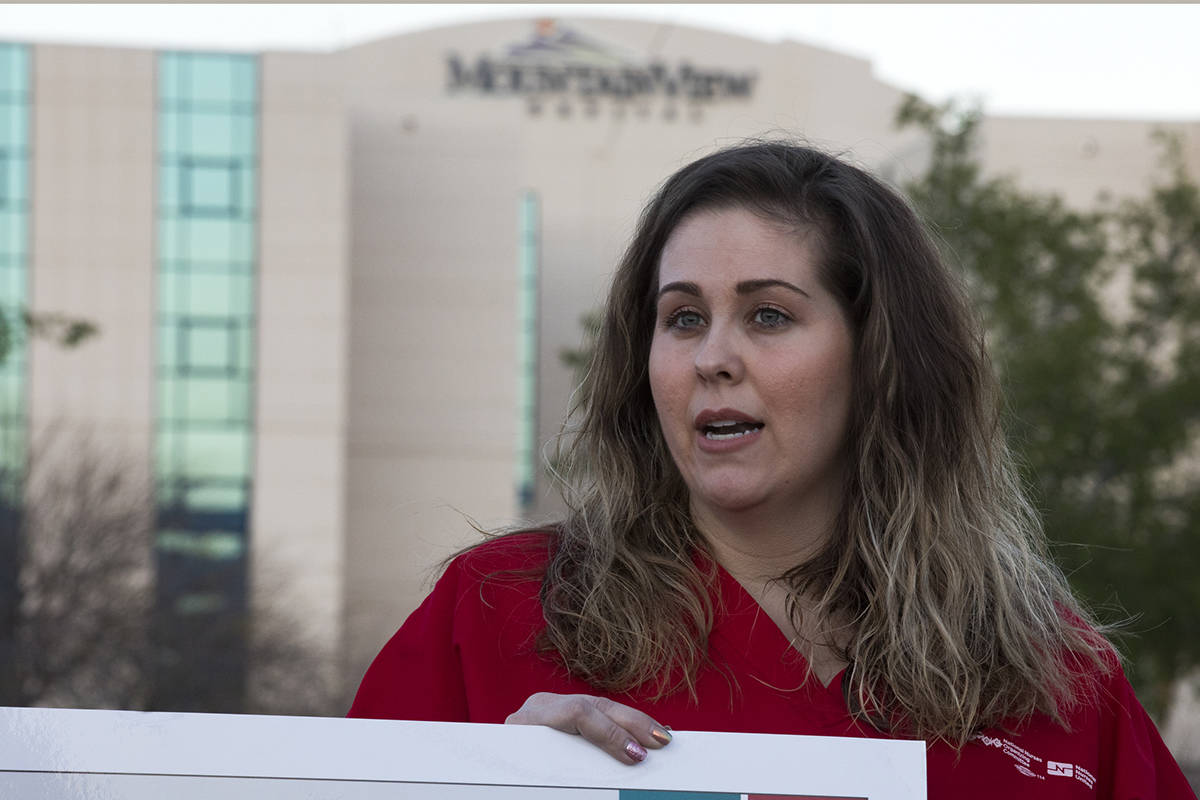 Nurses at MountainView Hospital in Las Vegas held a protest Thursday morning over what they say are planned layoffs and pay cuts by the hospital's owner, HCA Healthcare.
"HCA is trying to make cuts in both staff and some other things such as pay raises due to the pandemic," said Nicole Koester, a nurse at MountainView and chief nurse representative for the union National Nurses United.
Koester said that nurses with at least 14 other HCA-owned hospitals across the nation also were participating in protests. The union said in a news release that HCA is using the pretext of the new coronavirus pandemic to make demands for a "unilateral, undetermined number of layoffs, wage freezes and other cuts." The union claims the proposed cuts put nurses and patients in jeopardy.
The hospital responded in a statement Thursday morning:
"At a time when hospitals across the country are struggling to survive and many are resorting to furloughs and layoffs, it is surprising and frankly disappointing that the National Nurses United would demand pay raises for their members and recently reject the continuation of a generous pay program that is providing continued paychecks for many of our colleagues.
The goal of MountainView Hospital's … pandemic pay program is to keep our caregivers employed and receiving paychecks at a time when hospitals throughout the country are experiencing significant declines in patient volume. MountainView is no different."
This was the third demonstration by MountainView nurses in the past two months. Nures and union representatives gathered April 1 over safety concerns and April 29 because of staffing issues.
Nurse Theresa Cormier stood with her husband, Thomas Cormier, and granddaughter Noel Merritt outside the hospital, 3100 N. Tenaya Way, at 8 a.m. Thursday while holding signs and waving to motorists as they drove by.
"The hospital wants to make cuts, they want to lay off nurses or staffing," Theresa Cormier said. "They want to take contractual obligations away. They also want to recycle our PPE. There are a lot of different things they are trying to do right now. The fact is they were given $700 million in bailouts, and as far as I understand that is supposed to be to keep your employees."
The statement from MountainView said staffers have benefited from the pandemic pay program, which was not part of their labor contract.
"The program was initially slated to last until May 16 and has been extended through June 27," the hospital said. "Given the NNU's decision to reject our proposal to simply forego member wage increases this year, pandemic pay for nurses represented by NNU will end as of June 6.
"We are maintaining our focus on keeping as many of our colleagues employed as we can, despite significantly lower volumes," the hospital said, adding that nonunion workers are forgoing wage increases and that corporate executives have taken pay cuts.
Contact Glenn Puit by email at gpuit@reviewjournal.com. Follow @GlennatRJ on Twitter.