Obama encourages crowd to vote for Clinton, down-ballot candidates, during North Las Vegas rally
October 23, 2016 - 10:11 pm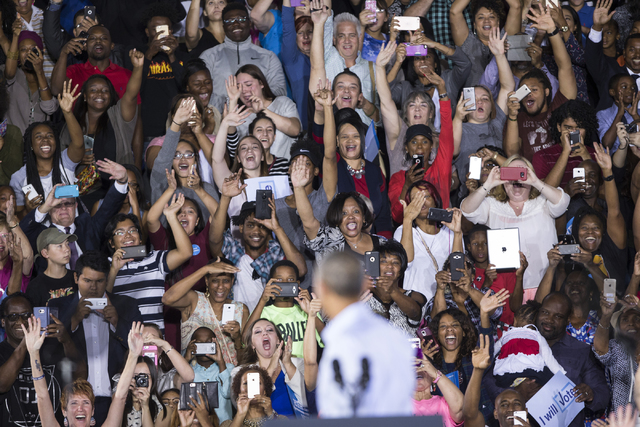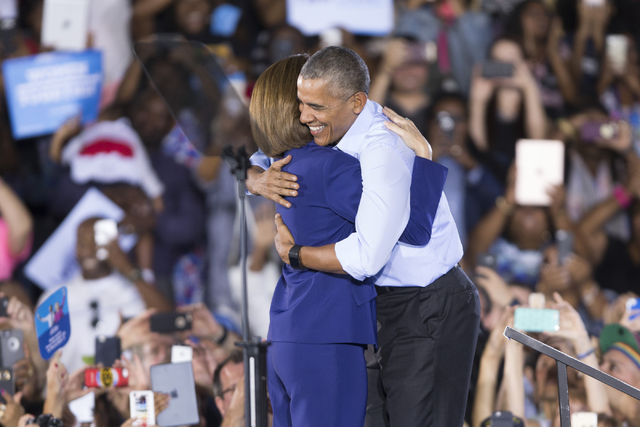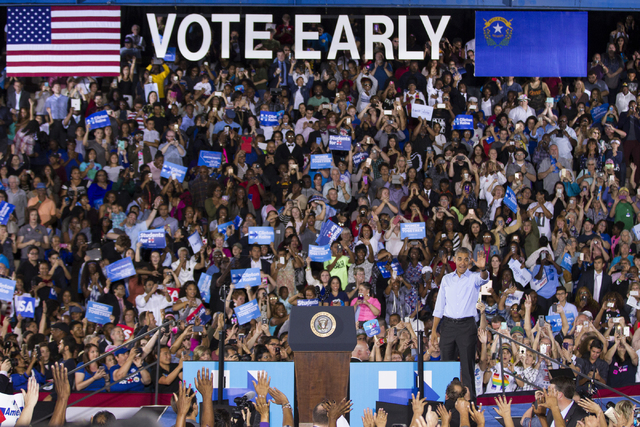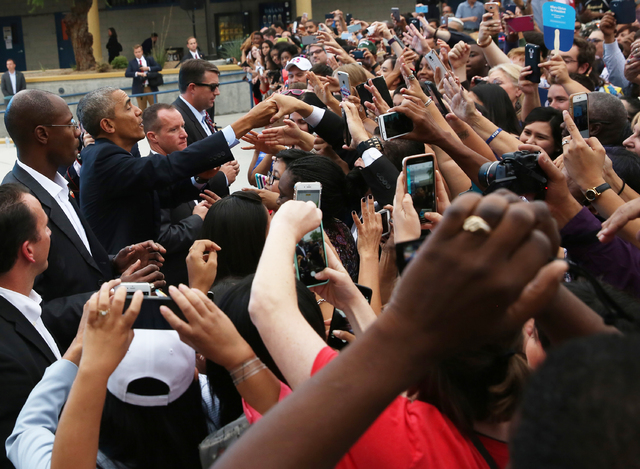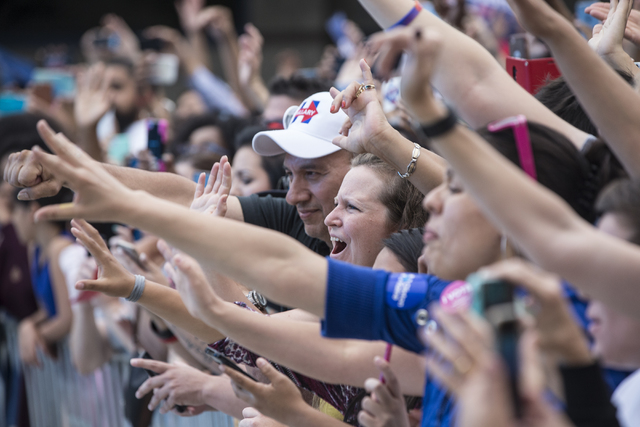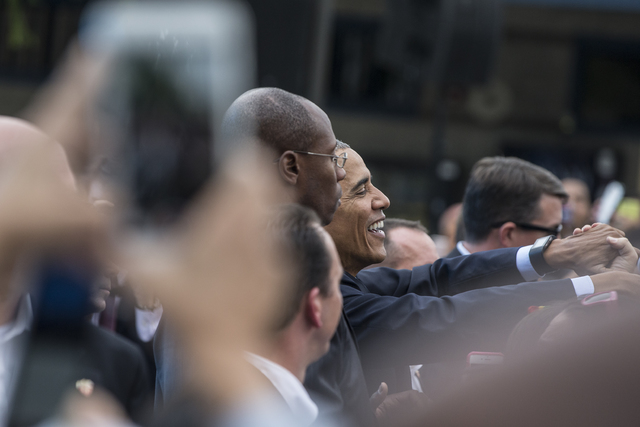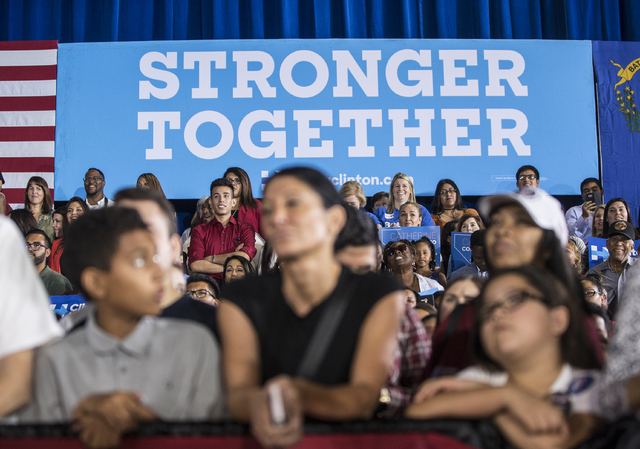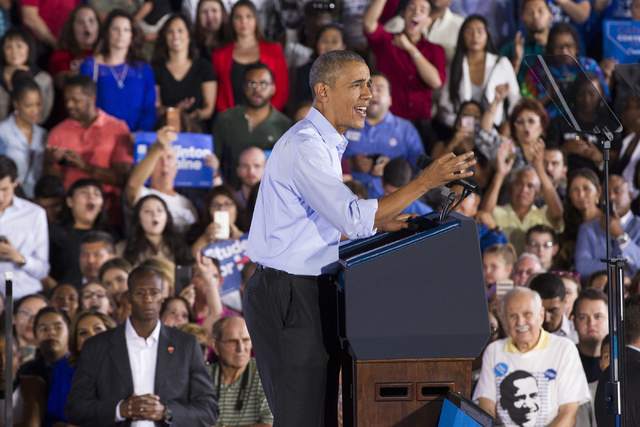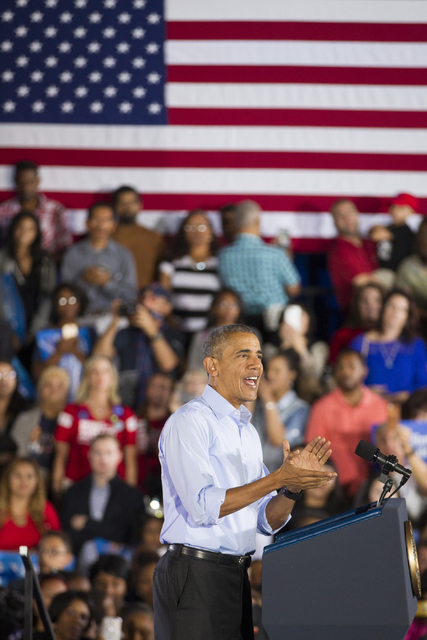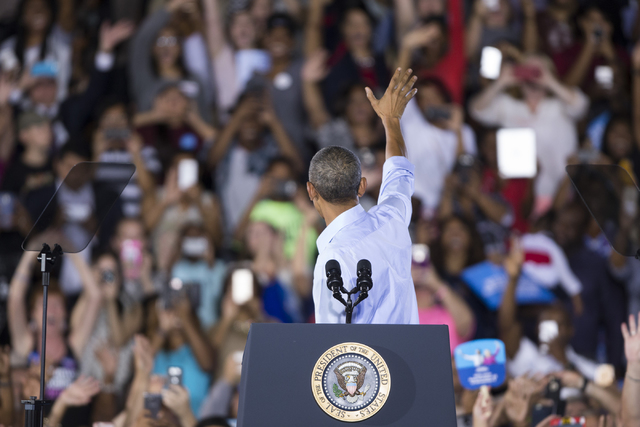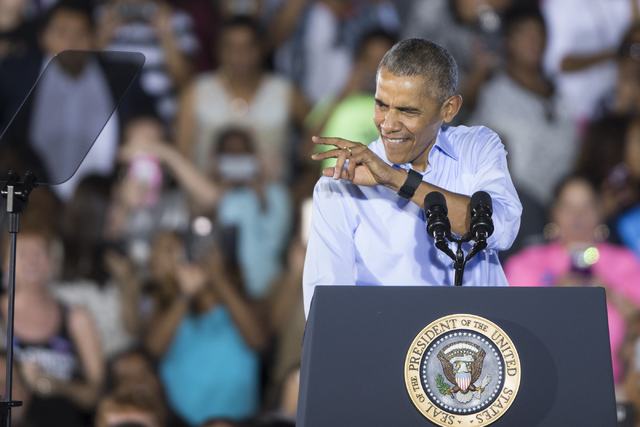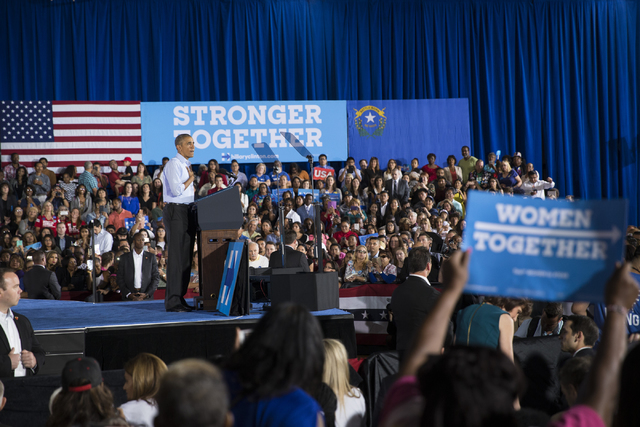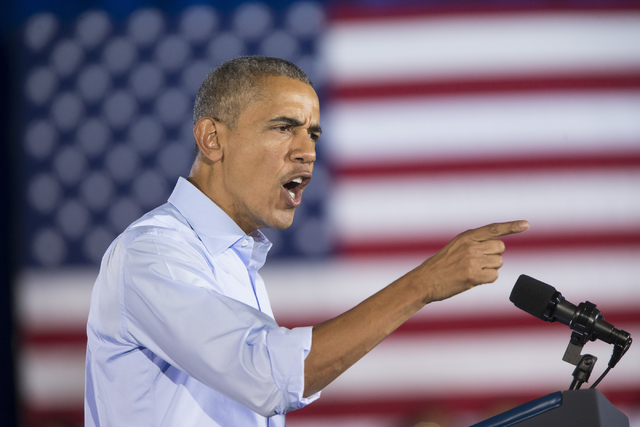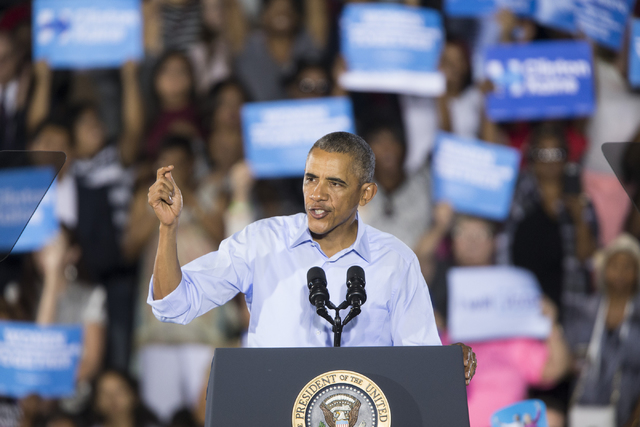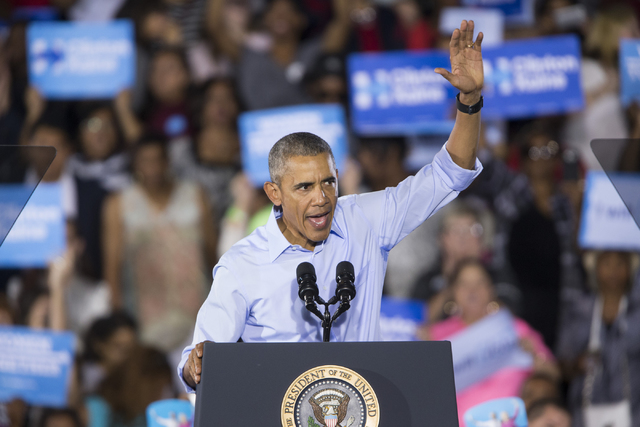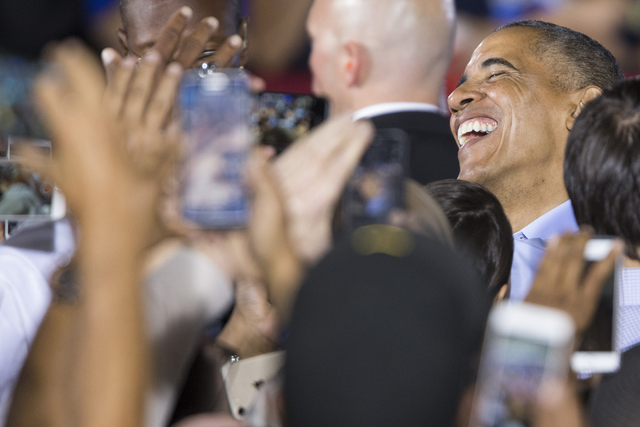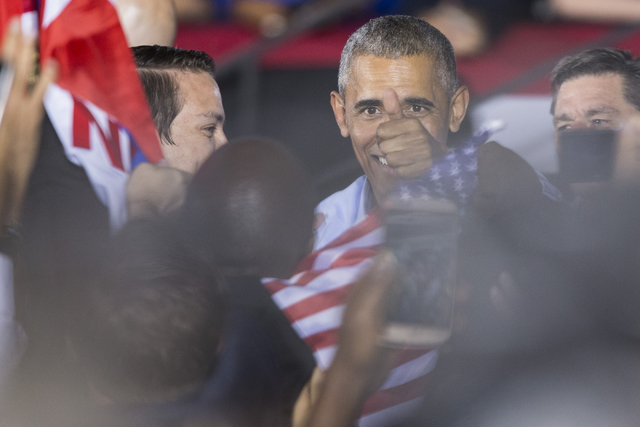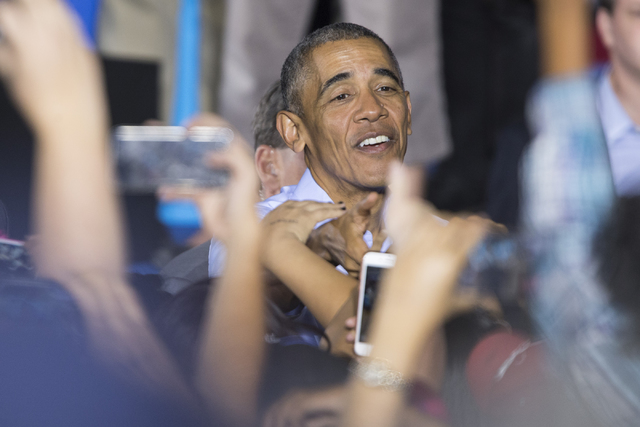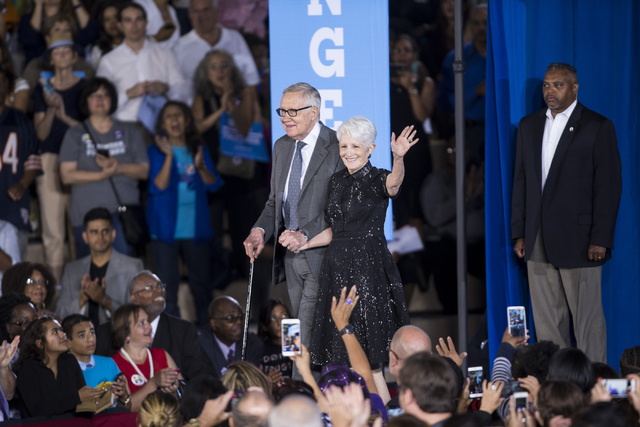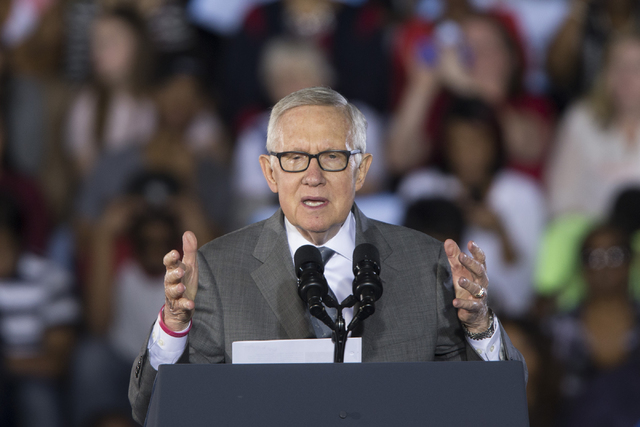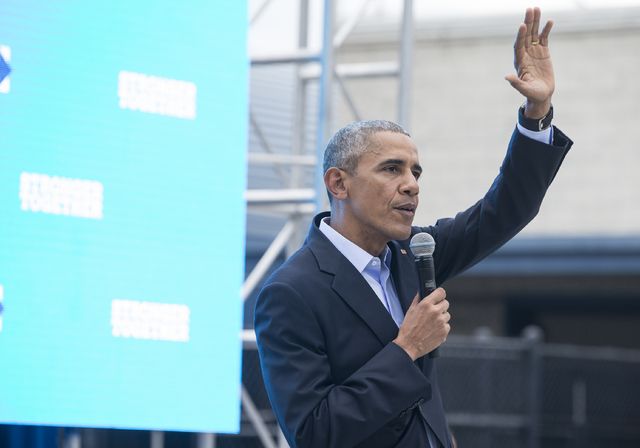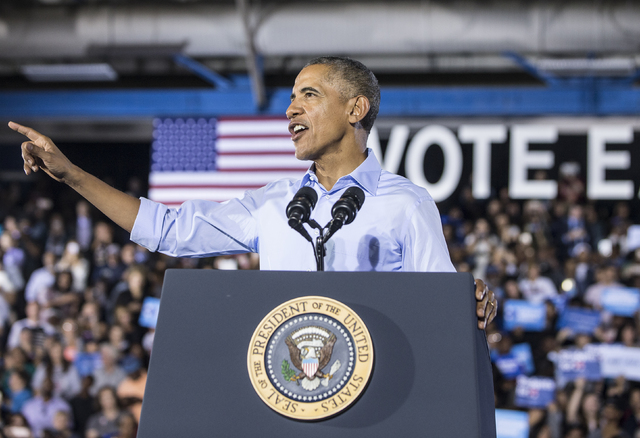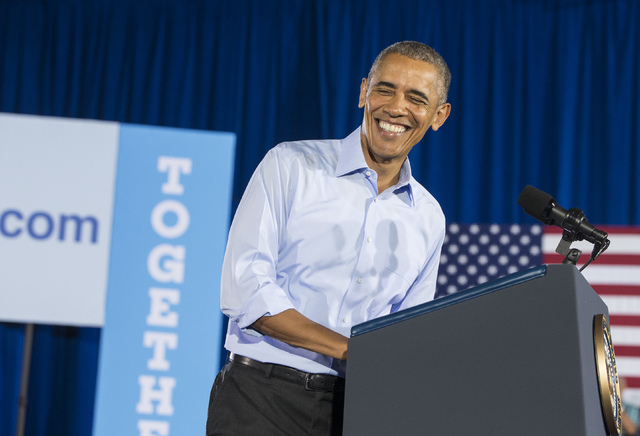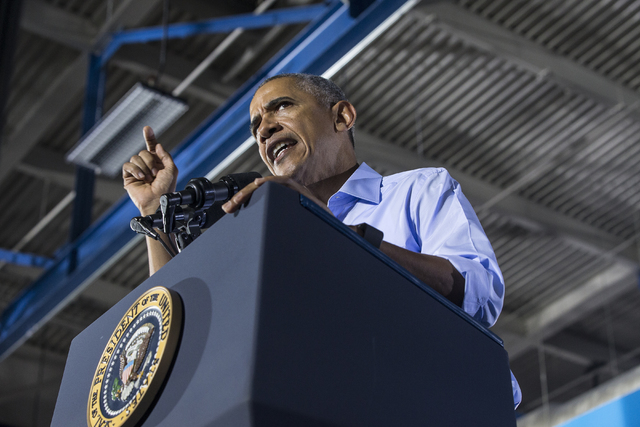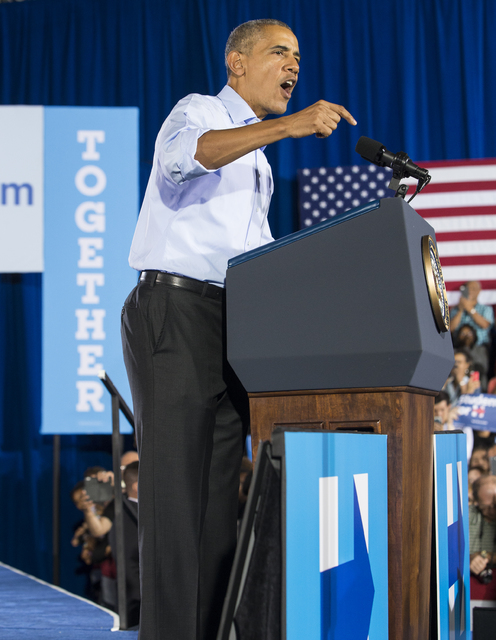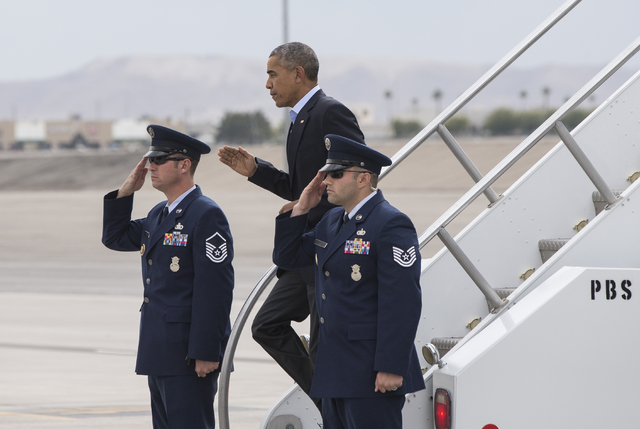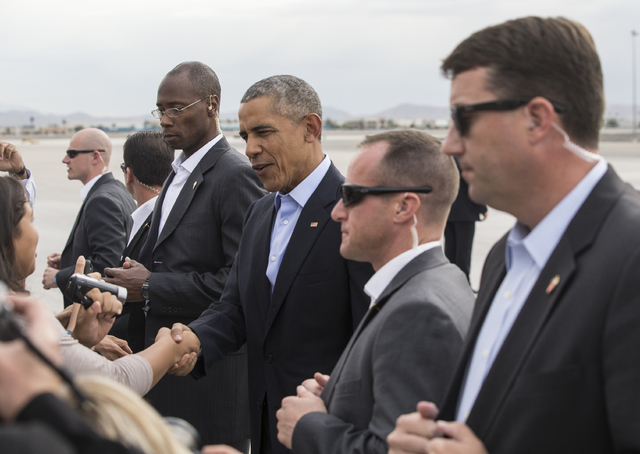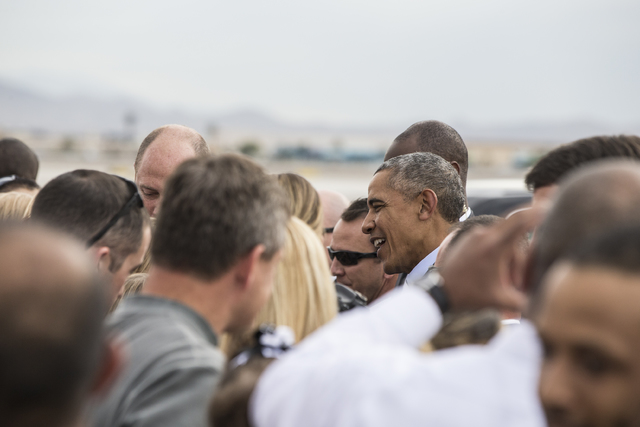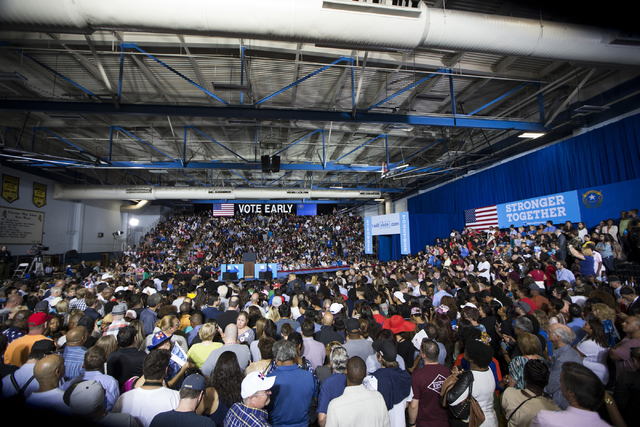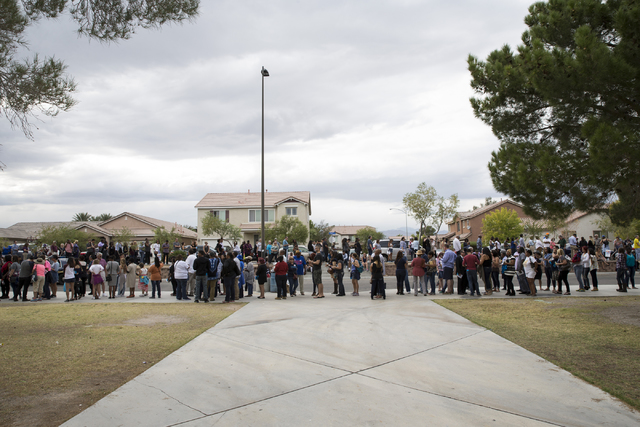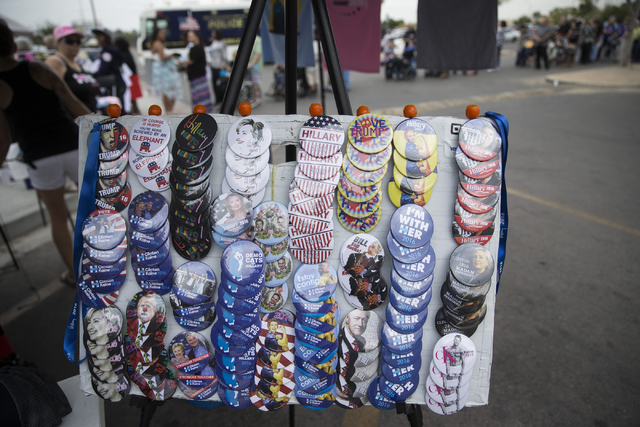 President Barack Obama campaigned for Democratic presidential nominee Hillary Clinton and U.S. Senate candidate Catherine Cortez Masto during a rally Sunday afternoon at Cheyenne High School in North Las Vegas.
After Air Force One touched down around 3:30 p.m, Obama's motorcade headed down Tropicana Avenue, where crowds lined the street on both sides of Las Vegas Boulevard, snapping pictures and waving as the motorcade passed by.
Obama arrived at the school about 4:30 p.m. and spoke to an overflow crowd assembled outside. With the Nov. 8 election just 16 days away, Obama focused his remarks on getting out the vote.
"Hello, Las Vegas," he said as the crowd cheered. "I need everybody here to not just vote yourselves, but you've got to get your friends, your neighbors, your cousins to vote," Obama told them.
"You know the stakes," Obama said. "We can't afford the other guy."
Not long after, Cortez Masto introduced Obama at the rally inside the school gym. Together, the two events drew 5,100 people, organizers said.
Cortez Masto is facing U.S. Rep. Joe Heck, R-Nev., for the open seat of outgoing U.S. Senate Minority Leader Harry Reid, D-Nev.
"I heard the other guy is trying to tell you how to say 'Nevada,'" Obama said, poking fun at GOP nominee Donald Trump's mispronouncing of the state's name at a campaign event.
The crowd laughed.
"I'm so glad to be back here," Obama said. "I've got so many good friends."
Obama gave a shout-out to Reid, crediting him for his accomplishments as president.
"I love this guy," Obama said. "He has always stood up for Nevada first."
Obama also reminded rallygoers to vote for Cortez Masto and other Democratic candidates in down-ballot races.
Those include Jacky Rosen, who is running for the 3rd Congressional District seat against Republican Danny Tarkanian, and state Sen. Ruben Kihuen, who is running for the 4th Congressional District seat of U.S. Rep. Cresent Hardy, R-Nev., who is running for re-election.
Using gambling metaphors, Obama told the audience "to make sure you win this hand. The way you boost Catherine's odds of winning this election, the way you make sure that Jacky and Ruben are in Congress is go vote. You've got to vote."
He urged the audience to take advantage of early voting, which started Saturday and continues through Nov. 4.
"You've got an ace and you've got a jack. You've got to make sure you turn over the card by voting," he told the crowd. "This game doesn't start on Nov. 8. The game ends on Nov. 8. It's starting right now."
Obama drew a contrast between Cortez Masto and Heck, who withdrew his support of Trump after a 2005 videotape surfaced with Trump making lewd comments about women.
"Catherine never supported Donald Trump," Obama said. "She never said she had 'high hopes' he'd be elected president."
Obama discounted the withdrawn support as something that could have happened much sooner.
"Too late," Obama said. "You don't get credit for that."
Specifically, Obama pointed to Trump's past comments about women, Muslims and others.
"You don't have to be a Democrat to think there's a problem with that," Obama said. "You just have to be a decent human being."
While castigating Heck, Obama at times led the crowd in enthusiastic shouts of "Heck no!"
Obama blamed the GOP-led Congress for stifling minimum wage increases, among other issues. Of the Republicans in down-ballot races, he said a vote for them is a vote for "more gridlock."
Obama said much work remains.
"It doesn't stop when Harry Reid retires," he said. "We're just getting started."
"Civility is on the ballot," Obama declared at one point. "Justice is on the ballot."
In a statement, the Trump campaign responded to Obama's visit.
"Nevadans are looking for change from the insider dealing and corruption in government, and they realize that draining the swamp in Washington begins with defeating Hillary and electing Donald Trump," said Charles Muñoz, Nevada state director of Trump's campaign.
About a half-hour after the rally ended, the president left Las Vegas aboard Air Force One and headed for Marine Corps Air Station Miramar near San Diego for a Democratic Party event.
Carolyn Lockhart, a 73-year-old North Las Vegas resident, was one of a few thousand people lined up outside the high school hours before Obama's appearance. She said she couldn't miss what might be the final chance for valley residents to hear him speak in person as president.
"It's overwhelming," she said of the crowd, which wrapped halfway around the school before curving back to the street sidewalks.
Lockhart is one rallygoer Obama didn't need to coax into voting. She said she's firmly in support of Clinton this election.
She said she doesn't agree with everything about the Democratic nominee, but "totally disagrees" with everything Trump has said this election cycle.
Lockhart called Trump a "bigot," and criticized comments he made at several rallies in recent weeks, including his stop in Henderson, where he referred to the inner cities as "disasters" and then asked African-Americans, "What do you have to lose?"
"It feels like an insult," she said.
Lockhart said she's worried that comments like the ones Trump had made about various minority groups will become normal in future elections.
"It scares the hell out of me," Lockhart said.
Review-Journal writer Colton Lochhead contributed to this report.