Obamacare typo costs Vegas family $1.2 million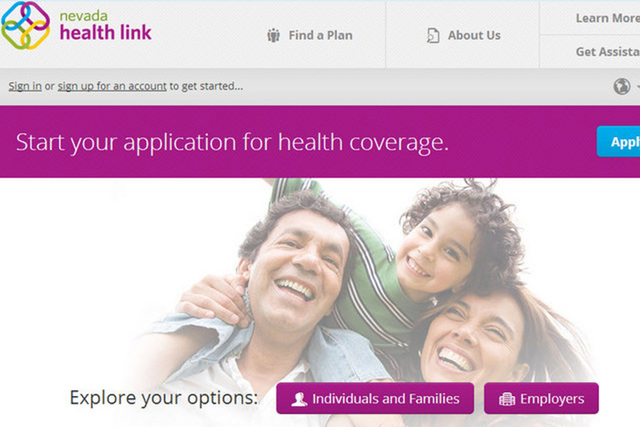 Mixups on a health plan bought through the state's insurance exchange have left a Las Vegas family facing more than $1 million in medical bills.
For Kynell and Amber Smith and their five children, the Nevada Health Link has been a six-month nightmare with no end in sight.
"I have spent countless hours on the phone trying to get this resolved," said Kynell Smith, an aircraft parts salesman. "I have contacted and pleaded with elected officials to help and was told I may have to sue to get this resolved. What kind of answer is that?"
The family's troubles began in February, when Amber Smith delivered daughter Kinsley five weeks prematurely. Kinsley spent 10 days in Summerlin Hospital's neonatal intensive care unit, and Amber's 40-day hospital stay included two surgeries.
The Smiths bought insurance from Anthem Blue Cross through Nevada Health Link in October and made two premium payments in January. Yet the claims are being denied because Amber's birth year is listed incorrectly on the family's insurance identification cards, Smith said. It's one year off — written as 1978, when it should be 1979.
Nor has Smith been able to get baby Kinsley added to the family's insurance, despite "dozens of calls" to Nevada Health Link and Anthem. So despite never missing a $1,300 premium payment, the Smiths are on the hook for all of Kinsley's follow-up care. What's more, some of Amber's specialists have unexpectedly abandoned provider networks, leaving the family with unexpected out-of-pocket expenses, he said.
The family's grand total? Roughly $1.2 million.
The Smiths are the latest in a line of consumers reporting technical problems with Nevada Health Link, the Xerox-built marketplace through which Nevadans can buy subsidized health insurance to comply with the Affordable Care Act. Las Vegan Larry Basich ran up more than $400,000 in uncovered bills in February after Xerox's system couldn't figure out which insurer he signed up with. Basich got coverage in March, after a flurry of media attention.
The board of the state exchange voted in May to drop Xerox and its system, and borrow sign-up functions of the federal Healthcare.gov when open enrollment begins Nov. 15.
Spokesman CJ Bawden said the exchange is "fully aware" of the Smiths' case.
"We're working very quickly to solve it," he said. "There are multiple issues incorporated in this case, and it's something that just takes a bit of time to work through. But we're trying to solve it as quickly as possible so they will have access to their health insurance, and will be able to go back and make sure charges accrued over this time period are taken care of by their insurance."
Anthem spokeswoman Joyzelle Davis said the case "illustrates the frustrations we and the health exchange have had in dealing with Xerox."
Xerox built its software so that changes such as birth dates have to be handled by the exchange system rather than by the carrier, Davis said.
Xerox also told Anthem the only way to add a baby to a family policy is to cancel the policy for the entire household and reissue a plan with the newborn on it.
Davis said Anthem's records show Xerox cancelled the Smiths' old policy but hasn't yet applied payments and coverage to a new plan. Anthem has "repeatedly escalated" the issue to Xerox in recent weeks, Davis said, and company officials were "hopeful" that the issue would be fixed by the end of the day Thursday. If that doesn't happen, Anthem will explore "alternative approaches," Davis said.
Meanwhile, the Smiths remain overwhelmed.
"They (providers) keep threatening to send me to collections," Smith said. "I'm like, 'OK. Would you like me to make $25 payments on 12 doctors, plus all of our hospital bills? I can't pay all of you.'"
The birth-year typo isn't the only issue with the Smiths' coverage.
The family's monthly premium was initially set at $1,575. Nevada Health Link called in March to tell the Smiths they were overpaying and needed a new policy. The new, lower premium came in at $1,296, but since the switch, Smith can no longer see policy details or billing information online.
"All I know is, I am sending checks and they are cashing them," Smith said.
Nevada Health Link transferred the Smiths to a "special case unit" in April, but Smith said the representative he works with cannot tell him when his coverage issues will be fixed, when he will have access to his account or when he will begin receiving statements and invoices.
So the Smiths have contacted the law firm of Callister, Immerman & Associates about joining a class-action lawsuit filed by plaintiffs who have paid for plans through Nevada Health Link but not received coverage.
Smith is also shopping for a new plan through a local insurance broker. He won't be buying through Nevada Health Link, though, because of the issues he experienced and because his family earns too much to even qualify for the federal tax credits that come with insurance purchased on the site.
"I'm just praying for January to get here so I can get out of the exchange as quickly as possible," he said.
Contact reporter Jennifer Robison at jrobison@reviewjournal.com. Follow @J_Robison1 on Twitter.