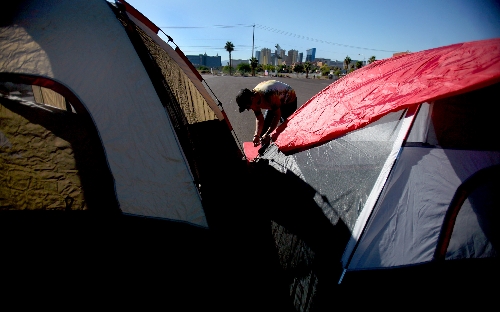 The occupation began slowly Friday afternoon as a few dozen protesters armed with tents and signs trickled into the parking lot across from the Thomas & Mack Center.
Occupy Las Vegas organizers weren't worried about the small crowd.
Democracy works slowly, too, they said.
The local chapter of the national Occupy Wall Street movement came to an agreement with county officials Friday morning to secure the 2-acre parcel of county land for 30 days to hold a continuous demonstration. Hours later, members of the group unloaded a grill, hundreds of bottles of water, fire extinguishers and other supplies bought with donations.
They are still working on a full-blown budget and the details to satisfy the county's permit.
According to the permit, the group can occupy the site between Paradise Road and Swenson Street until Nov. 21 if the group is insured, has portable toilets and trash containers. The group also must submit a traffic control and parking plan to county officials next week.
Friday's turnout was much smaller than previous Las Vegas rallies. One recently held on the Strip attracted about 1,200 people.
Like the national group, Occupy Las Vegas members come from all socioeconomic and political backgrounds, organizers say, but find a common ground in their anger against corporations and the federal government. Most don't agree on what reforms they want except to end corruption and greed in a variety of political arenas. Some want to focus on employment, foreclosures, health care, education, legalizing marijuana, Wall Street, Congress and the presidency.
'FULL EQUALITY, FULL JUSTICE, FULL PEACE'
"We want full equality, full justice, full peace," said Johnathan Abbinett, a Vietnam War veteran. "That's too big for some people to get their heads around. It's 40 years of failed economic policies. The middle class is under attack. The poor have been under attack for all these years. We're fed up. We're done."
Though political in nature, the nonpartisan group refuses to endorse any candidate or allow any party to get involved with its mission. There are no leaders because everyone is equal — a running theme throughout the group's mission statement listed online.
Their reforms include putting an end to corporate money influencing politics because "money is not speech." They want greater legal accountability for public officials and corporate executives. They want the justice system to treat everyone equally regardless of social classes from investigations to trials and sentencing.
"We want to fix the broken American political system, and we can do it," Abbinett said. "We have 13 months until the next election. When everybody walks in and touches that screen, in that one magic moment we're all equal. … We're mad as hell, and we're not going to take it anymore. We're going to convert that anger into a positive, productive passion."
PROTESTING FOR DIFFERENT REASONS
Andreit Sherfield, 38, has spent three years looking for work as an aesthetician. "Casinos weren't hiring, and renting a space was too much," Sherfield said. "The debt you have to go into just to get an education, I just heard about this and wanted to participate."
In addition to job creation, Sherfield said she also wants to discuss health care, education and releasing low-level offenders back into the world.
Emily Voelker, a 26-year-old who moved here recently from Minnesota, came armed with a backpack stocked with blankets, food and a hoodie. She held a sign that demanded the legalization of marijuana while she walked around listening to R&B music.
Voelker said the marijuana industry would be a lucrative endeavor for the government if it wasn't for scare tactics from pharmaceutical companies.
"It's corporate greed, that's the only reason why it's illegal," Voelker said. "You've got these companies squashing that because it can overpower their medicine, and they're totally ignoring how it could save taxpayer dollars."
Protester Jason White, 35, said he was upset with the bailouts for big banks and wants stronger regulations in place.
"The bottom line is I want the American dream back," White said. "I want to be proud to live in this country, not sad by it."
Another organizer, Sebring Frehner, said the occupation site was integral for the group to have a common place to hash out issues, voice grievances and discuss solutions to the county's problems.
"This is pretty much anybody who got tossed aside in this economic downturn," Frehner said. "This is an opportunity to dig in and see what's going on, to figure out how we the people can solve these problems."
RIGHT TO ASSEMBLE
Commissioner Susan Brager said the county felt compelled to work with the group after members showed up to a recent County Commission meeting requesting help to locate a space for gathering.
"It's fascinating to see what organizations do and where they think the priorities are," Brager said. "People have a right to have their thoughts and to assemble."
Brager added that it's important for county officials to examine how the space is kept clean over the next month.
"We have to keep it clean or find out how much money it would cost us if it wasn't cleaned properly," she said. "If it needed extensive cleaning, I want to make sure that wouldn't be out of the monies of taxpayers. That's important to me."
Abbinett said he wants to make sure "we're heard respectfully, and we're trying to do it right. We're law-abiding, peaceful and nonviolent. We intend to be the one city in America with no arrests and no violence. There's no need for that. We can be professional and efficient."
Contact reporter Kristi Jourdan at kjourdan@reviewjournal.com or 455-4519.