Officer, man killed in Rio police shooting identified
December 9, 2014 - 6:13 pm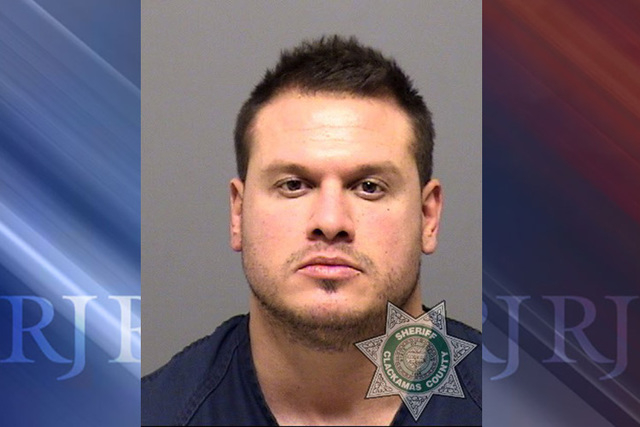 The man shot dead by a Metro officer at the Rio over the weekend had only been out of an Oregon jail for a month, but he was already a wanted man.
And it appears he continued his crime streak when he got to Las Vegas.
That man was 31-year-old Anthony Wade Moore, the Review-Journal has learned.
Las Vegas police had been tailing Moore, who they suspected was behind at least two recent armed robberies of casinos, over the past month. They finally caught up to him about 5 a.m. Sunday at the Rio, and the confrontation had a deadly ending.
Moore put up a fight, police said, and an officer eventually used a Taser on him.
But that didn't stop him, police said, and he reached toward his waist. That forced an officer, identified Tuesday as Officer Sean Beck, to shoot him.
Moore was pronounced dead at the scene. Police said they found a gun on him.
Beck was placed on routine paid administrative leave pending an internal review of the incident. The 43 year old has been with Metro for 15 years and is assigned to the career criminals section, police said.
Oregon court records show Moore's history of assault and drug charges as far back as 2003.
Moore was arrested in 2003 on charges of domestic violence assault in Tigard, a city in the Portland area.
He was arrested again in Tigard in March, this time on charges of assault, weapons use and criminal mistreatment.
It wasn't immediately clear how those cases played out.
On July 21, Moore was arrested on several drug charges involving methamphetamine, cocaine and Ecstasy. He was released on probation on Nov. 1.
But Moore never showed up to meet his probation officer, and a warrant was issued for his arrest.
By then, it seems, he was fast on his way to Las Vegas.
Las Vegas police said they are still trying to figure out how many robberies Moore may have been involved in. They wouldn't specify which casinos he may have hit, but said someone fitting his description — a muscular man standing 5 feet 7 inches — was suspected in several.
Metro asked for the public's help in tracking down a man described similarly to Moore in a Nov. 9 armed robbery at the Palace Station. Police would not say whether they were linking Moore to that incident.
Investigators plan to reveal more information this week.
Henderson police said Moore appears to have been behind the Nov. 22 robbery of the sports book at Sunset Station. He got away in that heist, police said, with an undisclosed amount of cash.
Contact reporter Colton Lochhead at clochhead@reviewjournal.com or 702-383-4638. Find him on Twitter: @ColtonLochhead