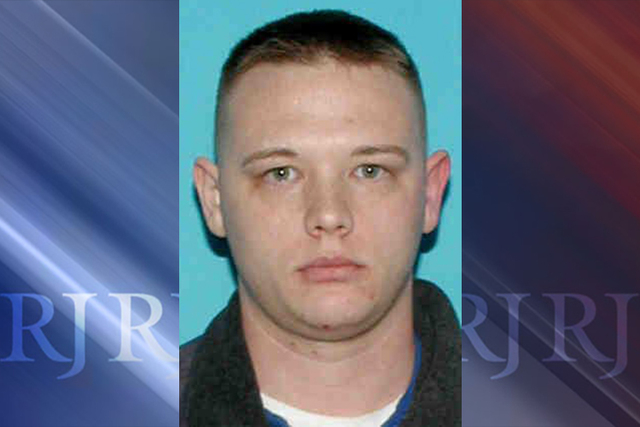 A cop from Oklahoma who was arrested Thursday in connection with kidnapping a teenager from Turlock, Calif., told police he and the girl were lovers, according to arrest records obtained by the Review-Journal.
Danniel Boone Morgan II, 30, of McAlester, Okla., was arrested on a fugitive warrant by Las Vegas police at Treasure Island on Thursday morning, according to police. Morgan is an officer with Oklahoma's Kiowa Police Department.
While investigating the kidnapping charge, Metro learned officers in McAlester were also seeking arrest warrants for Morgan in connection with statutory sexual seduction. Morgan and the teen, scheduled to start the 10th grade in the fall, began dating in September and started having sex in December, according to arrest records.
The girl, who had been staying with an aunt in Turlock, told police that Morgan was her friend's uncle, and her mother knew the two were dating and had sex. The two spoke regularly, went on dates, sent each other dirty pictures and exchanged promise rings. She was wearing her promise ring on her left ring finger. She told police she bought Morgan a black ring featuring a thin blue line in return, according to arrest records.
But the affair was interrupted when the girl, who was 14 years old at the time, was sent to spend summer vacation with her father in California at the end of May.
The girl told police her father would not allow her to be with Morgan. He took away her money, cellphone and computer in an attempt to keep her from contacting Morgan. She said she used a family member's phone to send Morgan an email what was happening.
Morgan told police he flew to San Francisco to bring the girl back to Oklahoma. He said he had the mother's permission and was found with a notarized letter in which the girl's mom gave him temporary guardianship. The girl's mother later denied signing the document.
Both Morgan and the girl said they did not use condoms when they were together at Treasure Island.
Morgan is being held without bail at the Clark County Detention Center for a first-degree kidnapping charge and two counts of statutory sexual seduction. He is scheduled to appear in court on the morning of July 13.
Contact Wesley Juhl at wjuhl@reviewjournal.coma nd 702-383-0391. Find him on Twitter: @WesJuhl.