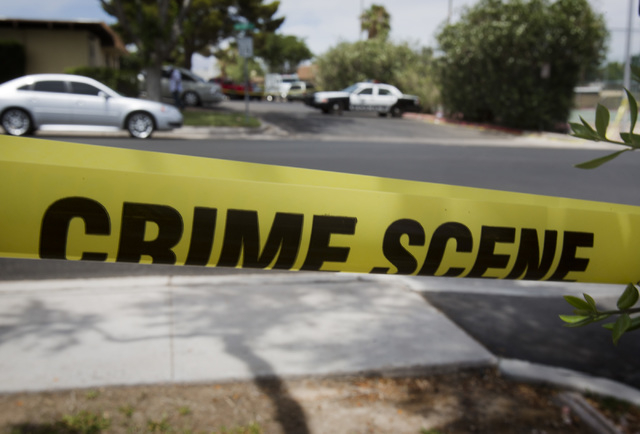 One person died and three were wounded in a shooting Friday morning, Las Vegas police said.
Police responded to the shooting in the 2600 block of Heritage Court, near Sahara Avenue and Mojave Road, just after 11 a.m., police said.
Two men knocked on the door of the house looking for someone. When they didn't find the person they wanted, the men went into the house shooting, hitting a man and two women inside, police said.
The man died at the scene. The women were taken to area hospitals in critical condition, police said. A neighbor, who may have been hit by shrapnel, was treated at the scene for minor injuries.
Investigators said they believe the shooting might be drug-related. The two gunmen ran from the scene, police said.
A neighbor, who did not want to be identified, was visually shaken as he described the man who died as never being "out to harm anyone." He said that he is now taking care of the victim's dog.
A red truck sat in front of the aging-light-beige house with a dark brown roof where the shooting happened. The houses in the community are compact closely spaced. There is a run-down tennis court.
The neighborhood walls are covered with graffiti or showing multiple variations in color where residents have taken the initiative to paint it over, particularly on the wall that separates their homes from the Boulder highway.
Melissa Cruz, who owns a house in the area that she rents to tenants, said the older neighborhood has declined over the years.
"It used to be real nice, " said Cruz, who noted an increase in graffiti and dog attacks in the area. Other neighbors said the area has a bad drug problem, and often see drug paraphernalia lying in the street.
Anyone with information about this shooting is urged to call Metro homicide at 702-8282-3521. To remain anonymous, contact Crime Stoppers at 702-385-5555 or online at www.crimestoppersofnv.com
Contact reporter Colton Lochhead at clochhead@reviewjournal.com or 702-383-4638. Find him on Twitter: @ColtonLochhead. Contact Ricardo Torres at rtorres@reviewjournal.com or 702-383-0381. Find him on Twitter: @rickytwrites.