Opponents challenge legality of Blue Diamond Hill village proposal
October 17, 2016 - 10:43 pm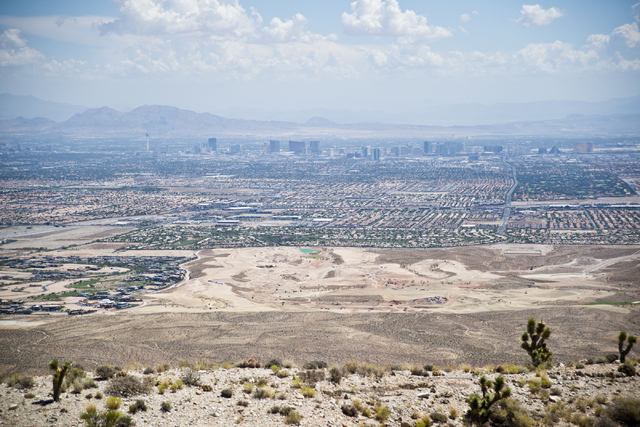 Clark County cannot legally approve a mining company's controversial request to build a village on top of Blue Diamond Hill, according to a lawyer for Save Red Rock.
Gypsum Resources wants to build 5,025 homes on about 2,000 acres of hilltop property. The company will seek approval for the development's concept plan at a county Planning Commission meeting Tuesday night.
Attorney Justin Jones hopes to block that from happening.
In a letter sent to planning commissioners last week, Jones state Gypsum Resources' concept plan violates both the county's master plan and Title 30 of the county code, which outlines the major projects process.
"In my opinion the Planning Commission, (and) the board of county commissioners, absolutely can't approve this plan when it violates the Clark County code, and if they do they risk litigation," Jones said. "I'm optimistic this will put them in a position where they'll have to ask the developer go back and comply with the code."
The proposed development would border the Red Rock Canyon National Conservation Area, a popular destination for hiking, rock climbing, cycling, horseback riding and sightseeing. The area has more than 2 million visitors annually.
Jones said the concept plan breaks with Title 30 because it contains two large parcels of land that touch only at a single corner. According to Title 30, all parcels of land in a single application "must be contiguous."
Jones said building a small village on top of Blue Diamond Hill would also deviate from the county's comprehensive master plan.
But project planning consultant Ron Krater contended Monday that the concept plan falls within existing development guidelines. He noted that county staff has recommended the plan for approval.
"We have complete confidence in that the concept plan application and the proposal meets all of the required criteria under Title 30," Krater said.
Save Red Rock has not threatened to take any legal action against the county yet, Jones said, but "it's certainly been under discussion."
For years, Gypsum Resources has faced fervent opposition to its development plans.
The company purchased the Blue Diamond Hill property, a historic gypsum mine, for $54 million in 2002. The next year both the Nevada Legislature and Clark County Commission enacted laws that prohibited high-density zoning on the land.
Developer Jim Rhodes sued both governments. The Nevada Supreme Court overturned the Legislature's decision in 2009, and the county settled with Rhodes in 2010, allowing the Blue Diamond Hill development project to proceed.
Some people worry the development and the new residents that accompany it would damage the ecosystem and overburden local roads.
Planning commissioners postponed voting on the concept plan at a September meeting after residents showed up to protest.
The commission told Krater to meet with representatives from Mountain's Edge, Blue Diamond, the Red Rock Citizens Advisory Council and Save Red Rock.
Krater reported that he has since met with representatives of all those communities.
"We believe in the preservation of Red Rock," Krater said. "And we believe this development proposal is going to coexist with Red Rock."
Contact Michael Scott Davidson at sdavidson@reviewjournal.com or 702-477-3861. Follow @davidsonlvrj on Twitter.