Panaca man has 'no idea' why his family was targeted in bomb attack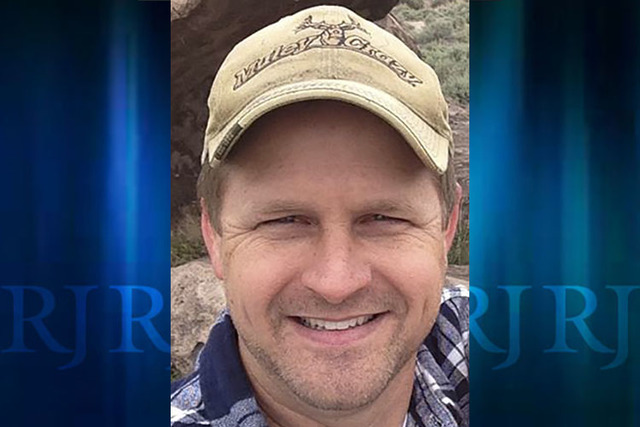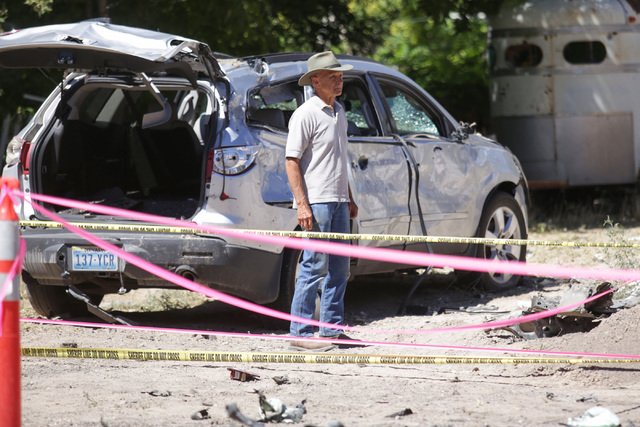 A man he thought he knew set off bombs at his house and almost killed his wife and three daughters, and Joshua Cluff has no idea why.
In an angry telephone interview Friday, the man whose home was targeted in the July 13 bomb attack in Panaca said Glenn Franklin Jones never made a threat or uttered a harsh word to him in the years they knew each other and worked together at the hospital in nearby Caliente.
"I don't have a clue what Glenn Jones was up to. I have no idea," Cluff said. "Do you know why crazy people do crazy things before they do them?"
Cluff's first public statements about the attack came in response to new revelations about what else Jones might have been planning.
According to court records in Arizona, investigators recovered notes the 59-year-old left behind in Kingman, Arizona, suggesting he was planning a "terror attack" against a government building before he attacked the Cluff family instead.
Cluff said his wife and three daughters were home when Jones arrived in a rental car.
They escaped from the house moments before Jones triggered a pair of bombs and shot himself in the head. Cluff, who was at work at the time of the attack, said his wife was half a block away when their house exploded, showering debris over a mile radius.
BOMB SQUAD
The following day, authorities in Kingman evacuated the Zuni Village RV park, where Jones had lived since February, as bomb squad personnel worked to safely remove explosives located inside the man's motor home.
More than a dozen improvised explosive devices in various configurations and stages of completion were found in the RV along with "various hand tools, power tools and materials used in the manufacture of IEDs," according to a search warrant document obtained Friday from the Mohave County courthouse in Kingman.
The document also details journals and notebooks, recovered from Jones' RV and the car he left parked at a Kingman rental car lot, that apparently prompted the FBI to question Joshua and Tiffany Cluff and search their property in Panaca on July 21.
According to the search warrant document, Jones' notes included bomb diagrams and "indicated that at least one explosive device was to be used in a planned terror attack against an unidentified Bureau of Land Management facility on July 4, 2016."
"Glenn Jones indicated in his journals that a subject named 'Josh' solicited and financed the construction of the explosive device to be used in the terror attack," the document said.
FBI INTERROGATION
Thanks to that note, Cluff said he spent about 12 hours last week with FBI agents who interrogated him and his wife separately for several hours each.
He said he also took and passed a polygraph test and let the FBI rifle through all his records and belongings, including his cellphone and a trailer on his property where the family was storing items recovered from the wreckage of their home.
"I was fully exonerated," he said. "If I hadn't, I'd have been arrested."
The FBI has declined to discuss details of the investigation from the start.
Asked about the most recent revelations Friday afternoon, Lincoln County Sheriff Kerry Lee said he hadn't heard anything about another bomb plot involving Jones, but he also hadn't been briefed about the case by the FBI since early in the investigation.
Cluff, 36, used to work as nursing supervisor at Grover C. Dils Medical Center in Caliente, and he said he hired Jones in 2012 to work as a nurse at Lincoln County's only hospital.
NO INTEREST IN TALKING
Cluff said he didn't care to say anything else about Jones or their relationship. In fact, he said, he had no interest in talking to the media at all, but he felt he had no choice when the Review-Journal contacted him about Jones' notebooks.
Since their house was blown up and their world shattered on July 13, Cluff said he feels like his family has been victimized twice more — first by reporters hounding them for answers, then by FBI agents who he said apologized for questioning him but still have some of his financial records, legal documents and other personal items.
"My family is freaking broken now," Cluff said. "You have no damn clue what we're going through."
Review-Journal writer Wesley Juhl contributed to this report. Contact Henry Brean at hbrean@reviewjournal.com or 702-383-0350. Follow @RefriedBrean on Twitter.
RELATED ITEMS
Speculation surrounds FBI investigation of Panaca bombing
Lincoln County bombing investigation leads to Kingman, Ariz.
Panaca bomber lost relatives, marriages, career in years before attack
Gov. Brian Sandoval tours site of bomb attack in Lincoln County
Panaca bomber's ex-wife says they had 'good times,' but she feared him
FBI takes lead in Lincoln County bombing investigation
FBI serves search warrants in Panaca in connection with deadly bombing
Panaca residents celebrate Pioneer Day just 10 days after bombing rocks town
Lincoln County bomber lost nursing license months before attack