Parents of murdered foster child call for justice
October 17, 2014 - 9:16 pm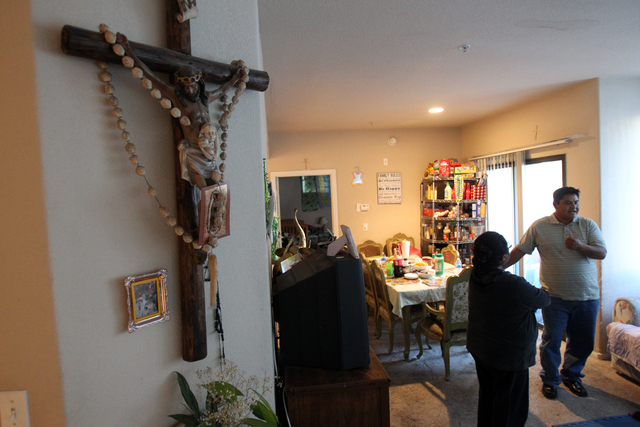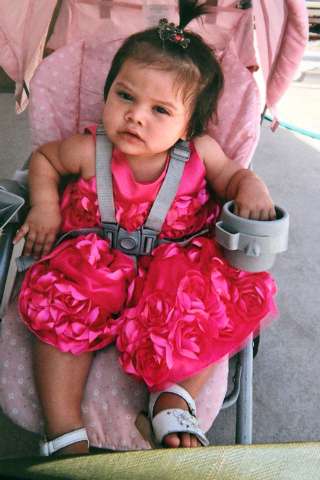 The grieving parents and caregivers of 16-month-old Michell Momox-Caselis, who on Sunday was killed in an apparent murder-suicide involving her foster father, are calling for justice.
Mine worker Sergio Momox, 41, returned to Las Vegas from Utah on Wednesday after his wife, Maria De Jesus Caselis Toxtle, 42, informed him of their daughter's homicide.
"My daughter shouldn't have died," Momox said in Spanish.
Both parents were mourning the loss of the toddler on Friday with Michell's first set of foster parents, Nicolasa Robledo-Hernandez, 60 and Jose De Jesus Hernandez, 50. The Hernandez couple planned to adopt Michell and had even discussed an open adoption with the parents, who had agreed.
"We feel terrible," Momox said.
He questions why the foster mother hasn't been held accountable and also blames the Clark County Department of Family Services for putting his daughter in a dangerous home.
"There's negligence on the caseworkers who placed her in the hands of people who were not conscious to care for the girl. We want justice," Momox said.
Michell's second foster father, Joaquin Juarez-Paez, 37, of Las Vegas, was found dead in his car in front of the Oasis Vinings apartment complex at 6100 Carmen Blvd., near North Jones Boulevard and Vegas Drive, shortly after 8 a.m. Sunday, according to Las Vegas police.
When officers arrived at the apartment and sent Juarez-Paez's wife inside for the car keys, she found Michell dead in her crib. A second foster child, a 6-month-old baby, was found unharmed, police say. The 6-month-old was not related to Michell.
Information released by Las Vegas police and the Clark County Department of Family Services has been sparse. But Momox and the foster parents said that Juarez-Paez had put a blanket over Michell's face, information they obtained from the Clark County coroner's office.
While police haven't released a motive in the homicide, Momox believes the foster father might have been angry and exhausted from caring for the toddler while working multiple jobs, including one for a company that delivers the Review-Journal under contract. Momox also said Juarez-Paez's wife had two jobs and questioned why Family Services would place an infant with foster parents who had no time for her.
"In what state are they going to place the girl with people who don't have time to take care of her?" he asked.
Officials for Family Services did not respond to calls for comment late Friday afternoon. On Thursday, Family Services Spokeswoman Kristi Jourdan said the agency continues to work with law enforcement to gather more information about Sunday's "tragedy."
"At this point, it is crucial not to fill in the gaps about what the community doesn't know with speculation and allow the law enforcement investigation to be completed," she said in written responses.
Momox and his wife have six other children, ranging in age from 4 to 13 years old, who have been placed at St. Jude's Ranch for Children in Boulder City.
The children were removed from their parents' custody in August 2013 after Momox left for work in Utah and the mother rented an apartment in poor condition and without power. Family Services placed the six oldest children at St. Jude's. Michell, who was then 2 months old, was placed with the Hernandez couple.
Robledo-Hernandez cared for Michell until June 19, when the girl was removed from her home because of an abuse allegation involving another foster child. The child involved in the allegation was left with the couple and has now been adopted by them. The couple has two other adopted children.
"We never hurt our children, but when they took (Michell) away, that's what they did," Robledo-Hernandez said. "They send to kill her. We protected her. I had faith in God that they would return her to me."
Robledo-Hernandez said she tried to have Michell returned to her care. She said she had a feeling that she wasn't being cared for properly.
On Aug. 6, Robledo-Hernandez said she saw Michell in court and noticed bruising on one of her arms. She said she called the Clark County's child abuse hotline twice, but was told they couldn't do anything.
Breaking down in tears as she clutched one of Michell's dresses, Robledo-Hernandez said, " She was our life, she was our princess."
Michell was a little girl who needed attention and would scream when she was hungry, according to Robledo-Hernandez, who was happy to see to the toddler's needs. The Hernandez couple has cared for foster children for about 10 years.
Michell's second set of foster parents were licensed earlier this year, Jourdan said Thursday.
Michell's funeral service will be held at 2 p.m. Wednesday at the Davis Funeral Homes & Memorial Park, 6200 S. Eastern Ave.
A trust account has been set up for donations to an education fund exclusively for the surviving Momox-Caselis children, according to W. West Allen, the court-appointed Children's Attorneys Project lawyer who represented Michell and her six siblings. The account is at the Bank of Nevada the account number is 8010798919. Donations may be made by visiting a Bank of Nevada location, or mailing checks directly to: Bank of Nevada; 3985 S. Durango Drive; Las Vegas, NV 89147; The Momox Testamentary Trust.
Allen on Friday said Family Services needs to consider how the work schedules of foster parents affect their ability to care for infants. "We need to do better for the children" in foster care, Allen said, adding that they rely on the system to be "safe and protected."
Contact Yesenia Amaro at yamaro@reviewjournal.com or 702-383-0440. Find her on Twitter: @YeseniaAmaro.