Parents sue over abuse by teacher's aide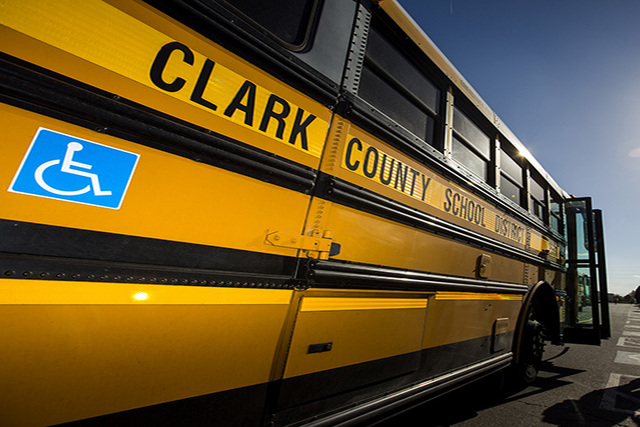 The parents of a boy with autism took aim at the Clark County School District and a former teacher's aide Friday with a second lawsuit involving allegations of abuse.
John and Dina Phipps already have a civil rights complaint pending in federal court against the district and former aide Lachelle James, who was arrested in March 2012 and later accepted a plea bargain on misdemeanor child abuse charges.
The new lawsuit, filed in Clark County District Court, claims the couple's 10-year-old son was tortured by James on a daily basis at Variety School in Las Vegas. It contains 72 battery counts, which carry a potential damage award of $7.2 million.
"We are asking for the cap of $100,000 for each separate and distinct battery that was committed on our client," attorney Robert Murdock said.
Murdock, along with attorneys J. Mitchell Cobeaga and Eckley Keach, represents the Phippses in both cases.
Nevada law imposes a $100,000 cap on damages against political subdivisions such as the school district. There is no limit for damages related to civil rights violations, such as those alleged in the federal case.
Spokeswoman Michelle Booth said the school district does not comment on pending litigation.
The Phippses' son is nonverbal and attended Variety, a school for children with disabilities, during the 2011-2012 school year. According to the new lawsuit, James was moved to the boy's classroom in November 2011.
"The CCSD allegedly showed employees of Variety School, including James, how to restrain children properly," the complaint says. "James allegedly underwent such training."
The school district used a hidden camera on March 5, 2012, to catch James restraining the Phippses' son, according to the lawsuit, but no one was watching it. The district also used the camera the following day.
Videos from March 5 and March 6 "provide graphic evidence of the restraining techniques and methods" that James routinely used to restrain the boy, the lawsuit alleges.
According to the complaint, James has testified that the techniques and methods she used to restrain the boy on those two dates, as shown in the videos, "were the exact same techniques and methods she used each and every time she performed a restraint of a child at Variety School."
"No one ever told James that she was restraining children in an improper or inappropriate way, or doing anything wrong, or doing anything in an illegal way," the lawsuit says. "No one ever told her that she was being a little rough."
The complaint describes James' actions on March 5, 2012, saying she grabbed the boy and threw him to the ground, then grabbed his left arm and used the leverage of her body to force him onto his stomach, while holding and twisting his arm "in a vicious and violent manner."
Then, "using the full force of her weight," she lay on the boy's back "and with great force pulled and twisted his left arm back as a far as she could and began rocking back and forth as she pulled on his arm, all of which was done to inflict the maximum amount of pain so as to cause" him to submit, the lawsuit says.
According to the complaint, James restrained the boy nearly every day between November 2011 and March 6, 2012, and did so several times on many days.
James was 28 when she was arrested. She pleaded guilty in June 2014 to two gross misdemeanor counts of child abuse, neglect or endangerment.
Records show that Dina Phipps spoke at James' sentencing in September, when the former aide was placed on probation for up to 18 months.
Contact reporter Carri Geer Thevenot at cgeer@reviewjournal.com or 702-384-8710. Find her on Twitter: @CarriGeer.