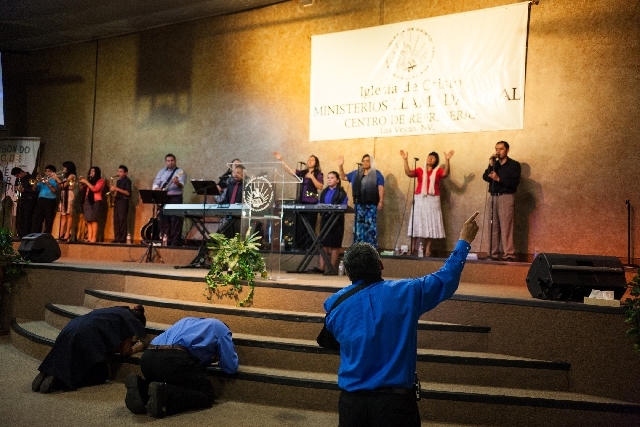 Nearly a hundred of the faithful prayed Sunday for a man who remained hospitalized in critical condition after he was struck by a car Thursday.
The Rev. Tele Llama of Iglesia de Cristo urged congregation members to lift their hands and pray for Lorenzo Alavez, who underwent surgery at University Medical Center immediately after the crash. Alavez is suffering from a severe head injury that has left family members worried about his future.
A Utah woman is accused of felony charges that allege she drove into a crowd, injuring Alavez and seven others before fleeing the scene.
Nayakeuth D. Tear, 18, faces eight charges of felony hit and run in connection with the crash at 10:57 p.m. Thursday as churchgoers leaving the service had just begun to gather around their cars in the 1900 block of Losee Road, near Lake Mead Boulevard and Interstate 15.
In a Las Vegas jail on a $191,000 bond, Tear is expected to make her first court appearance in Las Vegas Justice Court this morning. Tear's son, Janub has been safely returned to his Utah home, North Las Vegas police said Sunday. The child was not involved in the crash, police said.
Llama's ministry, with nearly 300 members, was formed four years ago, an offshoot of his brother's much larger ministry, based in Ontario, Calif.
"There are no words to this prayer, so I'm just going to go ahead and say it," a soft-spoken Llamas told his congregation through a microphone. "Our hearts ache for him and his family, and only God and our faith in Him can help Senor Alavez through these tough times."
Predominantly Latino and Spanish speaking, the congregation has been thrust into the spotlight ever since Tear traveled down the dead-end street that night — apparently looking for a place to sleep — and drove into pedestrians, police say.
A donation basket was passed around during the service to help the Alavez family, and many of the men could be seen opening their billfolds to contribute toward the mounting hospital bill.
In a light industrial area of North Las Vegas, in a neighborhood marked by homelessness and auto repair shops, the Spanish-speaking ministry is just one of dozens that can be found in the Las Vegas Valley.
Those churches have become a religious anchor for many of the Mexican immigrants who grew up Catholic but have since become evangelical now that they are in the United States, Llama said.
Llama, who grew up a Catholic himself in the Mexican state of Colima, said the conversions are the result of the tough experiences that many Mexican immigrants experience in this country. They often have nowhere else to turn to but to a renewed faith in God that pales in comparison to that offered up by the more rigid Catholic Church.
"The conversion is always a personal one. It's a personal relationship with God, not always something that you can always get at a Catholic Mass," he said in an interview before the service.
Sunday's worship could have been mistaken for a Christian rock concert. At least a dozen people performed in the band, playing electric guitar, bass, percussion, drums, electric organ, trumpets and saxophones — a blend of mariachi with contemporary rock.
"We will get past this and move on," Llama said. "And anybody is welcome to join us. Our doors here are always open. Praise Jesus."
Contact reporter Tom Ragan at tragan@reviewjournal.com or 702-224-5512.