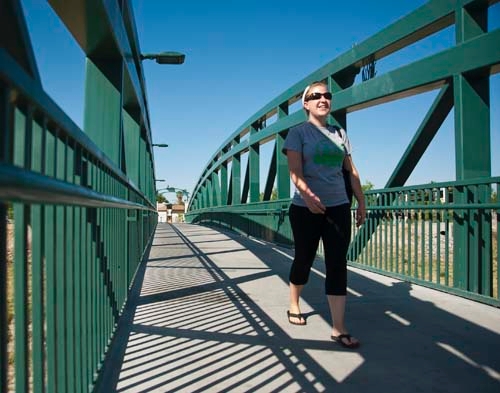 Las Vegas is known worldwide for elaborate entertainment, but for many local residents it's tough to beat the simple pleasure of a walk in a city park.
"Getting your toes in some grass is like connecting with the environment around you," said Rae Lathrop, a downtown resident who frequents Huntridge Circle and Myron Leavitt parks.
But according to a national report on city parks, Las Vegas still has room for improvement, despite tripling its park space in recent years.
The Trust for Public Land recently ranked Las Vegas 23rd out of 40 of the nation's largest cities when it comes to urban parks. The city earned 49 out of 100 possible points in the ranking system.
San Francisco was highest with a score of 74 and Fresno, Calif., was last with a score of 21.5.
Las Vegas got high marks for having bigger-than-average parks but lost points for having a low percentage of residents within a 10-minute walk of a park entrance.
Peter Harnik, director of the trust's Center for City Park Excellence, said the idea behind the rankings was to compare park systems across the country to help cities identify areas for improvement.
"City parks are kind of the core park system most people deal with, even if they go on camping trips and out to the country on the weekends," Harnik said.
By using data from satellites, the trust was able to pinpoint not only where parks are located in relation to homes but also to identify obstacles between parks and neighborhoods.
Harnik said the extra detail is important because obstacles such as fences, heavy traffic, washes and other obstacles don't always show up on maps but can make it difficult for people to get to a park.
He also said images can help cities identify where to build new parks.
"Use the technology to identify places where people are too far from a park to be able to walk," he said. "Think about putting a park in that location."
City records, however, suggest Las Vegas is doing better when it comes to parks than the trust's ranking system shows.
For starters, the trust didn't include in its review parks in master-planned communities in Summerlin, some of which are located within city limits.
If all of Summerlin's 19 parks are added, it boosts the number of urban parks in or near Las Vegas from 68 to almost 90.
Also, Clark County maintains its own park system with major venues like Sunset Park adding to the urban park landscape.
"It just did the city limits of Las Vegas," said Lathrop, who works for Outside Las Vegas, a group working to connect Southern Nevada parks and open spaces with an urban trail system. "It is one cohesive community. I think residents don't make that delineation."
City spokesman Jace Radke pointed out that since 2000 more than $500 million has been spent on city parks, more than half from the Southern Nevada Public Lands Management Act, which uses money from the sale of federal land for conservation and outdoor recreation projects.
Also since 2000, the city has increased the amount of park space from 566 to 1,870 acres. The boost increased the amount of park acreage per 1,000 city residents from 1.17 to 3.19.
It also renovated Gary Reese Freedom Park and started renovating Lorenzi Park.
The city's master plan shows more than 100 acres of park property in development, much of it in areas that are underserved.
"Parks have been a focus for the city of Las Vegas, as evidenced by their massive increase over the past 12 years," city spokesman Jace Radke said.
Contact reporter Benjamin Spillman at bspillman@reviewjournal.com or 702-229-6435.