Patriotic artist wraps up huge American flag in Las Vegas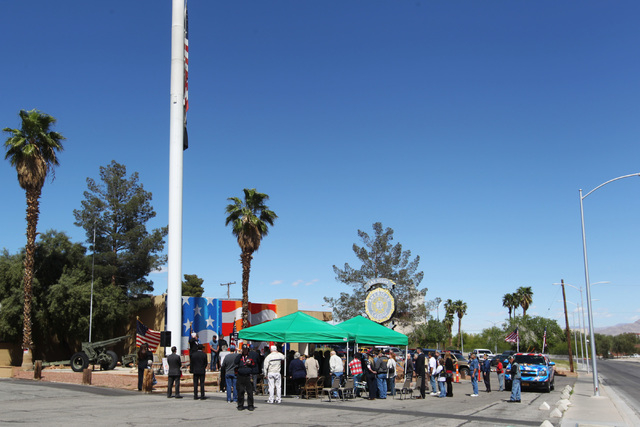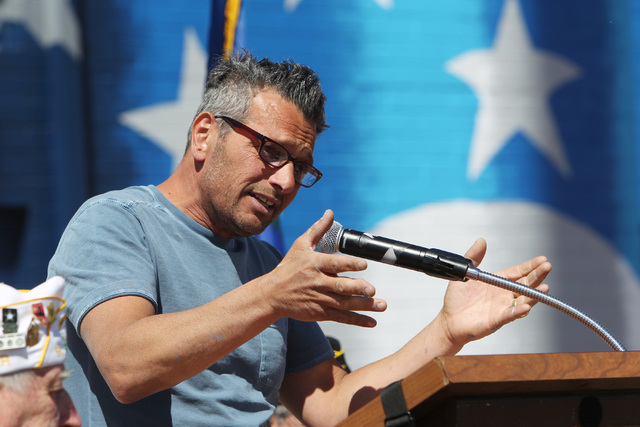 For Scott LoBaido, "Every day is Veterans Day."
That's how he summed up his effort this week to thank the veterans of Nevada for their service by painting a huge American flag on the side of American Legion Post 8.
"I adore my freedom. I'm a civilian who never served, and I've been able to express myself as an artist for my whole life," LoBaido, 50, said before a completion ceremony Wednesday at the post, just north of downtown Las Vegas.
"I get to paint what I want, where I want. That didn't just happen. There are men and women who sacrificed, for me," he said. "It's about these men and women that give us crazy artists this magic way to express ourselves. … It's my way of saying, 'Thanks.' "
LoBaido's arrival Sunday in Nevada marked the 10th state in his 50-state Painting Flags Across America Tour. His goal is to paint at least one U.S. flag on an American Legion or Veterans of Foreign War building in every state. The tour and supplies are sponsored by the Stephen Siller Tunnel to Towers Foundation, the Home Depot Foundation, Behr Paint and CitiQuiet Windows.
"Once a week we hear in the news that some public school, some students want to take the flag down because it's offensive," he said at the ceremony. "You know what? I stopped getting aggravated. You know why? Because every time they want to take down one 3-by-5-foot flag, I'll put up one 15-by-40-feet."
Post 8 Commander Rod Carlone said he was thrilled that LoBaido chose his post for an Old Glory mural.
"The veterans are all about America," he said. "And to have Scott LoBaido come here and make it a visual, everyday item we're going to see is just motivating and inspiring. If you look up and down the street, it is the truly standout feature of the whole street. … It is inspirational and uplifting.
From Las Vegas, LoBaido will drive his custom-painted, 2008 Chevy Suburban, "Betsy," to Salt Lake City for his next project. When he's done with this year's tour, he will auction off Betsy with the money going to Tunnel to Towers, which builds special homes for amputee veterans. For more information go to scottlobaido.com.