Patrols stepped up in Las Vegas Valley after Pittsburgh synagogue shooting
Updated October 27, 2018 - 8:25 pm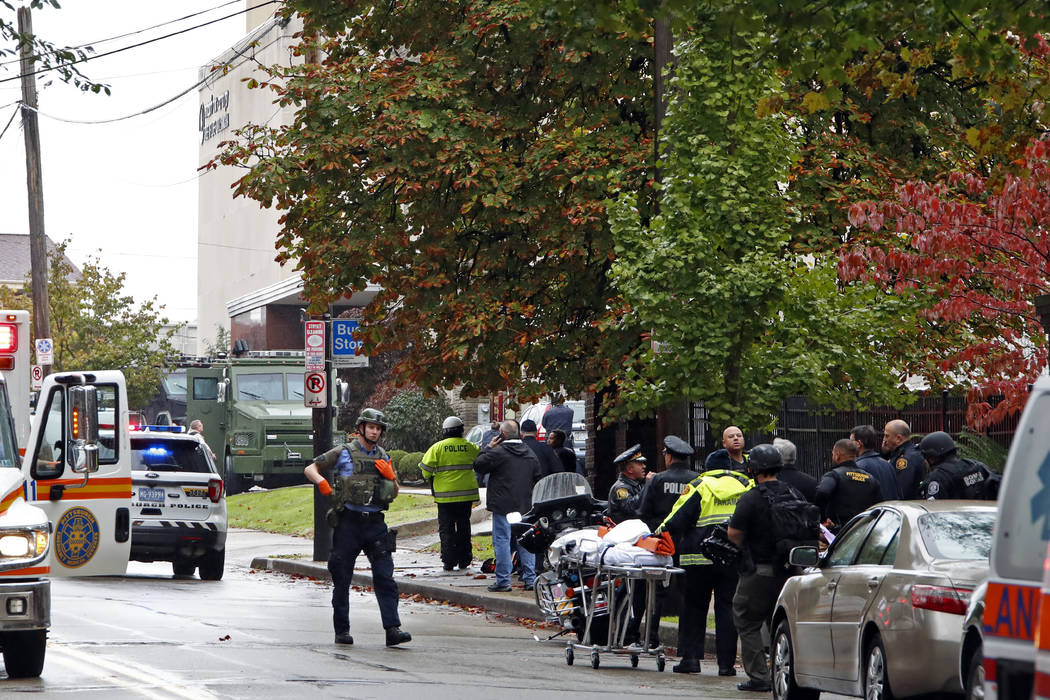 Law enforcement agencies throughout the valley were coordinating with the Anti-Defamation League on Saturday to increase patrols after a mass shooting at a Pennsylvania synagogue.
"We've been in contact with Henderson, LVMPD, the FBI and Washoe County all day," said Jolie Brislin, regional director of the organization, which works to stop anti-Semitism. "Each of these departments have just been amazing ensuring we have a safe place to pray."
At least 11 people were shot and killed Saturday morning at the Tree of Life Congregation in Pittsburgh's Squirrel Hill neighborhood during a baby naming ceremony, according to Pennsylvania Attorney General Josh Shapiro.
On Saturday afternoon, Metropolitan Police Department Lt. Richard Muyers and Henderson police spokesman Rod Pena both said that there are no known threats to Las Vegas synagogues or other religious communities in the valley. Both departments, as well as North Las Vegas police, were emphasizing patrol efforts near synagogues Saturday.
Going forward, Brislin said she hopes the Jewish community will continue to build on its relationship with the police agencies.
"Rather than arming synagogues, we should think of a collaborative way for religious communities to work with their local departments," she said.
In a statement Saturday, the Anti-Defamation League said, "We are devastated for the families and community in Pittsburgh, and we feel their pain reverberate across the country. At this tragic moment, ADL Nevada remains in active communication with our law enforcement partners, synagogue partners and Southern Nevada Board of Rabbis."
Rabbi Sanford Akselrad, leader of the Congregation Ner Tamid in Henderson, said his congregation was feeling sadness for the loss of life after the Pittsburgh shooting.
Akselrad declined to comment on precautionary security measures but said he's been in contact with the local ADL office.
He also felt "a disappointment that our society continues to fight the same battles against hatred and anti-Semitism," Akselrad said. "But we are resolute and determined to be vigilant, and understand that there are good and loving people that stand behind us and with us."
A vigil for the Pittsburgh victims will take place in the next week, according to Brislin.
"It's been amazing the outpour of love and concern that we're getting from around the world," Brislin added. "No matter how hard these times are, to know that all these communities are standing by the Jewish community gives me hope."
Contact Katelyn Newberg at knewberg@reviewjournal.com or 702-383-0240. Follow @k_newberg on Twitter. Review-Journal staff writer Rio Lacanlale contributed to this report.