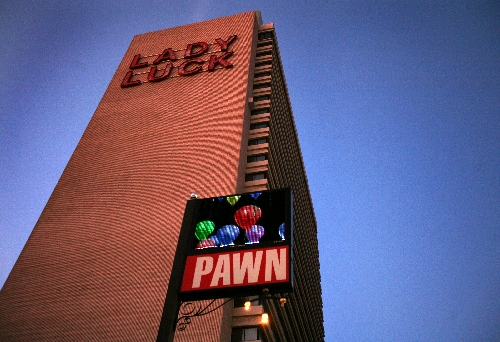 Whether they like it or not, builders of the new downtown might wind up working around a piece of old Las Vegas.
The owner of Ace Loan store on Third Street said he is not moving to accommodate the $100 million Downtown Grand redevelopment project unless the City Council lets him set up shop at his preferred destination on St. Louis Avenue.
The problem is residents in the nearby Beverly Green neighborhood don't want Howard Bock moving to their part of town, and they've got the law on their side.
That leaves the council with a big decision Wednesday: Force residents of Beverly Green to live with a pawnshop they don't want or make a major downtown developer unhappy.
"We're going to ask for an up or down vote," said Bock, whose pawn license for the shop in question dates to 1951.
The council is scheduled to consider code variances Bock needs to move the shop from its location between Hogs and Heifers bar and the Downtown Grand, formerly the Lady Luck, on Third Street to a vacant building he owns at 519 E. St. Louis Avenue.
The vacant building is next to an existing Super Pawn shop and 50 feet from an apartment building at the edge of the Beverly Green residential neighborhood. City code requires pawnshops to be at least 1,000 feet from each other and 200 feet from homes.
Beverly Green residents who don't want commercial uses migrating into their neighborhood say the city should stick with the existing rules and block the move.
"We really don't want a pawnshop across the street from where people in the neighborhood live," said Scott Swank, past president of the Beverly Green Neighborhood Association and a resident of the area for six years.
Swank and the neighbors appear to have the support of Ward 3 Councilman Bob Coffin, who represents the area and said he opposes the move.
"We don't want them creeping too far down the side streets," said Coffin of future businesses.
Coffin's opposition is important because on land use issues City Council members often defer to the member who represents the particular ward where the issue arises.
But in this case, that would mean disappointing backers of the Downtown Grand, a project aimed at reviving the high-rise hotel-casino as a centerpiece for downtown Las Vegas and complement to the city-sponsored Mob Museum at Third Street and Stewart Avenue.
"I think the whole thought has always been to improve the area," Mayor Carolyn Goodman said of the block of Third Street that is home to the Downtown Grand. "We really don't want a pawnshop there or a pawnshop there that isn't very high, high end."
Goodman is close to the issue on a couple of levels. Not only has she followed in the footsteps of her husband, former Mayor Oscar Goodman, in making downtown revival a centerpiece of her administration, she has personal ties to the Downtown Grand project.
The Goodmans are business partners with developer Mark Fine in a commercial property at 1707 W. Charleston Ave.
Fine's son, Jeffrey Fine, is a partner in Fifth Street Gaming, the company landowner CIM Group LLC has hired to operate the Downtown Grand, Side Bar and Triple George restaurant.
Goodman said she would leave it to City Attorney Brad Jerbic to advise her on whether the relationship should preclude her from voting on the proposal or whether she should merely disclose the connection.
"The first place I would go is with our city attorney and ask him," Goodman said. "If I had to abstain, I would abstain, I have no problem with that."
One compromise has emerged, but Swank is skeptical it is one that would satisfy neighbors in Beverly Green or Bock.
Both Goodman and Coffin have suggested the city reconsider the need for an ordinance that prohibits pawnshops from operating on Las Vegas Boulevard between Charleston and Sahara Avenues.
If that restriction were eliminated, Goodman said Super Pawn could move to Las Vegas Boulevard, and Bock could move into the St. Louis Avenue property he already owns.
But Swank said while that might mean only one pawnshop in the immediate area, it wouldn't satisfy the requirement for the shops to be 200 feet from residential property.
And Bock said he wouldn't move to Las Vegas Boulevard because he wants the shop in a building he already owns, not a rental property.
"If it were practical for us, we would jump at it, but it is not," Bock said.