Pedestrian fatalities hit an all-time high in Clark County
November 16, 2017 - 5:08 pm
Updated November 17, 2017 - 10:37 am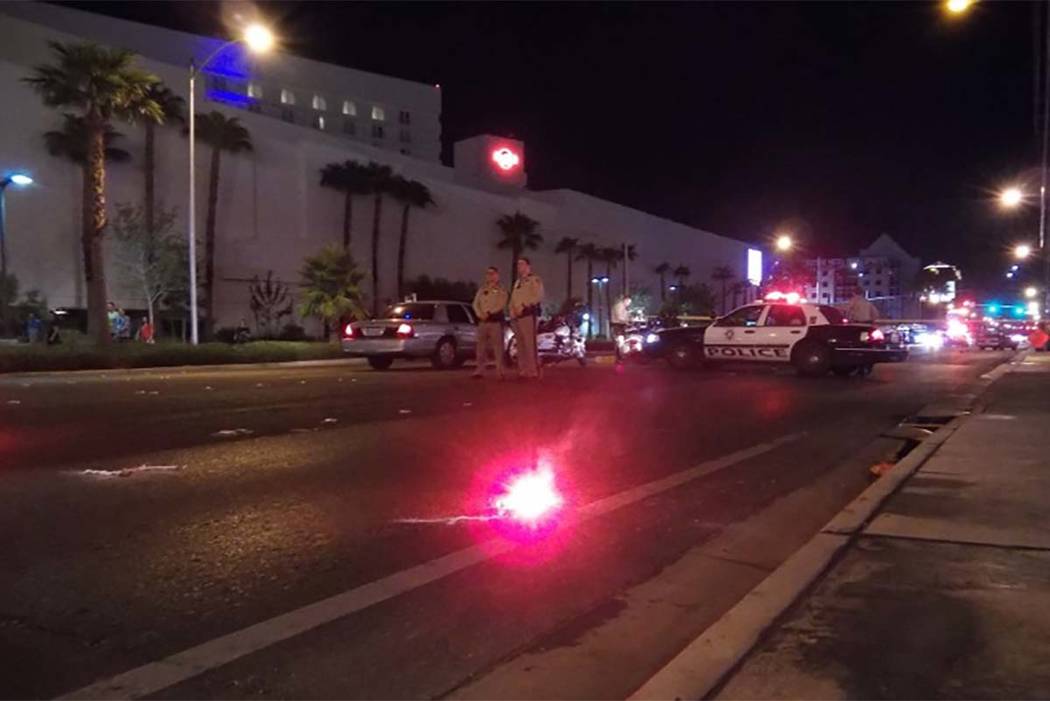 With six weeks remaining in 2017, state records show that Clark County has already logged its deadliest year on record for pedestrians.
So far, 62 walkers have been fatally struck as of Thursday, eclipsing the previous all-time high of 60 pedestrians killed in 2015, according to the state's Office of Traffic Safety.
"This was a record nobody wanted to break because our goal is to see everyone arrive home safely at the end of the day," said Andrew Bennett, a spokesman for the office.
"These numbers are more than data," Bennett said. "They represent lives that were lost and families that were broken forever."
Clark County's 62nd official pedestrian death was reported Nov. 10, when a 64-year-old Las Vegas man was struck by a 2002 Toyota Corolla at Boulder Highway and South Nellis Boulevard. The man died later that day at Sunrise Hospital and Medical Center, authorities said.
Seven crashes on Boulder Highway have resulted in eight pedestrian fatalities so far this year, according to data collected by the Office of Traffic Safety.
Between 2013 and 2016, records show that 24 people were fatally struck by vehicles along Boulder Highway, which was designated two years ago as Southern Nevada's deadliest stretch of roadway by the Nevada Department of Transportation.
NDOT officials are attempting to make the road safer with a $3 million project scheduled for construction in January, aimed at installing flashing beacons, wider medians and crosswalks at eight intersections and midblock segments of Boulder Highway.
A $2.4 million study is underway exploring additional safety improvements on the 16-mile highway running between Las Vegas and Henderson.
Fatal vehicle-versus-pedestrian figures have ebbed and flowed since 1994, when the statistic was first tracked by the Office of Traffic Safety.
The agency has allocated $223,000 toward various pedestrian education and enforcement programs across the state for the federal fiscal year that started Oct. 1, Bennett said.
"We want to hear ideas from the community, from law enforcement, from engineers and from educators and incorporate them into our programs," Bennett said. "We are truly doing everything we can to come up with new ideas that will reduce fatalities on our roadways."
Contact Art Marroquin at amarroquin@reviewjournal.com or 702-383-0336. Follow @AMarroquin_LV on Twitter.