Pelosi stumps for Dems at Vegas union convention
August 11, 2014 - 8:27 pm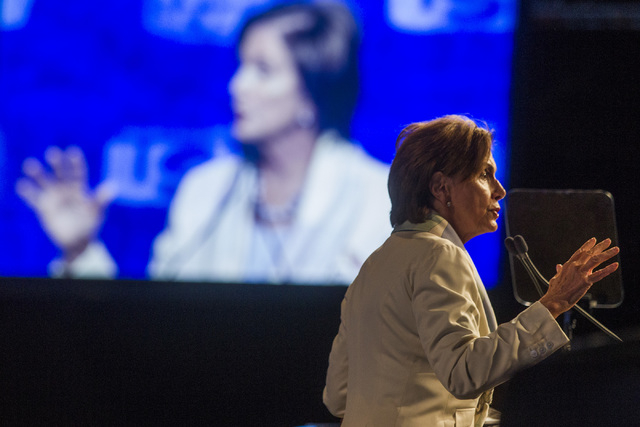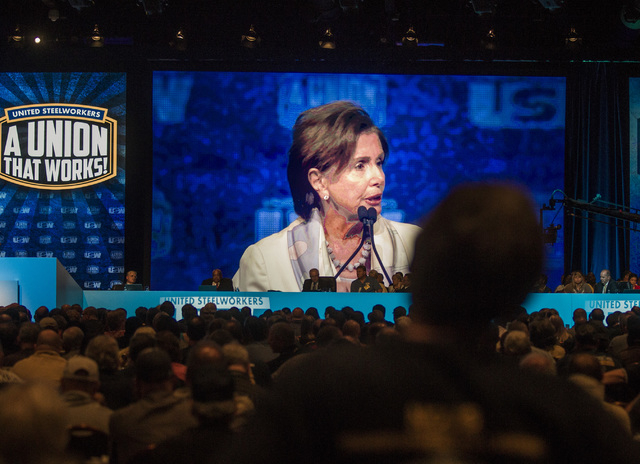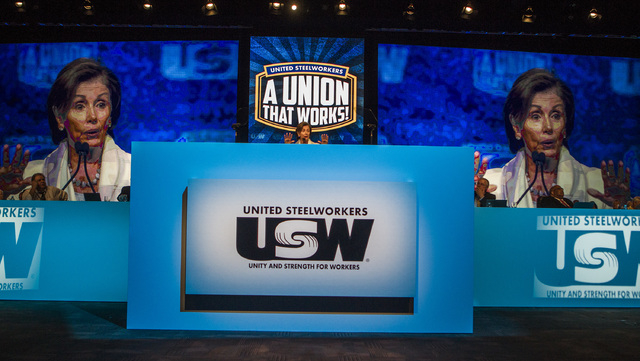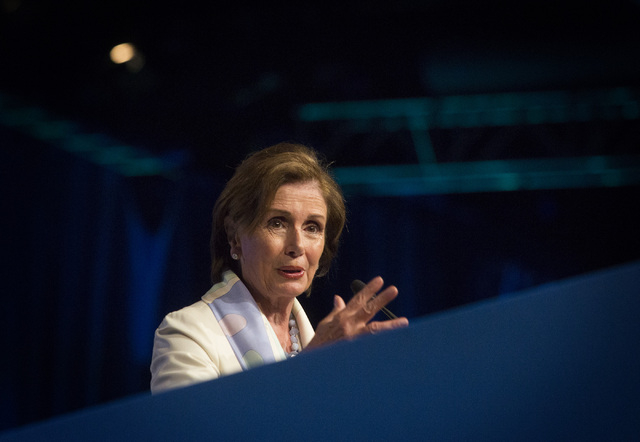 In Las Vegas, House Minority Leader Nancy Pelosi on Monday urged steelworkers to vote for Democrats Nov. 4 to ensure the Senate stays in the party's hands and to offer a long-shot chance to take over the House.
Pelosi, D-Calif., told the United Steelworkers' annual convention that the union and the Democratic Party are of like mind: Both want to improve employee salaries by raising the minimum wage and by providing equal pay to women. She called unions the "backbone of the economy" and the middle class a century-old legacy that has helped reduce poverty.
Pelosi acknowledged, however, the challenge ahead for Democrats as the GOP enjoys more voter enthusiasm and Americans pay less attention to the mid-term election with no presidential candidates on the ballot. In Nevada, no U.S. Senate seat is at stake, putting the focus on congressional, state, local and judicial contests.
Pelosi gave a shout out to Nevada's two Democratic congressional incumbents, U.S. Reps. Dina Titus and Steven Horsford, and urged union members, as well, to back Erin Bilbray, the Democratic challenger to U.S. Rep. Joe Heck, R-Nev., who is running for a third two-year term.
"We can have a victory in the first week of November, by organizing and not agonizing," Pelosi said to scattered applause.
She suggested Republicans are trying to buy the election by using "dark money" donations that don't have to be reported because of a U.S. Supreme Court decision. And she accused the GOP of moving to eliminate collective bargaining and destroy unions to weaken middle class workers while supporting corporations that enjoy generous tax breaks.
"We will reclaim our politics from special interests, by electing again a Democratic Senate and a Democratic House, a longer stretch," Pelosi said to growing applause at the MGM Grand Hotel Casino's Convention Center. "But you cannot win if you do not fight."
This line brought the room of some 2,500 steelworkers to their feet. The union members gave her a boisterous standing ovation and sustained applause, resembling a political rally.
"Are you ready to fight?" Pelosi shouted.
"Yes," dozens shouted back from the convention hall.
Now, Sen. Harry Reid, D-Nev., controls the U.S. Senate as majority leader. Republicans need to retake control of six seats overall to resume leadership of the body. Most pundits suggest the GOP has a good chance this year.
In the House, Republicans hold 234 seats in the 435-seat body, and Democrats hold 199 seats, with two vacant seats that were formerly held by Democrats. In addition to keeping those vacancies in Democratic hands, the party would need a net gain of 17 seats to capture the House from Republicans, something very unlikely to happen, analysts say.
Pelosi was in town to address the steelworkers convention but also to raise money for Horsford and Bilbray at a private event. The closed Pelosi reception was late Monday afternoon at Spago, the Wolfgang Puck restaurant at the Forum Shops at Caesars.
Donation levels for individuals started at $250 and went up to a maximum contribution of $2,600. Participants could also give $500 or $1,000. Political action committees were asked for $1,000, $2,500 or $5,000.
Tyler Houlton, spokesman for the National Republican Congressional Committee, the campaign arm of the House, questioned why Bilbray would want to be seen with Pelosi, one of the least-popular members of Congress though highly regarded within the Democratic Party. Pelosi's super PAC and the Democratic Congressional Campaign Committee also have refused to reserve time for TV ads to help Bilbray in the fall, focusing on more competitive races, Houlton noted.
"Erin Bilbray is getting all of Nancy Pelosi's negative baggage with none of the positive financial support that comes with it," Houlton said in a statement. "This is just another sign of how inexperienced, unorganized and desperate the Bilbray campaign has become."
Pelosi, in her speech to the steelworkers, said if Democrats keep control of the Senate and win the majority in the House, lawmakers will work with President Barack Obama to achieve major legislation in the first 100 days of the new Congress next year.
She said the Democratic program is called, "Make it in America."
Its major features include ending corporate tax breaks and providing more to the middle class; getting companies to bring jobs back from overseas by providing them tax incentives; launching road and infrastructure projects to hire workers and rebuild the country; and investing in education "to keep America No. 1."
She said Democrats also will focus on equality, including equal pay for women, who help America succeed, she said. "You want paycheck fairness, join the union," she said to applause.
Pelosi emphasized that voters have a stark choice in November.
"The Republicans want to stall the middle class," she said. "Democrats want to jump-start the middle class."
Contact Laura Myers at lmyers@reviewjournal.com or 702 387-2919. Follow @lmyerslvrj on Twitter.