'Perlie Claus' collects toys for kids of Las Vegas Rescue Mission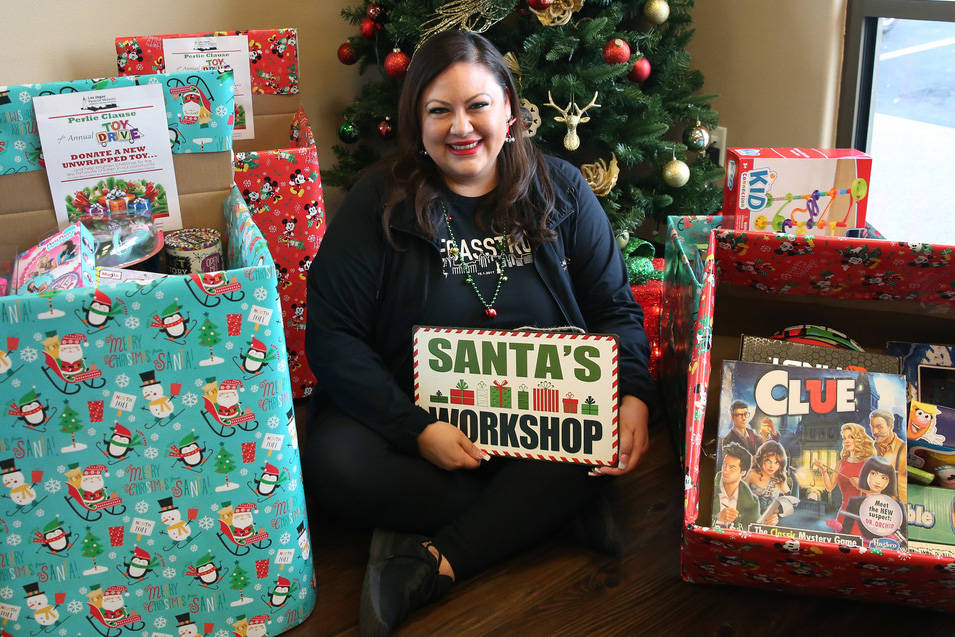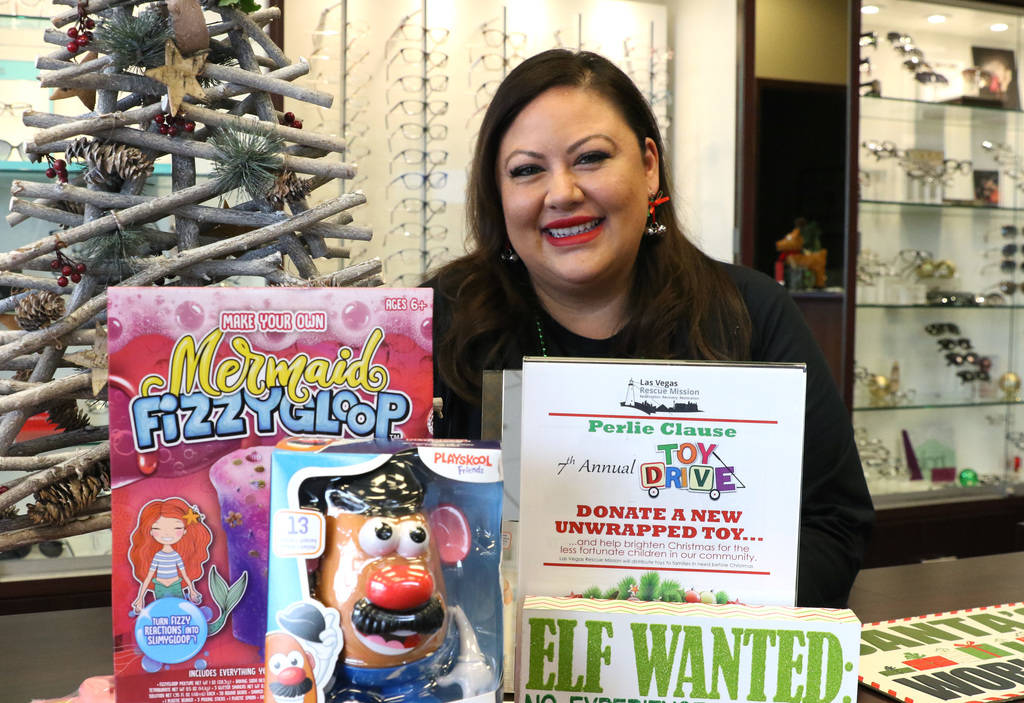 Christmas is a good time for great stories. And no offense to the Grinch, Charlie Brown, Frosty or even Scrooge, but here's a Christmas story you probably haven't heard before.
It's about a woman whose act of kindness results in thousands of kids who are going through hard times receiving gifts they otherwise wouldn't have. More than that, it's a story about how one person's passion and charisma can fill others with the spirit of Christmas.
It's the story of Perlie Claus, the part-time identity that Perla Gumm assumes this time of year as the Las Vegas Rescue Mission's chief toy shepherd.
Gumm, 36, spends her workdays as officer manager at Optic Gallery, 7290 Arroyo Crossing Parkway. But signs of her seasonal avocation were evident last week by the toy donation boxes set up at the office — two that were filled with Trolls and trucks and Barbie dolls — and her festive desk decorations.
Gumm laughs. "I'm a crazy elf," she says. "I've always been a Christmas person. Everything about it. I love Christmas."
Gumm's Yuletide calling began seven years ago. She had just turned 30 and felt in need of "a bit of purpose" in her life. She volunteered to serve Thanksgiving dinner at the Rescue Mission and, noticing the children, offered to organize a toy drive for them.
That first year, working pretty much by herself, she collected about 200 toys. Gumm kept at it, and each year she collected more toys until last year's drive netted more than 3,400.
Three years ago, her effort got an official name: the Perlie Claus Toy Drive.
This year's drive is Gumm's seventh and runs through Saturday. She hopes to collect 4,000 toys in what remains a mostly one-woman campaign aided, she stresses, by "many elves" including friends and family, her patients and her employers and officemates.
On the morning of Dec. 10, the collected toys will be taken to the Rescue Mission where volunteers will begin to wrap them. They'll then be distributed to children on Dec. 15 at a Christmas party that will include cookies and hot chocolate, a visit from Santa and Mrs. Claus, music and, of course, presents handed out by Perlie Claus herself.
Gumm "is our main toy provider," says Heather Williams, the mission's director of development. Other businesses pitch in, "but she is the main chunk of it, and it just increases each year.
"She is so dedicated to her job, and she gives up a lot of time to do this. She's a very amazing woman, and we're so blessed she has chosen (the mission)."
Gumm says she began organizing this year's drive in mid-October and estimates she spends 20 to 25 hours a week on the project. It gets crazy, she says, "but the reward is kids' faces that (distribution) day. That's why we do it."
Toy recipients will include children in the Rescue Mission's shelter and parents in its recovery program, so they'll have toys to give their kids. Remaining toys will be distributed to any kids who might want them by, for example, police officers who might know of families with a need.
Watching kids receive the toys, "the first years I'd cry," Gumm says. "It's very emotional."
For some families, "this is the only Christmas they're getting. I haven't come across one family who's not thankful."
Gumm — who names "Barbies and baby dolls, like the whole nine" as her own favorite childhood Christmas presents — says she often is asked why she does what she does. "I think you can always start with the kids," she says.
Her hope is that the gifts she provides now might resonate with the children, prompting them to, maybe, someday start their own toy drives for other kids, "passing on from generation to generation."
And her Christmas wish? "I just want a successful Christmas," she says. "I want kids to smile and I want families to be happy."
Contact John Przybys at jprzybys @reviewjournal.com or 702-383-0280. Follow @JJPrzybys on Twitter.
Toy drive locations
The seventh annual Perlie Claus Toy Drive is seeking toys for boys and girls 2 to 10, although creator Perla Gumm adds that no toy will be refused.
Toys should be new and unwrapped and can be dropped off at Optic Gallery locations at 7290 Arroyo Crossing, Suite 160, and at Boca Park, at 8880 W. Charleston Blvd. However, Gumm says toys dropped off at other Optic Gallery locations in Southern Nevada (see opticgallery.com for locations) also will be accepted.
The drive runs through Saturday. Donation hours are 9 a.m. to 6 p.m. Monday through Thursday, 9 a.m. to 5 p.m. Friday and 8 a.m. to 4 p.m. Saturday.
Heather Williams, Las Vegas Rescue Mission director of development, says the mission also accepts toys and gifts — including gift cards in $20 denominations for such retailers as Walmart and Target — to give out to older children, as well as gifts suitable for babies and infants. Gifts can be dropped off at the Las Vegas Rescue Mission, 480 W. Bonanza Road, from 8 a.m. to 6:30 p.m.
Williams said volunteers to wrap presents also are being sought. To volunteer or for more information visit vegasrescue.org/volunteer.