Pesky peacocks present problems for Wayne Newton's neighbors in Las Vegas
November 7, 2016 - 9:59 pm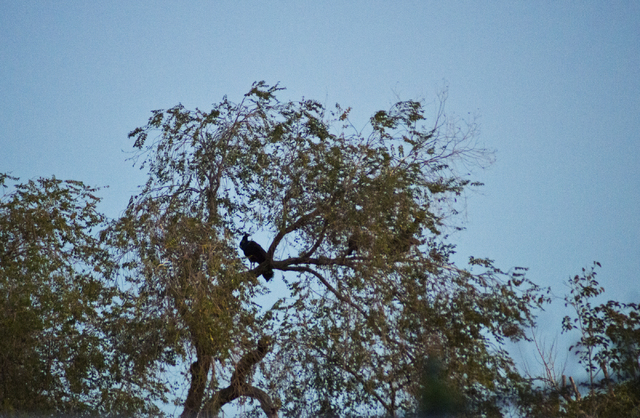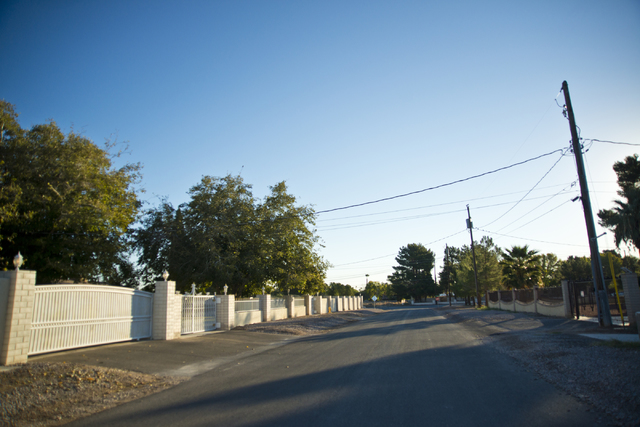 April Juelke and her husband, Chris, thought they had bought a piece of paradise when they moved into their ranch-style home on Smoke Tree Lane in the early '90s.
That excitement ended at dawn the next day.
"We heard something on our roof that scared us to death," April, 55, recalled last week. "We thought a burglar was breaking in, but it was a bunch of peacocks."
For years, wild peafowls have been a problem for the Juelkes and other Paradise Road residents who live near Casa de Shenandoah, Wayne Newton's nearly 40-acre ranch estate. The Juelkes, and others, say the birds roost at the ranch.
Newton is Mr. Las Vegas, the iconic entertainer who has been synonymous with Sin City for decades. According to his attorney, Jay Brown, the peafowl were already at the ranch when Newton bought the property in the '60s.
"We've never bought a peacock. We've never brought in a peacock," Brown said.
Newton no longer lives at the estate, Brown said. Casa de Shenandoah is a tourable museum focusing on his life and career.
The Juelkes claim that the free-roaming peafowls fly over the ranch's walls every morning and evening to squawk, scratch the family's cars with their talons and leave droppings that have given their Labrador retriever, Reginald Winthorp, intestinal diseases twice.
Others, such as Bart Donovan, have seen the fearless birds trek across nearby roads in search of food, putting themselves and motorists at risk.
"These birds could cause some serious accidents and people to be injured," he said.
The exact number of wild peafowls roaming the immediate area around the ranch is unknown, but estimates by Clark County code enforcement put the current population between 20 and 30.
Compounding the problem is that peafowls have an average life span of 20 years, according to the Los Angeles County Arboretum and Botanic Garden. Peahens can lay three to eight eggs at a time.
"My view is if we don't stay on top of this, it will become more of a problem because the animals do breed," said Commissioner Mary Beth Scow, who represents the district. "I know when I was out there I saw several young peafowl."
Brown said Casa de Shenandoah is officially home to a separate group of 25 peafowl that are tagged and live in an enclosure. The Newtons are willing to help remove the wild birds, but it's not their responsibility, he said.
"These are feral peacocks," Brown said. "It's a neighborhood problem, not a Newton problem, in fairness."
But Donovan, a member of the Paradise Town Advisory Board, said he and many others see it differently.
"These things were born on the Newton property, they live there, they roost there at night," he said. "As far as I'm concerned, they're their birds."
SEARCHING FOR SOLUTIONS
While both the Newtons and those who live around the ranch are amenable to removing the wild peafowls, how best to do that remains unknown.
County commissioners spent more than 30 minutes during their zoning meeting last week discussing how to best handle the problem.
Animal control has one cage large enough to capture peafowls, but commissioners decided that its staff is too small to constantly monitor the trap.
And once the peafowls are caught, there remains the question of what to do with them.
Nevada Department of Wildlife spokesman Doug Nielsen said there's nothing his agency can do to help alleviate the problem. He likened the situation to someone buying a pet duckling, then releasing it at a local park after it matures.
"Part of the reason … the problem exists is because somewhere along the line, someone just dropped them off," he said. "At this point, the community is going to have to figure it out and decide what they want to do."
Clipping the peafowls' wings and releasing them would make them easy targets for hungry coyotes.
Sterilizing the peafowls would require a veterinarian with expertise in the subject, and the only one county staff has found so far resides in Wisconsin. That expert might be willing to train a local veterinarian to perform the procedures, according to county staff.
Donovan testified last week that he has had some luck with a homemade trap made of a large batting cage net. He claims to have caught 21 peafowls in the last month and found homes for them outside the state.
At their zoning meeting, commissioners instructed the county's animal control division to work with Casa de Shenandoah and nearby residents to remove the wild peafowls on a continual basis. The peafowls will then be given to the Animal Foundation.
The colorful birds' fate after that remains gray.
"We didn't give a specific method (of removal); we just gave that direction," Scow said. "There has been progress, and we continue to expect there will progress so this neighborhood will no longer have this problem. That's our goal."
Contact Michael Scott Davidson at sdavidson@reviewjournal.com or 702-477-3861. Follow @davidsonlvrj on Twitter.