Pilot survives crash of contractor's jet near Nellis Air Force Base in northeast Las Vegas
August 18, 2016 - 11:04 am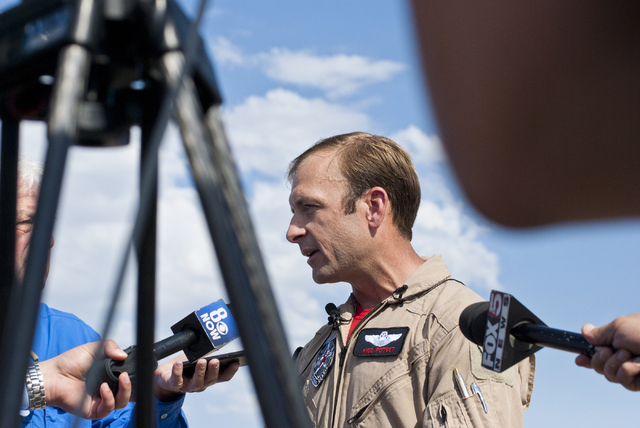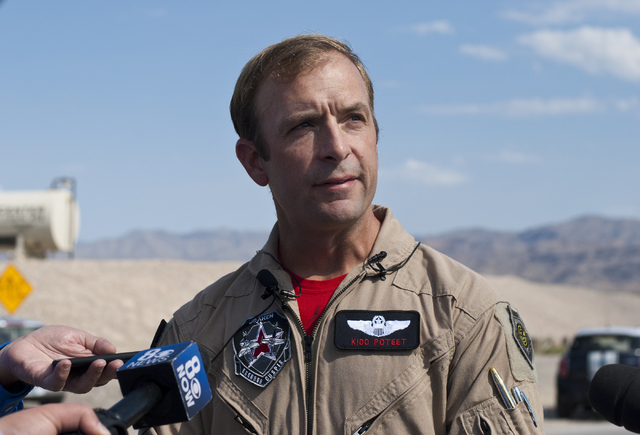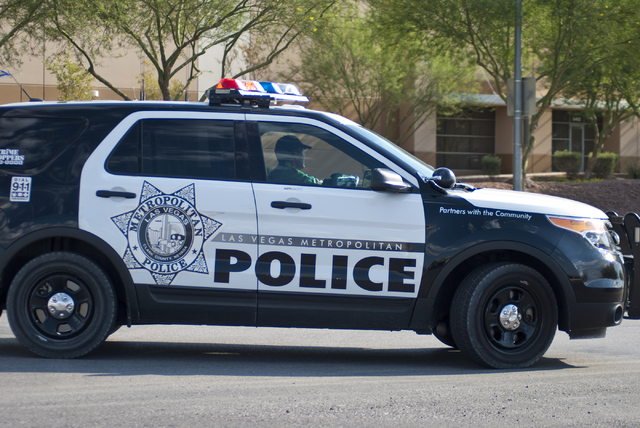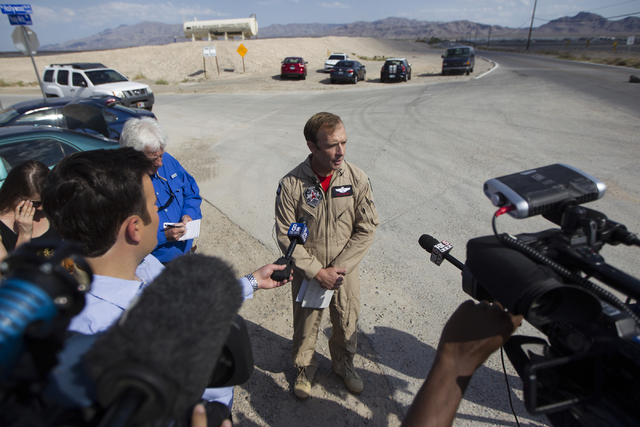 A Vietnam War-era attack jet operated by a military contractor crashed about a mile from Nellis Air Force Base Thursday, but the pilot ejected and survived with nonlife-threatening injuries, a spokesman for the contractor said.
The aircraft was a Douglas A-4K Skyhawk, one of 10 of the A-4 jets at Nellis used to portray adversaries in Air Force Weapons School and Red Flag air combat exercises, said Scott Poteet, director of business development for U.S. Air Force Programs for the contractor, Draken International.
He said the jet that crashed at 7:40 a.m. was returning along with another A-4 from a weapons school mission over the Nevada Test and Training Range north of the Las Vegas Valley.
The jet that crashed had made its initial approach to the base prior to landing, he said, and was flying toward the Las Vegas Motor Speedway when it went down near North Sloan Lane and East Ann Road, north of the base.
Poteet said witnesses saw two parachutes even though the pilot was the only person in the aircraft. First responders transported the pilot, whom he declilned to identify, to the base's medical center, where he was treated for minor injuries.
"All these pilots are highly trained. We're all former Air Force, Marine and Navy fighter pilots that have extensive experience. In fact, he is one of the most experienced pilots in our squadron," said Poteet, himself a former pilot with the Thunderbirds air demonstration team at Nellis.
During the Vietnam War, A-4 Skyhawks were flown primarily by the Navy.
Poteet said there were no munitions on the aircraft.
Nellis spokeswoman Lea Green said the crash site is a privately owned, mostly vacant lot. The aircraft impacted a cinder block wall, causing a portion of it to tumble down, she said.
Poteet wouldn't speculate on the cause of the accident or whether the company's A-4 fleet will be grounded.
"It's obviously up to the Nellis leadership and Draken leadership as far as what measures we're going to take at this point," he said.
The National Transportation Safety Board and U.S. Air Force Accident Investigation Board are conducting a joint probe to determine what caused the accident.
A Nellis statement said the crash site "is contained and the aircraft poses no threat to the community or natural resources."
"Thankfully there were no injuries on the ground," it said.
Metropolitan and North Las Vegas police were among the local agencies responding to the crash site.
The last military aircraft accident in Southern Nevada was June 7 when an unmanned MQ-9 Reaper drone from Creech Air Force Base crashed during a training mission 20 miles northwest of the 215 Beltway.
The last fatal crash involving an aircraft out of Nellis Air Force Base was June 28, 2011, when Capt. Eric Ziegler was killed when his F-16C crashed on public land near the test and training range.
Review-Journal writers Neal Morton and Christian Bertolaccini contributed to this story. Contact Keith Rogers at krogers@reviewjournal.com or 702-383-0308. Find him on Twitter: @KeithRogers2 Contact Christian Bertolaccini at cbertolaccini@reviewjournal.com or 702-383-0381. Follow @bertolaccinic on Twitter.