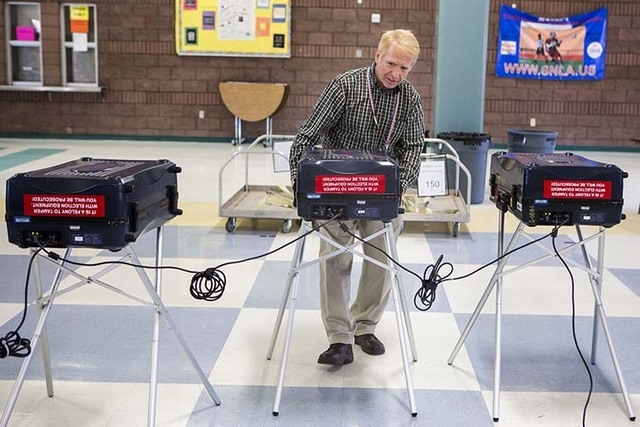 The election this year isn't very sexy.
No president will be voted into the White House. Neither of Nevada's two Senate seats are up for election. Republican Gov. Brian Sandoval is expected to cruise to an easy victory against Bob Goodman, an obscure Democrat opponent who has lacked the financial backing to mount a competitive race against a popular incumbent.
But plenty is in play as voters go to the polls. Southern Nevada voters will pick a new sheriff to lead the Metropolitan Police Department and replace retiring Sheriff Doug Gillespie. On the economic front, voters will decide if businesses should pay a new tax to generate money for public education. Voters also could open the door to higher tax rates for the mining industry, an economic force in Nevada second only to gaming.
On the national political scene, Nevada's Democratic Sen. Harry Reid isn't up for re-election this year. But his job title may switch from Senate majority leader to Senate minority leader if Republicans pick up enough seats to gain a GOP majority in the Senate.
The trends point to low turnout. Turnout in early voting has been low this year, reaching only about 25 percent. By comparison, in the 2010 mid-term election, 35 percent of registered voters cast ballots during early voting.
In Clark County, 822,922 residents are registered to vote, with 43 percent belonging to the Democratic Party. About 30 percent are registered members of the Republican Party; the remaining 27 percent are independent or registered to third parties.
Here's a look at some key races:
BALLOT QUESTIONS: Voters will make three historic decisions on ballot questions for Nevada that determine the future of the court system and the state's tax structure. Question 1 would create an appellate court system if approved, with the Nevada Supreme Court establishing what types of district court-level decisions would be heard by the new three-judge appeals court. Question 2 would remove a constitutional cap on mining taxes. That, in turn, would allow the Legislature or voters to change the tax rates in the mining industry in the future. Question 3, if passed, would impose a 2 percent margin tax on businesses with a total annual revenue that exceeds $1 million. Those tax dollars raised would go to public K-12 education.
ATTORNEY GENERAL: The race for Nevada attorney general has garnered widespread attention, it could be a potential stepping stone to a higher office for Democratic candidate Ross Miller, now the secretary of state. Miller is facing off against Republican Adam Laxalt, a lawyer who has also served as a U.S. Navy judge advocate general in Iraq.
LIEUTENANT GOVERNOR: Sandoval isn't facing keen competition, but the race for the lieutenant governor is drawing widespread attention. Republican state Sen. Mark Hutchison of Las Vegas is facing off against Assemblywoman Lucy Flores, D-Las Vegas. Hutchison has Sandoval's support and the race's outcome will determine who steps into Sandoval's place if the governor leaves office early for another opportunity, be it a run against Reid, a Cabinet post or judgeship.
CONTROL OF LEGISLATIVE CHAMBERS: For the 42-member Assembly, Republicans would need to gain seven seats if they want to control that body, where Democrats now have a 27-15 majority. With the 21-seat state Senate, Democrats now have a 11-10 majority. If the GOP gains control of either legislative chamber, Sandoval would have more strength in getting his agenda through in Carson City.
CONGRESSIONAL RACE: The race between Democratic freshman U.S. Rep. Steven Horsford and his challenger, GOP Assemblyman Cresent Hardy has become competitive. The 4th Congressional District race has attracted the attention of Crossroads GPS, a conservative group that poured hundreds of thousands into television ads that targeted Horsford.
COUNTY RACES: Voters will be picking a new Clark County sheriff on Tuesday. With out-going Sheriff Doug Gillespie retiring after two terms, the race is down to two candidates: Joe Lombardo, an assistant sheriff on the force who has Gillespie's backing, and Larry Burns, a retired Metro captain.
Three Clark County incumbent Democratic commissioners — Susan Brager, Chris Giunchigliani and Mary Beth Scow — are up for re-election against Republican candidates. Joseph Thibodeau is running against Giunchigliani; Mitchell Tracy is running against Brager; and Cindy Lake is running against Scow. Early voting patterns show Republican voters outnumbering Democratic voters in the Scow and Brager races.
Contact Ben Botkin at bbotkin@reviewjournal.com or 702-387-2904. Find him on Twitter: @BenBotkin1.
Voting information:
Eligible voters will have received sample ballots by mail with voting and candidate information.
To find polling places, you can also visit the Clark County Election Department website.
▶ Polls are open from 7 a.m. to 7 p.m.