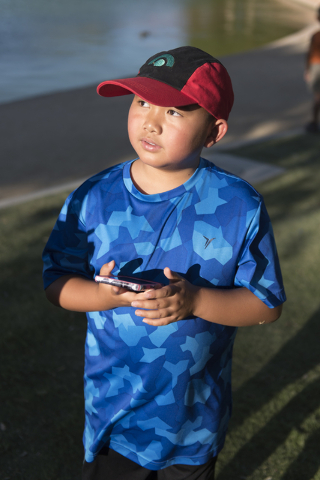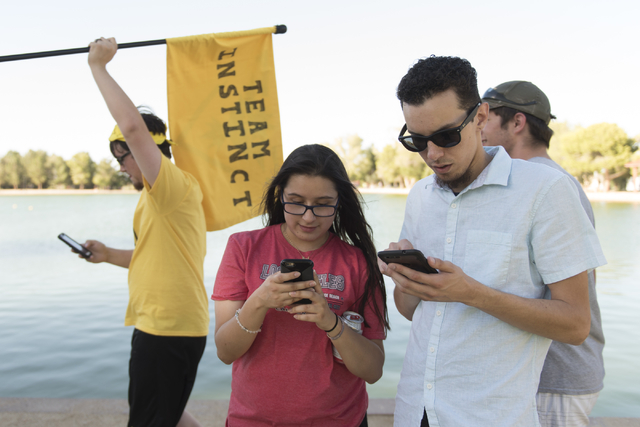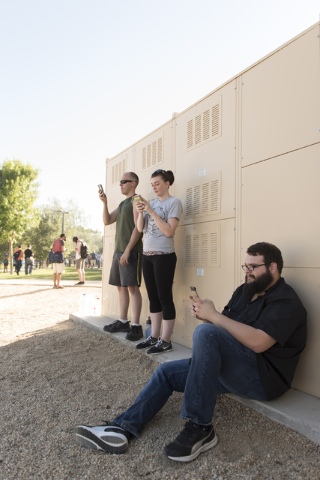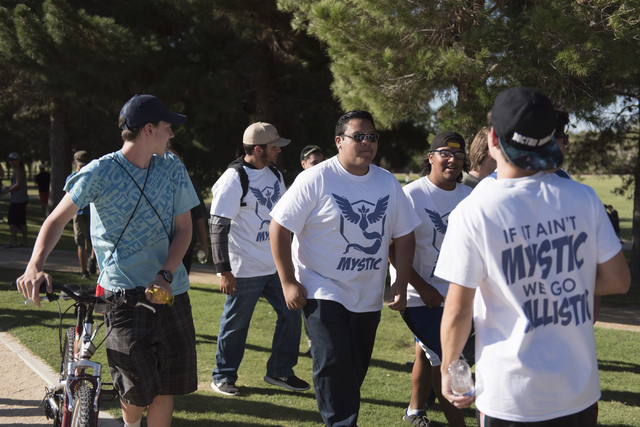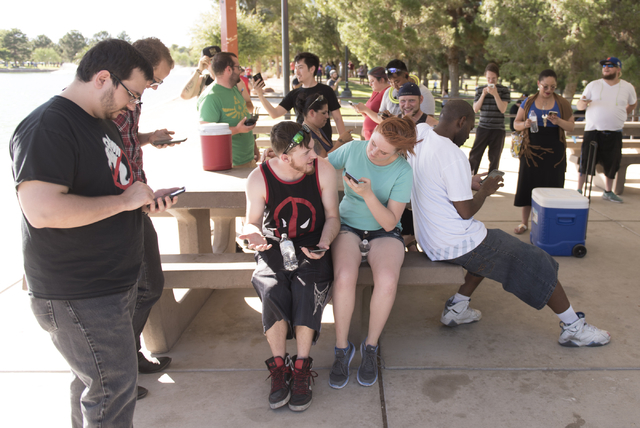 Sunset Park became the hot spot late Sunday afternoon and well into the evening for Pokemon fans, young and old, on the quest to "catch them all."
Hundreds of people converged at the park for the "Catch and Greet" event held just three days after Pokemon Go — a new, augmented reality smartphone game — debuted.
"It's pretty amazing that this can bring people together like this," said Alex King, 22, of Henderson, who showed up to the park dressed as Pikachu. "It's a common interest that dates back 20 years ago."
Pokemon Go was created by Niantic Inc., a San Francisco spinoff of Google parent Alphabet Inc. previously best-known for a similar augmented-reality game called "Ingress."
To play, you fire up the game and then start trekking to prominent local landmarks — represented in the game as "Pokestops" — where you gather supplies such as Pokeballs. You fling those at online "pocket monsters," or Pokemon, to capture them for training. At other locations called "gyms" — which may or may not be actual gyms in the real world — Pokemon battle one another for supremacy.
Sunday's event — created via Facebook — described the park, with its water, desert and grass, as a place to catch a "decent amount" of Pokemon. According to the event page, 2,300 people RSVP'd for the fun.
"The only thing I can equate it to is people lining up at the Apple Store," King said.
The event asked people to meet in the parking lot next to Sunset Park's F Trail. The spaces soon filled up with vehicles, and the park with people.
"This game is addicting," said Leah Geoffroy, 23, of Las Vegas.
It was nostalgia that brought Geoffroy, and her husband Jeremy, back to the world of Pokemon.
"I played Pokemon a lot as a kid with my brother," she said. "A lot of my friends started playing it, and I said, 'OK, I gotta check it out.'"
Geoffroy has collected 44 Pokemon so far.
To collect the Pokemon, Geoffroy said she has gone to "more places than she's willing to admit."
She's even taken detours on her way home from school at Nevada State College to try to catch more.
She's also walked a great deal.
"Both of us try to stay active, so the fact that both of us have walked eight miles in the last few days is insane," she said.
According to the fitness app on her phone, Geoffroy was almost 4,000 steps over her average daily amount on Saturday.
"One of the running jokes is that Michelle Obama has been trying to get people active for eight years, and Pokemon Go did it in three days," King said. "To actually play the game, you need to get out of the house. You need to move around and discover new areas. It does force you to be active, which is probably one of the coolest parts about it, without realizing it."
Players also have been known to become so engrossed in the game on their smartphones that they hurt themselves by walking into objects.
The event, which began at 5 p.m. on Sunday, wasn't slated to end until 11 p.m.
The Associated Press contributed to this report.
Contact Natalie Bruzda at nbruzda@reviewjournal.com or 702-477-3897. Find @NatalieBruzda on Twitter.