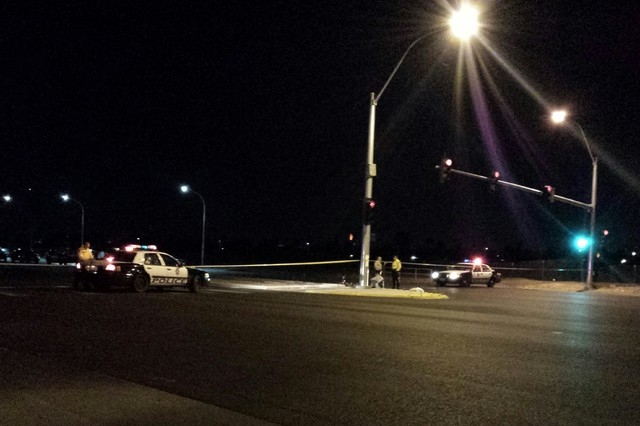 Las Vegas police arrested a fifth person Tuesday in connection with what they said was a gang-related shooting that left a 24-year-old man dead in May, Clark County Detention Center logs show.
Benjamin Hernandez, 18, was booked on one count of first-degree murder, according to jail records.
Richard Najera was shot and killed in the 2900 block of Fremont Street, near Oakey Boulevard late at night on May 29, police said.
Minutes after the shooting, Metro followed a Honda Accord with five occupants whom witnesses said were connected to the shooting, according to an arrest record.
The car was abandoned in a nearby neighborhood, but officers found the driver, Yors "Cuete" Garcia-Mier, 18, and Nicholas Pedro "Silent" Cortes, 17, hiding a short time after.
Garcia-Mier, Cortes, and a third teenager, Miguel "Trips" Salazar, who was arrested in June, are facing second-degree murder charges. A fourth suspect, Jeiszon Valles, 21, was also arrested in June and is facing first-degree murder charges, according to police.
Detectives said Hernandez consented to an interview two days before his arrest. He told police he and the others were driving along Fremont Street and spotted Najera, whom they called a rival gang member or "hater." Hernandez, a passenger in the back seat, and the others got out and beat up Najera, according to an arrest record. Hernandez told police he punched Najera one time during the fight.
During the interview, Hernandez said the group went back and confronted Najera again with a firearm. Hernandez told police he stayed in the car the second time and heard one or two gunshots, accord to an arrest record.
Wesley Juhl contributed to this report. Contact reporter Colton Lochhead at clochhead@reviewjournal.com or 702-383-4638. Find him on Twitter: @ColtonLochhead