Police, firefighters escort body of Justin Beebe during Las Vegas funeral procession
August 17, 2016 - 4:13 pm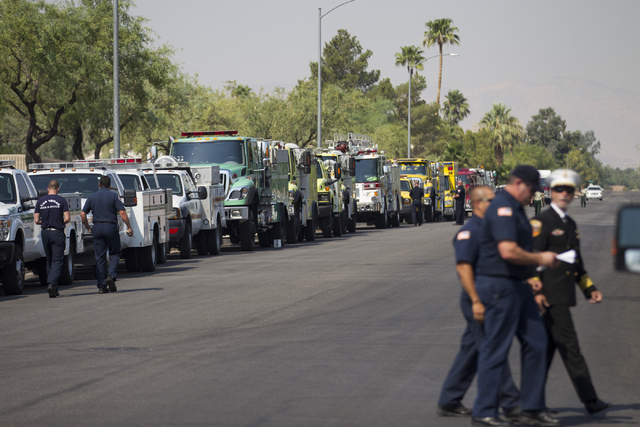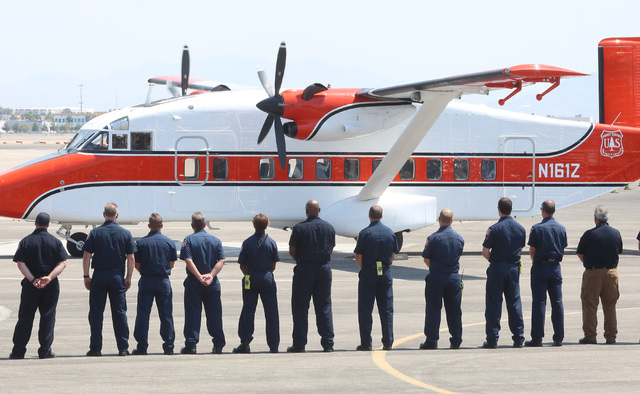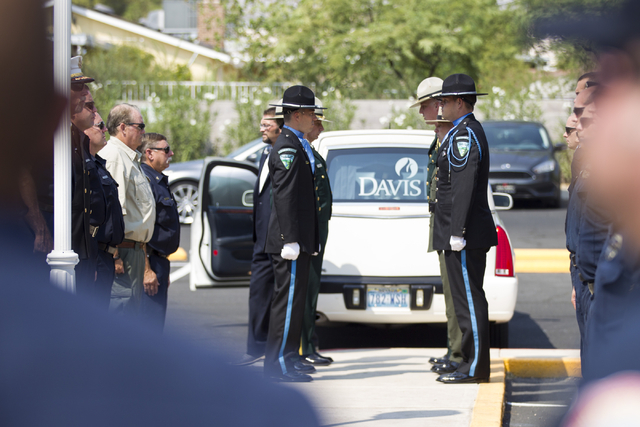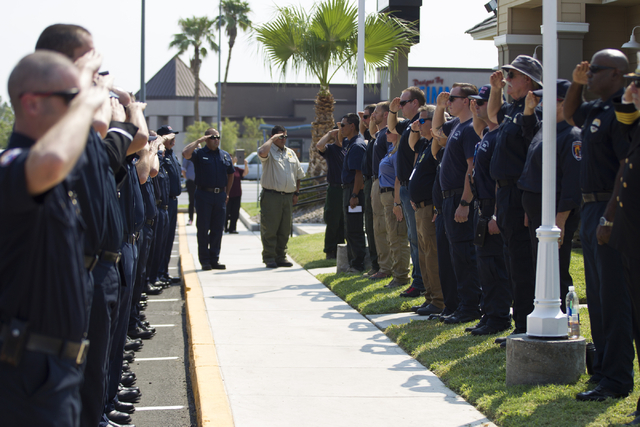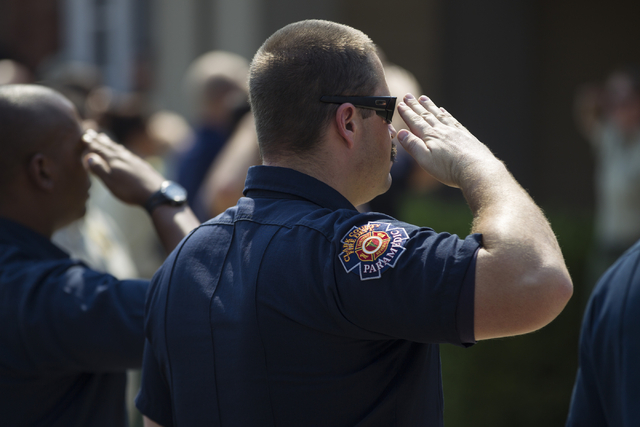 It's not a secret to the 100 or so cops and firefighters who gathered Wednesday morning at a Davis Funeral Home in Las Vegas to honor a fallen U.S. Forest Service firefighter: Danger is part of the job.
"It could happen anywhere," Ray Jonson, from the Forest Service, said. "That's why we're all together."
Firefighters from Las Vegas, Nye County, the Forest Service and the Bureau of Land Management joined dozens of officers from the Metropolitan Police Department for a funeral procession. One firefighter from the Truckee Meadow fire department, which covers the Lake Tahoe area, drove down to participate.
First responders get in Honor Line position. Procession underway soon pic.twitter.com/mxmwRHRsvj

— Wesley Juhl (@WesJuhl) August 17, 2016
Firefighter Justin Beebe died about 4 p.m. Saturday after a dead tree fell on him as he was fighting the Strawberry Fire at Great Basin National Park, about 300 miles northeast of Las Vegas.
The 26-year-old from Bellows Falls, Vermont, was in his first year as a member of the Lolo Hotshots based in Missoula, Montana. He was among 434 firefighters battling the wildland fire, which was sparked by lightning on Aug. 8.
He succumbed to injuries after being struck by a snag during firefighting efforts. A snag is a standing dead tree or part of a dead tree left after a forest fire.
After a private memorial service, the funeral procession traveled through Las Vegas from the funeral home at 1401 S. Rainbow Blvd. to U.S. Highway 95, Decatur Boulevard and the North Las Vegas Airport.
Dozens of police motorcycles and fire trucks stood by in the funeral home parking lot waiting to give Beebe a hero's sendoff. They lined up along the sidewalk as the flag-covered casket was wheeled to a nearby vehicle.
And it's off to the airport pic.twitter.com/3I4N2dmb65

— Wesley Juhl (@WesJuhl) August 17, 2016
Procession heading out in 10 minutes or so pic.twitter.com/ltnXPTg2eO

— Wesley Juhl (@WesJuhl) August 17, 2016
"Bad things happen to good people. We all know that," Metro Capt. Rich Fletcher told those in the honor line. "If we stop honoring those who work with us and work for us, then what's the point of our job?"
A Hotshot crew is an elite group of firefighters composed of 20 professionals. The group's primary purpose is to be an organized, mobile and highly trained wildland fire management force.
Wildland firefighters face dangerous conditions and often extremely steep terrain. Temperatures can intensify, and winds can aid a wildfire's progress and exacerbate the dangers for responders.
Beebe's is the first Forest Service death this year.
A public memorial service for Beebe will be held in Missoula on Saturday morning. A memorial website was set up for Beebe at justinbeebememorial.blogspot.com.
As of Wednesday morning, the Strawberry Fire was 90 percent contained but still spanned 4,657 acres.
Contact Wesley Juhl at wjuhl@reviewjournal.com and 702-383-0391. Find @WesJuhl on Twitter.