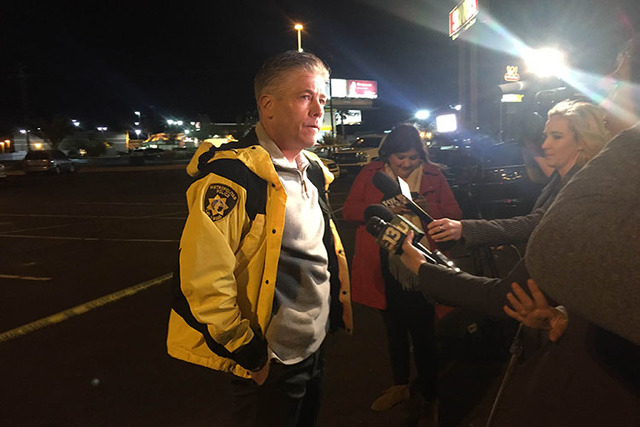 A man was shot dead Tuesday night in a northwest valley strip mall.
The shooting stemmed from an argument and a fight in front of a small smoke shop on the southwest corner of Rancho Drive and Cheyenne Avenue just before 9 p.m., said Lt. Dan McGrath, who oversees the Metropolitan Police Department's homicide unit.
McGrath said the man who died was shot once just in front of the smoke shop, and accounts from at least 10 witnesses suggest the man then tried to run away before he was shot again. He died in the parking lot, and he was not armed.
The shooter then ran from the scene. He was described as a 6-foot male in a hoodie. His race was unknown because his hood was up, McGrath said.
Police hadn't identified the man who died as of Tuesday night. Homicide detectives were working with gang intelligence to see if they could identify him.
"He had a number of tattoos," McGrath said, but because of the way the man was positioned in the parking lot, they couldn't yet tell if the tattoos were gang-affiliated.
Nearby, a skateboard was left at the scene. Witnesses told detectives the man who died was "known to frequent the area on a skateboard."
Metro has investigated more than 30 homicides in 2016.
"We've been really busy this year," McGrath said. "A lot of violence. A lot of gun violence."
Contact Rachel Crosby at rcrosby@reviewjournal.com or 702-387-5290. Find her on Twitter: @rachelacrosby