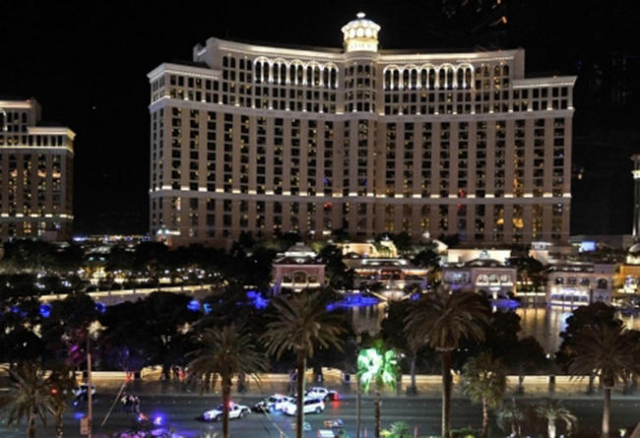 A police officer fired his weapon at a man aiming a handgun at people near the Bellagio fountains Friday night, missing the armed man and grazing two nearby pedestrians, according to a Metropolitan Police Department news release.
While police have a suspect in custody, Metro does not yet know his identity. The department late Saturday evening released a photo of the man and asked that anyone who can help identify him or locate "a person who knows or has information on the suspect only known as John Doe" to call the department's Force Investigation Section at 702-828-8452 or Crime Stoppers at 702-385-5555.
Friday night's incident took place after police received several calls at about 7:10 p.m. about an armed man walking in and out of traffic near the Bellagio fountains, according to the news release. Police said further reports indicated that the man was carrying a handgun and aiming it at pedestrians.
A patrol officer responded to the area near Bellagio, 3600 Las Vegas Blvd. South, and located the armed man in front of the fountains. The officer exited his vehicle and proceeded to issue commands to the man. He did not comply, and during the confrontation, the officer fired his handgun and missed the suspect, police said. Police did not say how many rounds the officer fired.
Two people were grazed in the gunfire, with a juvenile being wounded and an adult male receiving an "entry into his clothing" but no physical injury, Metro Capt. Matt McCarthy said in a video release. The juvenile was treated for a wound to a leg at University Medical Center and was released in good condition, McCarthy said.
The man was taken into custody and transported to the Clark County Detention Center, McCarthy said. He is being booked on "numerous felony charges associated with him aiming a firearm at a number of citizens," McCarthy said. He also noted, "We found a firearm on his person."
McCarthy said that the investigation is ongoing and that police have video footage "that in fact corroborates what the callers stated."
Las Vegas Boulevard was shut down in both directions Friday night, to both vehicle and pedestrian traffic from Tropicana Avenue to Flamingo Road. The east Flamingo exit from Interstate 15 was shut down too.
The identity of the suspect has not yet been released.
— Contact Christian Bertolaccini at cbertolaccini@reviewjournal.com and 702-383-0381. Find him on Twitter: @bertolaccinic