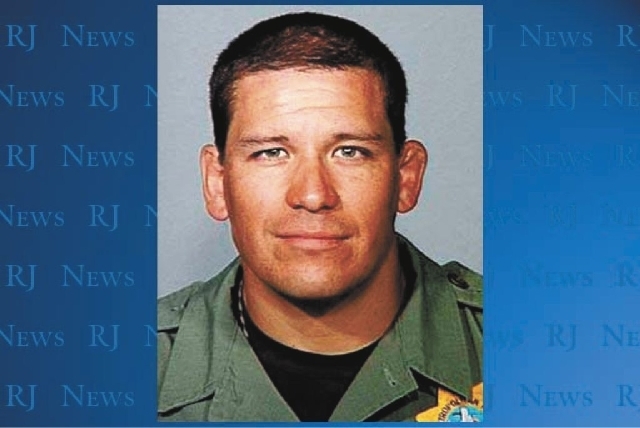 Search and rescue officer David VanBuskirk fell to his death during a mountain rescue nine months ago.
In a relay run starting today, a baton with his name on it will pass through 126 pairs of hands over nearly 450 miles to a law enforcement memorial in Carson City.
The relay, in its 15th year, is designed to honor fallen law enforcement officers and support current ones. It precedes National Police Memorial Week, May 11-17.
Participating runners will gather at 8 a.m. today at Memorial Park, near the Las Vegas police academy at Cheyenne Avenue and Academy Way.
After an honor guard ceremony and a speech by Clark County Sheriff Doug Gillespie, he and the first runner will start the first leg of the weeklong relay north on U.S. Highway 95.
The route is divided into 126 legs, one for each fallen officer, with each day's distance ranging from 45 miles to 82 miles.
Stops will include Pahrump, Scotty's Junction, Tonopah and Hawthorne.
All Nevada law enforcement officers, including police, public safety, federal, county and railroad officers, were invited to participate.
VanBuskirk's name will be added to 123 on the Nevada Law Enforcement Officers' Memorial, a statue in the capital that depicts one officer sitting by the side of another with the state of Nevada in the background.
Two more names, also on the relay baton, will be added as well: railroad officers John Montague, who was hit by a train in 1905, and Jose Sancedo, shot in 1937.
The memorial was built on Capitol grounds in 1998 to honor law enforcement officers killed in the line of duty. Since then, more names have been added, including officers recently killed or those such as Montague and Sancedo who weren't included on the original list.
"As people poke around in historical archives, they find more officers killed who should be added," memorial historian Frank Adams said.
Adams was in law enforcement for 42 years before he became the memorial's historian at its inception. More than 20 stories of fallen officers have been found since 1998.
There will be one official runner for each of the 126 names, but Adams said it is common for additional officers, current and retired, to participate alongside the official runner.
About 300 total participants are expected.
At the end of the relay, runners and supporters will gather for a ceremony at noon May 1 marking the addition of VanBuskirk, Montague and Sancedo to the memorial.
A relay runner will present a baton to each officer's family that includes a memorial scroll and plaque for display. A baton for the memorial itself will be presented and laid in a cradle on the statue.
More than 100 Nevada honor guard officers will be present at the ceremony, where Gov. Brian Sandoval will speak.
Contact reporter Annalise Porter at aporter@reviewjournal.com or 702-383-0264.