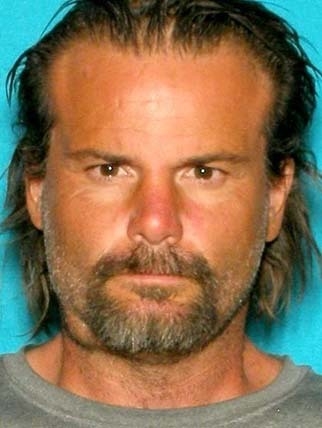 Las Vegas police are looking for a man who escaped from an Oregon mental health facility and is suspected of killing his grandfather.
Metro police said they believe Steven Woodard, 43, killed an elderly man in a home in the 2800 block of Florence Avenue, near Tropicana Avenue and Eastern Avenue in the Southeast valley.
Patrol officers discovered the body about 7 a.m. Tuesday.
In addition to the homicide, Woodard is also wanted for attacking his father and father's roommate in a residence in the 1400 block of Cottonwood Place, police said.
Homicide Lt. Ray Steiber said police don't know when Woodard left the Oregon facility and came to Las Vegas. It's not clear if he was under restraint or simply walked away from the facility, he said.
"We fear for the safety of others after what happened last night," Steiber said. "Please don't approach Woodard, just call 911 and let us handle it."
Steiber said he's not sure if Woodard has a gun.
Woodard is described as a white man with brown hair and eyes. He's about six feet tall, weighs 175 pounds and was last seen wearing a green shirt, police said.
He was last seen in the area of Charleston Boulevard and Maryland Parkway.
Contact reporter Mike Blasky at mblasky@reviewjournal.com. Follow @blasky on Twitter.