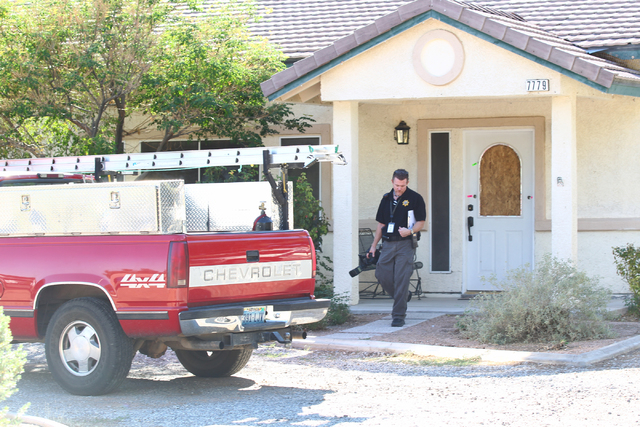 The teenage boy facing four counts of attempted murder after shooting several shotgun rounds into a home on Tuesday had been friends with another teen boy who lived in the house until a fallout "over a girl," according to a Las Vegas police report.
Ayden McKinnon, 14, shot several times through a house in the 7000 block of Maverick Street, near Ann Road and Jones Boulevard, on Tuesday, police said. He was wounded when his ex-friend's older brother returned fire from inside the house, police said.
The family who lived in the house was sitting in the living room when McKinnon walked up to the front door wearing a leather jacket, according to an arrest report. McKinnon shot through the door and screamed for everyone to get down.
The father of the McKinnon ex-friend ran to call police and retrieve a shotgun, while his older son retrieved his handgun. The brother shot through the door and struck McKinnon three times, the report said.
McKinnon and the other teen had been friends until a year ago when they had the falling out, the teen's father told police. Both teens went to the same high school and belonged to the same Boy Scout troop.
On Thursday, McKinnon was still at at University Medical Center. He was booked in absentia as an adult Tuesday at the Clark County Detention Center.
The Clark County district attorney's office initially reported McKinnon's age as 15.
While on route to the hospital, the report said that McKinnon uttered, "I tried to kill [name redacted]."
Contact Ricardo Torres at rtorres@reviewjournal.com and 702-383-0381. Find him on Twitter: @rickytwrites.