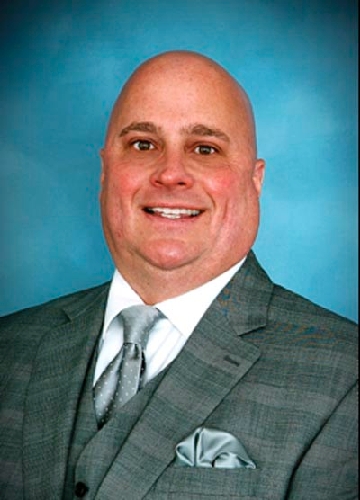 The chairman of the Las Vegas Metropolitan Police Managers and Supervisors Association union has been relieved of his duties and placed on paid administrative leave pending an investigation into allegations of misappropriation of union funds.
Members of the managers and supervisors union learned Monday from the board of directors that Lt. Paul Page had been relieved of his union duties based on allegations that "appear to detail some irregularities with association finances," according to an e-mail obtained by the Las Vegas Review-Journal.
Assistant Sheriff Ray Flynn said members of the union's board met with the sheriff's Internal Affairs Bureau on Monday to file a complaint against Page that alleges conduct unbecoming an officer and misappropriation of funds.
Page was relieved of his duties as a police officer on Tuesday, he said.
Flynn said he could not comment further on an active internal affairs investigation.
Page, who was first elected chairman of the union in 2004, could not be reached for comment Wednesday. He has not been charged with any crime.
Per police department policy, an officer placed on administrative leave is paid unless charged with a felony.
The managers and supervisors union represents more than 450 sergeants, lieutenants and captains in the Metropolitan Police Department. The chairman of the union works full-time in that capacity and does not have other departmental responsibilities.
According to the union's website, the chairman is the trustee for the Employee Benefit Trust and the Health and Welfare Trust. On federal tax forms for 2009, the Employee Benefit Trust reported a net fund balance of $17.5 million.
According to the Tuesday e-mail, Page initially agreed to discuss the irregularities with the union board but later declined after seeking legal council.
"The Board of Directors were left with no other option but to remove Lt. Page as Chairman due to the nature and seriousness of the allegations," the e-mail said.
It said the board plans to hire an independent auditor to review union records and assets.
The board of directors also is reviewing the internal controls at the union and is "putting procedures in place to ensure each and every Board member is aware of the financial commitment and responsibilities of the (union)."
Board members reached Wednesday would not comment.
Page joined the police department in 1992. He has served in the Southeast Area Command, at the airport and as a detective with the special investigations and criminal intelligence sections, according to a biography on the union's website. He also is a certified fraud specialist.
Page was named 2001 Police Officer of the Year by the Nevada Fraternal Order of Police, according to the biography.
Contact reporter Francis McCabe at fmccabe@reviewjournal.com or 702-380-1039.