Popular radio personality O'Neil remembered as a gentle man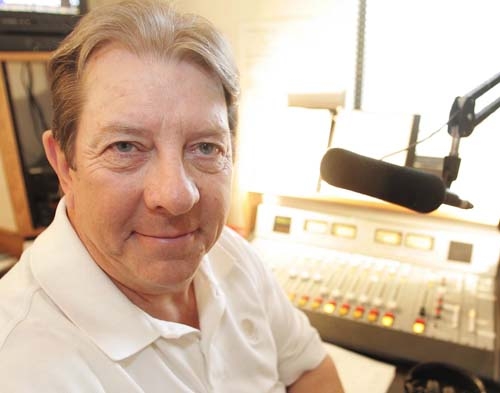 The man died with his mic on.
Radio disc jockeys know that's even better than with your boots on.
"What a way to go," said Doug James, a former colleague of longtime on-air personality Scott O'Neil, who died Thursday at age 69 at the South Point Showroom as he was taping the syndicated "The Dennis Bono Show," on which O'Neil was Bono's sidekick.
"He had a gentle, self-deprecating humor," said James, who worked with O'Neil at KJUL-FM when it was at 104.3, before moving to its current home at 104.7. "He would've been quite amused at that."
O'Neil collapsed in front of about 500 audience members while onstage doing the show, which features Las Vegas acts and airs on several local radio stations. O'Neil was Bono's announcer for more than 11 years.
"Somebody came backstage screaming, 'Call 911!' " said Las Vegas comedian/producer John Padon, who was waiting to make his inaugural appearance on the show when he saw the commotion unfold during a commercial break. "I poked my head around the corner and there's Scott laying on the floor, security is with him, then the paramedics came, to no avail."
It appeared, Padon added, that O'Neil was about to ask a question of guest Corrie Sachs, who portrays Reba McEntire in the Golden Nugget's "Country Superstars Tribute" when "all of a sudden, his head went back and his eyes rolled to the back of his head and he made a snoring noise. … Then that was it. No chest pain, no 'Oh my God.' "
As a DJ, "he was very beloved by the audience," said DJ David Allen, who was O'Neil's program director at the adult standards-formatted KJUL and now mans the midday shift at the station. "He had a very easy delivery. Some DJs talk like a DJ, but Scott would just open the mic and talk like himself. That's harder to do than it sounds. He was very real."
Born in Raleigh, N.C., in 1942, Scott earned a degree in broadcast journalism from the University of North Carolina and, after a stint at WKRG in Mobile, Ala., began a lengthy career in Los Angeles radio in 1965 when he joined KNX and was promoted to program director two years later. His career there stretched into the late 1990s and included stints at several other stations as both on-air personality and program director before arriving in Las Vegas. He also hosted for the Jones Radio Network.
"He was in the big-time, the top of the heap in Los Angeles and he was good enough to stay there," said James, who recalls sitting in for O'Neil on KJUL's morning show when O'Neil was on vacation. "The calls I got were, 'Well, Doug, you're alright, but when is Scott coming back?' I took it the right way."
Allen added that "every day was a good day for Scott. He was always in the best frame of mind — 'Scotty, how ya doin'?' 'Doin' great. It's a great day.' That was his demeanor."
In a statement, Bono said that O'Neil "was an important part of my life as both a personal friend and a working partner. … Scotty was a very talented, consummate professional and a man of great integrity and character."
An official cause of death has not yet been determined. O'Neil is survived by his wife of 15 years, Kristy Killian.
O'Neil's appeal, James said, was always apparent when he met fans at station promotions and remote broadcasts. "It was like talking to your daddy," James said. "He was a gentleman and a gentle man."