Possible repeal of Las Vegas pet sales ban draws criticism
November 8, 2017 - 7:21 pm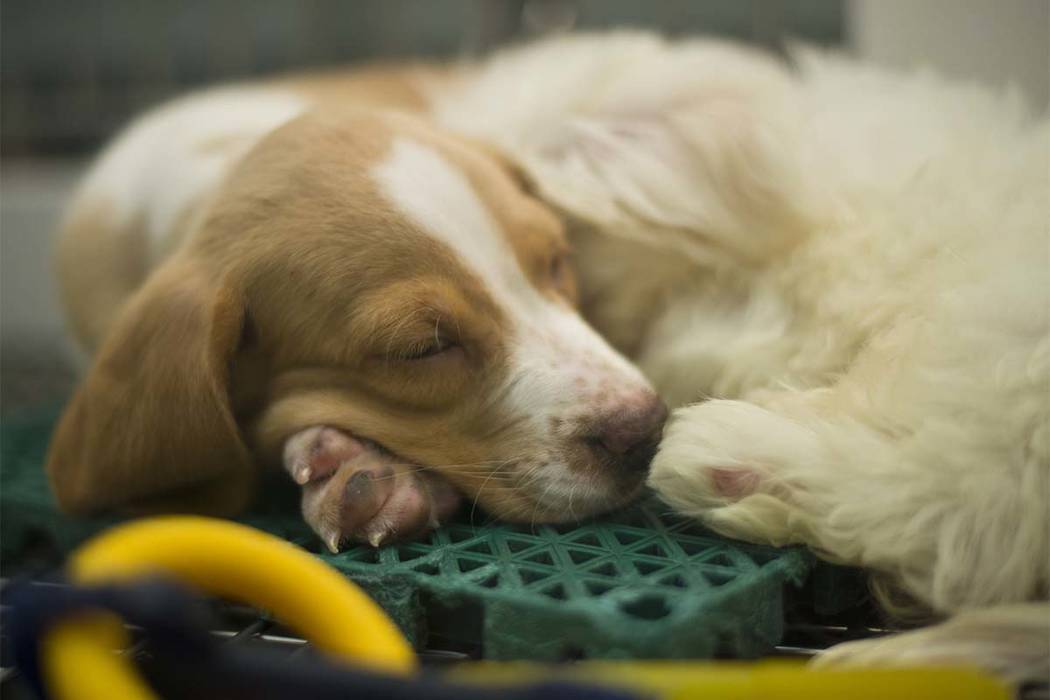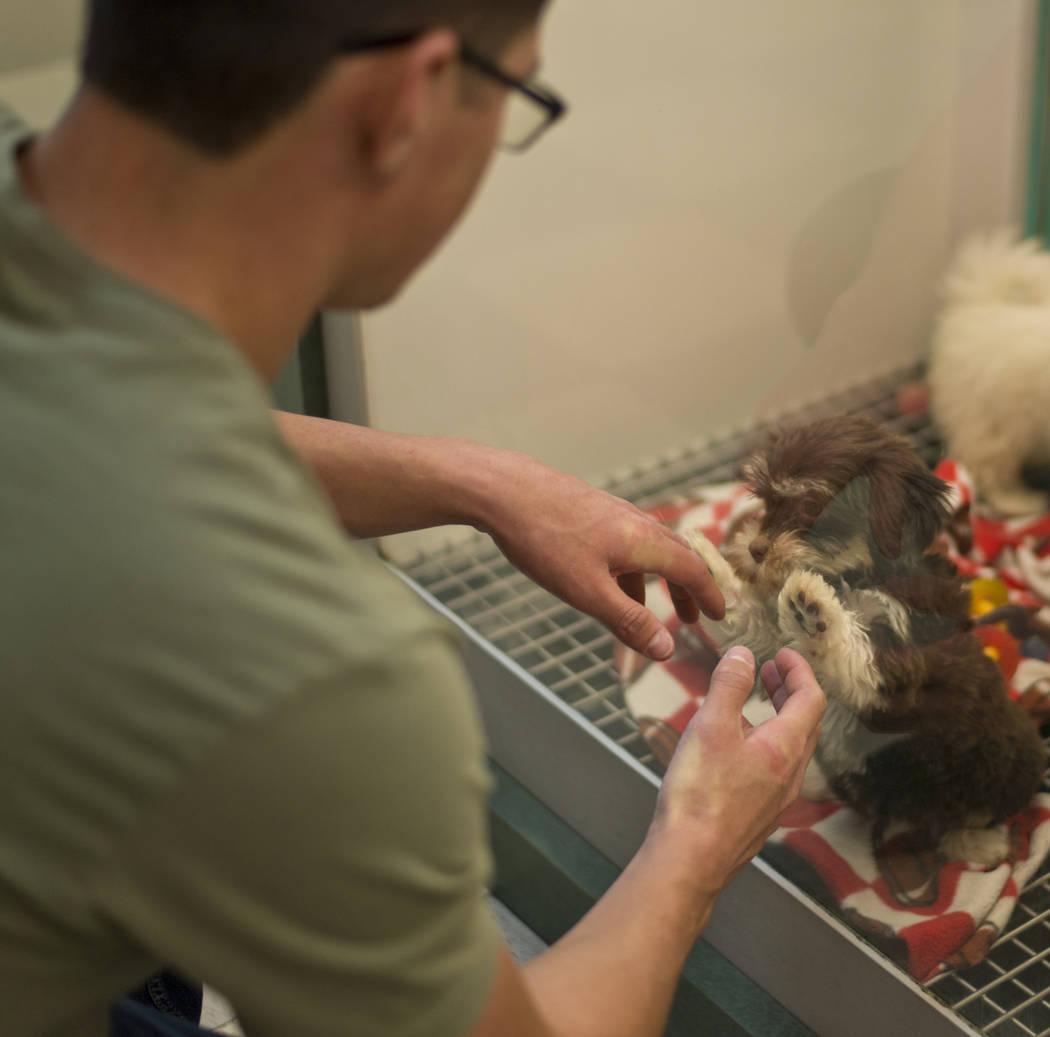 Las Vegas officials may toss a local law banning pet shops from selling non-rescue animals before it takes effect in 2018.
The Las Vegas City Council is slated to vote next week on repealing a ban that would prevent pet stores from selling dogs, cats and potbellied pigs they don't source from a rescue organization or animal care facility.
The council narrowly passed the ban in 2016, but two new council members could swing the outcome in the opposite direction. The ordinance becomes effective in January unless the council quashes it sooner.
"It's hard to believe we're back at this point," said Gina Greisen, president of Nevada Voters for Animals. "We're definitely gearing up for a fight."
Greisen contends the pet shops in the city have had nearly two years since a divided council voted for the ban to start sourcing their animals from rescue organizations.
Critics of the ban contend it harms local businesses without addressing the root issue — staving off "puppy mills" — large-scale, profit-driven commercial breeding operations.
"Number one, it will put a pet store out of business," said Councilwoman Michele Fiore, who is pushing to repeal the ban. "Unfortunately, I don't think people are understanding that this ordinance wasn't very well thought through."
Many available rescue dogs have pit bull in them, Fiore said, a breed, she pointed out that is often banned from rental properties.
Fiore suggested a measure placing more checks on from where pet stores source their animals could follow a repeal of the ban.
Two stores affected
Two pet shops within Las Vegas city limits would be affected by the ban — a Petland in the west valley and Puppy Boutique on North Rancho Drive.
Petland owner Jeff Fausett said rolling out a buying standard requiring pet stores to obtain their dogs and cats from only breeders who comply with standards set by the U.S. Department of Agriculture would be more effective than the non-rescue ban.
"That's the real answer," Fausett said. "Closing us doesn't eliminate puppy mills because we don't use puppy mills."
Nevada's neighbors have taken different approaches to try to stem puppy mills. Last month, California became the first state to require pet stores to sell dogs, cats and rabbits obtained from rescue organizations. Meanwhile, a 2016 Arizona law requires pet stores to source animals strictly from breeders who comply with USDA-set standards.
Fausett sources dogs from about 150 breeders, and asks the American Kennel Club to inspect their facilities, he said.
Beagles, boxers and bulldogs are among the coterie of available canines showcased on the Las Vegas pet store websites this week, some of the most popular breeds in the U.S., according to the American Kennel Club.
Regardless of the local or state rules, would-be pet owners can source their breed of choice somewhere online. So a ban on non-rescue animals could drive people to the black market, Fausett said.
Puppy Boutique Manager Kathleen Vinluan said the ban taking effect next year would mean the store would need to move outside the city of Las Vegas or shut its doors.
Puppy Boutique sources dogs from breeders in states like Missouri, Illinois and Oklahoma. Vinluan said they visit the kennels and make sure they're working with "good ones" that don't have violations in their recent inspections.
"We don't get them from what people call puppy mills," Vinluan said. "This ordinance doesn't solve that situation."
Pleas from constituents
Councilman Stavros Anthony doesn't favor a repeal, and said the crush of calls, emails and meeting requests he's gotten on the issue have largely come from constituents who want the non-rescue ban to take effect next year.
"I still think it's the right thing to do," Anthony said of the ban. "There are these horrendous puppy mills all over the country, and there's a push by cities from all over the country to stop puppy mills. Las Vegas should be at the forefront."
Josh Jones, the director of legislative and regulatory engagement for the Pet Industry Joint Advisory Council, in a statement called the city's ban a "misguided effort to stop unethical breeders," and contended pet stores are highly regulated.
Councilman Bob Coffin said he could support a "common-sense tune-up," to the current ordinance, but he doesn't plan to vote to rescind it.
"We have a surplus of animals at the shelters and abandoned animals," Coffin said.
The Las Vegas City Council meets at 9 a.m. Wednesday.
Contact Jamie Munks at jmunks@reviewjournal.com or 702-383-0340. Follow @JamieMunksRJ on Twitter.
Public comment
The city of Las Vegas is taking public comments on the repeal of an ordinance prohibiting local pet stores from selling non-rescue animals:
https://docs.google.com/forms/d/e/1FAIpQLScIL8VVtqk6FMjAKNyTl9LF_fI6hS-SE2qXCA-RzPLeW1Sylg/viewform