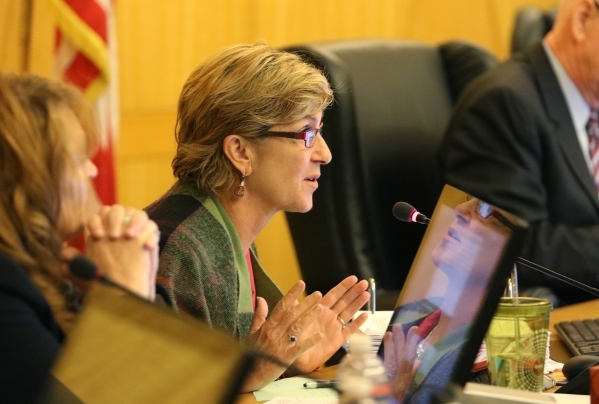 As the Clark County Commission weighs spending millions of dollars on new pedestrian bridges over the Las Vegas Strip, one commissioner wants to consider if the Las Vegas Boulevard of the future should be one that's pedestrian only.
Commissioner Chris Giunchigliani asked fellow commissioners Tuesday to think about kicking cars off Nevada's most famous and most congested roadway.
The Regional Transportation Commission looked at the concept and concluded it would not recommend transforming the Strip into a pedestrian mall. It found that outlying streets would be unable to absorb the increased traffic and many casinos are only accessible from the boulevard.
Giunchigliani pitched the idea as a way to allow people to get around more easily on the Strip.
"This is not a priority, but I do think that it needs to always be part of the conversation," Giunchigliani said. "The boulevard belongs to the public, not the casinos."
Other commissioners worried that a constant conversation about the possibility of converting the Strip into a pedestrian mall would, for the resorts, be more like an ongoing threat.
"I don't think it's fair to the industry to keep this hanging out there," Commissioner Steve Sisolak said. "I don't think we can just let it hang forever."
Commissioner Larry Brown echoed the concern, saying he felt the commission needed to decide if a pedestrian-only Strip is something that could happen in the next couple of years or if it's an idea that needs to be pushed into the future, where there might be better technology to assist with some of the hurdles.
Commissioner Mary Beth Scow said she loved the idea but feared if would hurt business at the casinos and potentially create a disparity if some resorts ended up still having car access while others fell within the mall.
There are four pedestrian bridges on the Strip. The RTC analysis recommends adding four more.
Contact Bethany Barnes at bbarnes@reviewjournal.com or 702-477-3861. Find her on Twitter: @betsbarnes