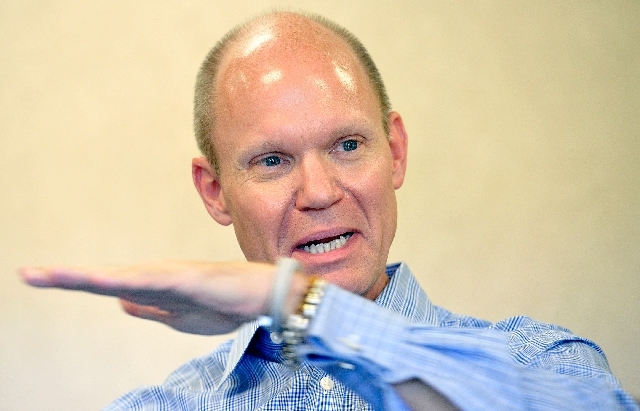 Raising taxes on businesses might not be the most helpful way to diversify your economy and would make it more difficult to attract new companies to Southern Nevada, an economic development official said Wednesday.
A 2 percent margins tax on business will be on the ballot in 2014, and it's expected to raise $800 million annually for primary education in Nevada. The Legislature, which concluded its 2013 session earlier this month, took no action on the measure, sending the tax proposal to voters.
"We have not taken a formal position," Glenn Christenson, chairman of the Las Vegas Global Economic Alliance, told the Review-Journal editorial board. "It's certainly not helpful."
Christenson said the LVGEA is gathering more information before taking a position on the ballot measure. Christenson's comments came as he, Tom Skancke, president and CEO, and Michael Vannozzi, manager of strategic initiatives, outlined their recently completed Comprehensive Economic Development Strategy for the board.
The 85-page strategic plan lays the ground work to reposition the region's economy over coming decades.
The plan is available online at lvgea.org. The LVEGA is accepting public comment by email at ceds@lvgea.org until July 7.
"This document is what we are using for our strategic plan … for the next three to five years to reposition where we are as a community," Christenson said. "I got in trouble once with our board because I told them I want to use this document to make us a 21st century city. They all, of course, were like 'we are a 21st century community. Look at our airport, Smith Center and all those sorts of things.'"
But Christenson argues Las Vegas isn't a 21st century community if its high schools only graduate 65 percent of students, residents leave because they can't find medical treatment they need and unemployment remains high.
"We have a lot of work to do," Christenson said.
The LVGEA's strategic plan identifies five key goals in building a sustainable economy: Develop an innovative business climate; support and keep local entrepreneurs; connect local, regional, national and global partnerships; improve the region's workforce and education systems; and expand the economic alliance.
The report cites the education of the region's workforce as the "largest foundational obstacle to reaching long-term growth and stability." To combat the problem, the LVGEA said special emphasis should be put on communicating to middle school students the importance of math and science education.
The business community also needs to work with public schools to develop apprenticeship programs for students in high-demand occupations that do not require a post-secondary degree, support inclusion of financial literacy in school curriculums and support efforts to make the University of Nevada, Las Vegas a leading research institution.
The plan targets specific industries that would be "most compatible with the resources and competitive advantage we have here in Southern Nevada," Christenson said. Those industries are gaming, tourism, conventions, logistics, manufacturing, health care, business information and technology, clean technologies and unmanned aerial systems.
"We are thinking globally," Skancke said. "We are an international city. We have not really taken advantage of that as a community."
Christenson agreed, describing the report as a "strategic and tactical idea" about how we can push the economy forward.
Contact reporter Chris Sieroty at csieroty@reviewjournal.com or 702-477-3893. Follow @sierotyfeatures.com