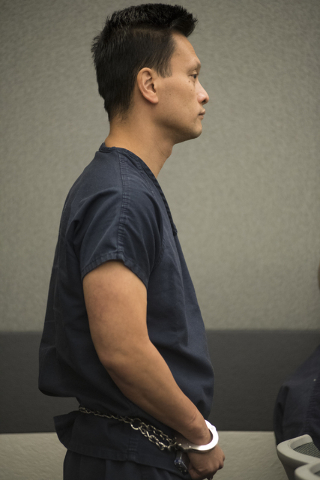 Confusion reigned in Clark County District Court on Wednesday as all parties tried to determine how and why records of a sex crime case involving a Las Vegas doctor were sealed in 2006.
Dr. Binh Minh Chung now faces child pornography charges involving the alleged rape of a young patient in his office.
On Friday, the Review-Journal filed a motion to unseal a 2006 case in which Chung was charged with two counts of open and gross lewdness. The charges were dismissed. The records were sealed and later removed from some court files.
But the state Board of Medical Examiners was aware of the charges at the time and placed a letter of concern in its own files, but never moved to suspend Chung's medical license.
Chung, a 41-year-old family practitioner, faces 10 counts of possession of child pornography and one count of using a minor for the production of porno­graphy. Authorities said he videotaped himself having sex with a sedated, under­age girl in his office. Police arrested Chung last week.
Las Vegas police records indicate the lewdness accusations stemmed from a May 8, 2005, incident. The case was sent to District Court in September 2006. But from there, all records of the case, including the arrest report and outcome of the case, were sealed.
Las Vegas Justice Court online records indicate two judges dismissed the 2006 charges, but there's no indication why or whether there was a conviction.
Judge Douglas Smith said the order, dated Oct. 1, 2009, was signed by someone in the district attorney's office. But assistant district attorney James Miller said in court his office has no record of being served with a notice of the sealing.
Christopher Oram, Chung's attorney, called the newspaper's motion "a fishing expedition" during the hearing.
Smith transferred the case to the judge he said initially sealed the case, Judge Susan Johnson. No date was set for another hearing on the newspaper's motion.
The medical board suspended Chung's license last week after the new accusations came to light. He remains in the Clark County Detention Center.
The current investigation began when Chung's wife grew suspicious and looked through her husband's text messages and computers, according to an arrest report released Wednesday. The wife found several videos of her husband having sex with other women and the under­age girl.
The girl, along with Chung's wife, contacted police June 4, according to the arrest report.
Contact reporter Colton Lochhead at clochhead@reviewjournal.com or 702-383-4638. Find him on Twitter: @ColtonLochhead
RELATED
EDITORIAL: Sealing of doctor's case failed the public interest