Prosecutor secrecy with evidence, handling of witnesses may tip balance away from justice
November 7, 2015 - 1:59 pm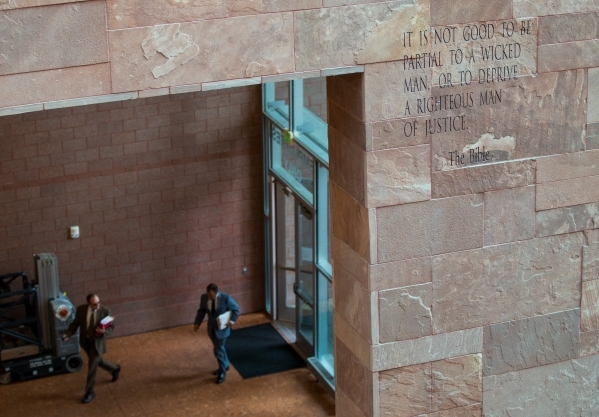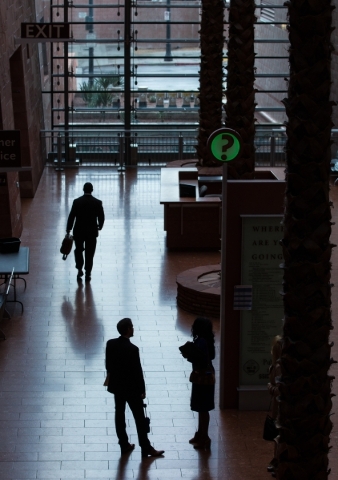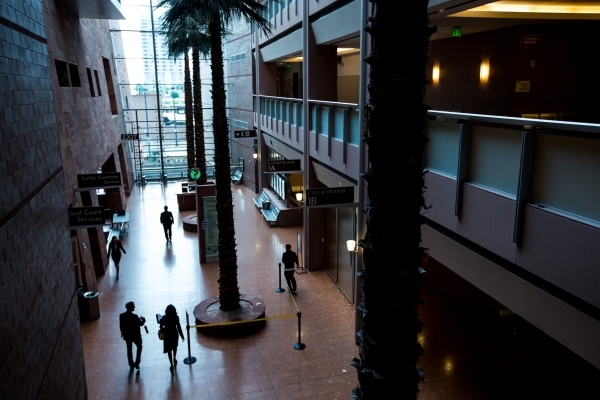 Justice is supposed to be blind, but defense attorneys shouldn't be.
More than 50 years ago, the U.S. Supreme Court ruled prosecutors must hand over evidence in a case, especially if it could be favorable to the defense.
But that doesn't always happen in Las Vegas.
In fact, Clark County prosecutors in some cases have hidden evidence about additional suspects, denied cutting deals with criminal informants and failed to hand over information about their witnesses' criminal pasts, Nevada courts have found.
Judges and juries have then made decisions about guilt or innocence — without all the information.
It raises a big local question in a national debate: Can justice truly be blind if the scales aren't balanced?
Las Vegas defense attorneys say it can't. They blame a culture of secrecy at the Clark County district attorney's office.
And they don't expect that to change.
'Courts don't make them care'
The nation's top court in 1963 laid out the law when it comes to sharing evidence in a murder case, Brady v. Maryland.
But even when judges find that evidence has been hidden, the defense has an uphill battle.
First, defense attorneys must find the suppressed evidence before the appeal deadline. Then they must show the suppressed evidence affected the verdict.
But that incentivizes hiding evidence, according to Alex Kozinski, the chief judge of the 9th U.S. Circuit Court of Appeals, which hears Nevada cases. In a December 2013 dissent of a case that dealt with hidden information, the judge said the U.S. is seeing "an epidemic of Brady violations."
"Some prosecutors don't care about Brady because courts don't make them care," Kozinski wrote.
Nevada judges in 12 cases over the years have ruled prosecutors hid evidence, according to court filings by the federal public defender's office.
But in most cases, the former head of that office said, prosecutors face no consequences.
A national study backs that claim.
Prosecutors are punished in less than 2 percent of the cases where misconduct is found, according to the 2013 report from the Center for Prosecutor Integrity.
The problem in the Clark County district attorney's could be one of procedure.
After reviewing a string of cases cited by the federal public defenders office in 2004, Judge David Hagen found Clark County prosecutors lack "an institutional procedure or policy by means of which it may ensure its 'open file' contains everything which it is required to disclose."
Prosecutors are misleading defense attorneys if they suggest a file contains all the evidence in a case when it doesn't, Hagen wrote.
Franny Forsman, who led the federal public defenders office in Las Vegas for 22 years until she retired in 2011, said nothing seems to have changed with the DA's office in the past decade.
"Whether its negligence, gross negligence or intentional, whatever it is you've got a long history of failures in the system," Forsman said. "Until judges intervene, it won't stop. There's too much of an incentive to just keep going the way you've been going because there is no downside."
Representatives of Clark County District Attorney Steve Wolfson declined comment for this story. Wolfson took office in 2012, inheriting a longstanding issue with his office.
Just last year, Las Vegas police and the district attorney's office acknowledged their failure to hand over evidence almost sent an innocent man to prison for life.
On the eve of trial, prosecutors found a Las Vegas police detective's notes from 2006 that they thought cleared a man their office had spent eight years trying to convict for the sexual assault of two young girls.
The prosecutors had taken over the case for someone else and said they stumbled upon the evidence in preparation for trial. After the man passed a lie detector test, they dropped the charges. The man, Victor Villalta, 29, had spent years on house arrest, couldn't hold down a job, delayed starting a family, and lived under the constant threat that he could be sentenced to life in prison.
At the time, Assistant District Attorney Christopher Lalli said there had been problems with getting evidence to defense attorneys for a long time. He attributed this to an archaic, paper-driven process for moving cases from police to the DA's office. Lalli suggested a fix in 2008, when lawmakers were looking at creating state laws to ensure evidence goes to the defense, but the system appears to be unchanged.
Tom Roberts, deputy chief of Metro's investigative services division, said his department recognizes there is a problem and next year will create a new unit dedicated to getting case information.
"What happens is the police department gets blamed for a lot of things that go on in the court system," Roberts said. "It's not all our fault. I think it's a problem with the whole system. But, hey, we can do things better. "
If the notes that cleared Villalta had surfaced after a conviction at trial, he would have faced the the uphill battle of Brady.
Once someone is convicted, the burden of proof shifts. It's on the accused to provide probable cause that he is innocent.
Cases such as Villalta's convinced federal Judge Hagen more than a decade ago that there was a problem getting information to the defense.
Judges have decided defendants were "overwhelming guilty" in cases in which evidence was hidden, only to later see wrongful convictions overturned because of new DNA evidence. What's scary, Forsman said, is that cases that don't involve the death penalty get little scrutiny.
"What about the lower-level cases that half the time aren't even getting a lawyer in post-conviction, let alone an investigator to find out what wasn't turned over?" Forsman said. "A lot of people plead because the hammer is so big. So that case will never be looked at, they'll never determine if (prosecutors) went and found the Brady material and gave it to the defense."
A 2010 National Institute of Justice study showed physical evidence was examined in crime labs in just 10 percent of assault, burglary and robbery cases. For murder cases, it was 81 percent.
Even serious cases can take years to reach the federal public defender's office. By then, a number of procedural issues prevent defense attorneys from even digging through files to find the kind of notes that exonerated Villalta, or introducing what they find in court. Even if a judge orders evidence be turned over, the court may determine it was found too late.
Judge's notes paint picture
That's the takeaway from the case of Gregory Leonard, according to assistant federal public defender David Anthony. Leonard was convicted for two murders in the mid-1990s.
Anthony found that prosecutors had disclosed paying a witness' rent and other expenses, but failed to report their repeated efforts to persuade a judge not to throw the same witness in jail and had gotten him off the hook for court-ordered drug counseling and hundreds of dollars in fines.
A prosecutor said the district attorney's office had made two rent payments for the witness, Jesus Cintron, freed his car from impound, given him money for groceries, paid his utilities and pushed back a court date involving child support payments.
Every time Cintron would get arrested — charges ranged from destruction of property to attempting to lure girls into his car and even to lying to police — he would bring up that he was a key witness in a double murder, according to court filings.
Then, the district attorney's office would help him get out of jail, Anthony found.
Anthony revealed the extent of the district attorney's involvement with its witness by piecing together sticky notes and judge's bench notes about "off-the-record" conversations with the prosecutor.
But later in the case, then-prosecutor Peggy Leen argued successfully that the defense shouldn't be allowed to question Cintron about benefits he got from the district attorney's office in his own criminal cases.
Leen — who is now a federal judge — elicited false testimony from Cintron about how much her office had helped him out, and that he'd complied with the judge's obligations in his own cases, Anthony argued in federal court filings. She told a judge she'd given over all of the information, in detail, and the assistance was deemed to be minor.
Leen did not respond to a request for comment for this article.
But the documents show a prosecutor constantly intervening for a witness who wouldn't follow the rules, Anthony found.
Multiple bench notes reflect a frustrated judge tired of allowing "a key witness" to avoid paying fines or serving time.
"The guy was on a rampage," Anthony said. "He knew he was untouchable."
Special Public Defender David Schieck, who represented Leonard at trial, said that had he known of the judge's notes he would have had a better argument when he asked to question Cintron in front of the jury about the help he'd received from prosecutors, according to documents filed in Leonard's ongoing appeals. Schieck said he trusted the prosecutor to follow a court order to turn over such information, and that Leen was honest when she told the judge about everything she and her office had done to help Cintron.
The district attorney's office has contended in appeals that the bench notes don't mean Cintron got special treatment; the defense could have found that evidence earlier; and the jury verdict would likely would have been the same so it doesn't matter.
"As soon as I find anything they turn around say, 'What took you so long?" Anthony said. "You can't just assume that all of these random coincidences are just coincidences."
Piecing together payments
Just last year the DA's office faced revelations of secrecy that prompted policy changes and an audit.
A 2014 Review-Journal investigation found that the office, without always telling defense attorneys, had been using an off-budget checking account to pay witnesses' rent — sometimes for amounts exceeding $1,000 — for 26 years.
Defense attorneys were outraged, and cases went back to court. Under pressure, Wolfson changed his office's policies to disclose these types of payments.
A year later, a Clark County audit determined the account had almost no rules or oversight, and auditors recommended payment records be kept with court case files
Wolfson, however, maintains the account is a "non-issue" because his office follows disclosure laws and the account was not a secret.
Maybe so, Anthony notes, but it's still difficult to get information about payments from the account.
A decade ago, Anthony said, he tried getting information about the account after noticing what appeared to be prosecutor witness payments using a checking account unfamiliar to the Clark County comptroller, which is the clearing house for all county agency payments. He subpeonaed the DA's office, but they ignored him. He had to get a judge to order the office to respond at all.
The prosecutor maintained any payments would be recorded by the comptroller. Anthony knew that couldn't be true. The comptroller had no record of the payments from the Leonard case, for example. Plus, checking account numbers didn't match.
Evidence pointed to another account, so Anthony asked.
The response: "The bank account has nothing to do with this present case and has only been interjected by you into these proceedings because it is apparently something you are litigating in other cases," prosecutor Steven Owens wrote in 2005.
Fast forward to the DA's response to the recent audit. In it, Wolfson's office pointed to two cases it said prove the account was not secret.
One was the Leonard case, where Anthony found that prosecutors had admitted to payments but did not disclose other benefits. The other involved a prosecutor who apologized for not telling the public defender sooner about witness payments in a capital case. That disclosure came only during the trial, after the witness had testified. Because the disclosure was known to multiple people who are now in the public defender's office, the practice isn't a secret, the DA reasoned.
Anthony likened it to saying, "We are relying on rumor and innuendo to spread itself."
Clark County public defender Phil Kohn, whose office is on the frontlines of the cases the DA prosecutes, agrees that can't count as disclosure.
Prosecutors often dump reams of evidence on defense attorneys right before trial, putting the defense at a disadvantage, he said.
Audits are helpful with accounting, Kohn said, but they're not about justice.
"I don't know if we'll ever find the full breadth of what they were doing. Not just the payments. When you have an out of control DA's office how do you get the Department of Justice to grab all of their files?" Kohn said. "We don't know how much they've given people — not just given them money — but how many times the DA's said there's no deal — but there was a wink and a nod."
— Contact Bethany Barnes at bbarnes@reviewjournal.com or 702-477-3861. Find her on Twitter: @betsbarnes