Prosecutors add dozens of charges in fatal Strip crash
January 20, 2016 - 11:56 am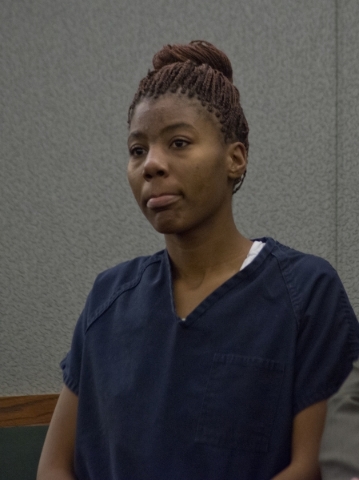 Prosecutors added dozens of charges Wednesday against Lakeisha Holloway, the woman authorities said intentionally drove onto a crowded Strip sidewalk, killing a woman and injuring more than 30 people.
Holloway now faces a total of 71 counts, including murder with use of a deadly weapon, attempted murder with use of a deadly weapon, battery with use of a deadly weapon resulting in substantial bodily harm and child abuse, neglect or bodily harm. Holloway had previously faced one count of murder, child abuse and leaving the scene of an accident.
In a new complaint filed Wednesday, prosecutors added charges for each of the victims injured and dropped one count of leaving the scene of an accident.
Authorities said a toxicology examination of Holloway, 24, showed she was above the legal limit for marijuana.
Holloway told Las Vegas police that she remembered a body bouncing off her windshield, breaking it. She told police she was not on drugs or alcohol, according to an arrest report. Blood samples were taken from Holloway, and police initially said that though she did not demonstrate signs of being under the influence of alcohol when she was arrested, she may have been on stimulants. The Clark County district attorney's office did not mention indications of any other drugs in her system.
It is against the law to drive while high on marijuana, even for people authorized to use the drug medicinally.
Jessica Valenzuela was trapped under Holloway's Oldsmobile for at least 200 yards as pedestrians ran alongside, banging on the car and trying to get her to stop, the Review-Journal learned.
Valenzuela, 32, of Buckeye, Ariz., died at University Medical Center from multiple blunt-force injuries as a result of the crash. Her death was ruled a homicide.
Thirty-five other people were injured in the crash.
Prosecutors said one of the victims who remains in critical condition and might not survive has been transported to Mexico. Two other victims were taken to hospitals in Canada and are expected to survive.
Holloway remains at the Clark County Detention Center without bail and has been released from a medically restricted unit at the jail, according to defense lawyers, Joseph Abood and Scott Coffee.
At a hearing in December, Abood called Holloway "distraught," and on Wednesday he said she was "doing somewhat better. She's still in a very difficult state of mind."
A source close to the investigation said Holloway is seen on surveillance video driving her car along the Strip, creeping along with the flow of traffic, before suddenly accelerating and turning right onto the sidewalk in front of Planet Hollywood Resort. The car was driven through the crosswalk in front of Paris Las Vegas and careened into a light pole. The woman veered off the sidewalk near Bally's and drove about a mile on a flat tire to Tuscany at the corner of Flamingo Road and Koval Lane.
Witness reports said that Holloway's vehicle, which is registered to another person in Portland, Ore., moved onto the sidewalk multiple times and had all four wheels on the sidewalk.
Defense lawyers said they want to review medical evidence to determine the extent of injuries to those on the Strip.
Contact David Ferrara at dferrara@reviewjournal.com or 702-380-1039. Find him on Twitter: @randompoker