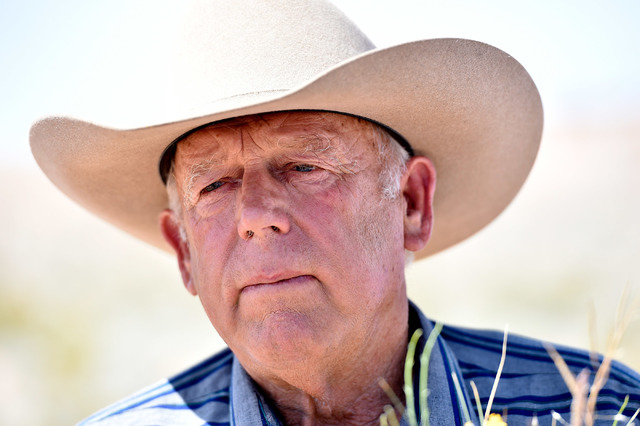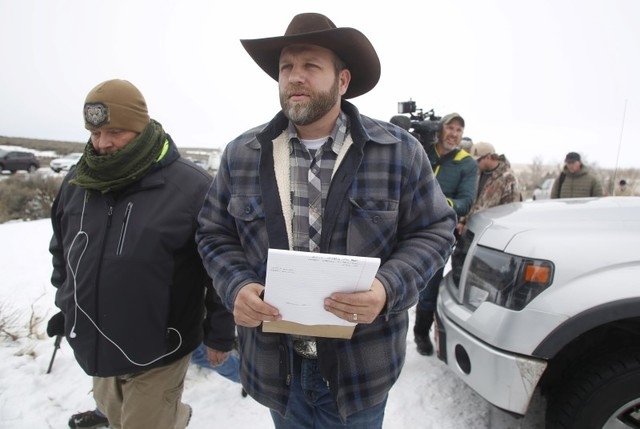 Federal prosecutors want to call off today's detention hearing for rancher Cliven Bundy on charges stemming from the April 2014 armed standoff with law enforcement near Bunkerville.
First Assistant U.S. Attorney Steven Myhre said in court papers filed late Tuesday that Bundy already had a detention hearing in Portland, Oregon, after his arrest there and does not deserve another one.
Bundy, 69, was arrested by FBI agents in Portland last month on his way to support the armed anti-government occupation of a wildlife refuge in that state. Two of his sons were part of the occupation.
A federal judge ordered Bundy to be held without bail and returned to Las Vegas after prosecutors called him a "lawless and violent" man. He is in the custody of U.S. marshals here.
Prosecutors argued the defiant Bundy was a flight risk and posed a danger to the community. They submitted a lengthy memorandum supporting their push for detention.
Bundy's lawyer, Joel Hansen, said Wednesday he opposes canceling the detention hearing in Las Vegas, arguing Bundy did not get a chance to respond fully in Portland to what he called the government's "unsubstantiated" claims.
"Cliven's never hurt a fly," Hansen said. "Why would he run away? He's got a family. He's an old man."
In court papers, Hansen said that Bundy stayed in his house and did not engage in violence during the April 12, 2014, standoff and that the only violence was committed by federal officers who used a stun gun on one man, knocked a woman to the ground and stomped on the head of another man.
Hansen attached some 30 letters from family, friends and neighbors who vouched for Bundy's integrity and honesty.
"He is a good family man with 11 children who needs to be home with his family and with his wife so he can do his chores and take care of his family," Hansen wrote.
Prosecutors argued in February that Bundy refused to obey court orders and used force and violence in the past against authorities and pledged to use it again.
"The evidence overwhelmingly establishes that Bundy was the leader, organizer and main beneficiary of the conspiracy to impede and assault federal officers," prosecutors wrote in court papers.
Bundy and 18 others — including four of his sons, Ammon, Ryan, Melvyn and David — were charged in a new federal indictment in Las Vegas earlier this month in connection with the 2014 Bunkerville showdown.
The Bundy patriarch faces 16 felony counts, including extortion, obstruction of justice, conspiracy to commit an offense against the United States, conspiracy to impede or injure a federal officer, assault on a federal officer, threatening a federal law enforcement officer, and using and carrying a firearm in a crime of violence.
Last week, as supporters protested outside the federal courthouse in Las Vegas, Bundy refused to enter a plea to the charges, forcing U.S. Magistrate Judge Bill Hoffman to enter a not-guilty plea on his behalf to all 16 counts.
Hoffman issued an order Wednesday saying he would hear arguments in court today on the government's request to call off the detention hearing.
Also on Wednesday, five of Bundy's co-defendants, including Melvyn Bundy, pleaded not guilty to conspiracy and other charges against them in the indictment. All are being held without bail.
In court papers seeking Melvyn Bundy's detention as he awaits a May 2 trial with the other defendants, prosecutors described him as a "tactical decision maker" who put the lives of hundreds of people at risk during the Bunkerville confrontation.
"Mel Bundy not only coordinated the strategic deployment of the gunmen with his co-defendants, but he led what they described as the 'cavalry' in the assault," prosecutors wrote.
He will have a detention hearing on Monday.
The Bunkerville confrontation aimed to force federal officials to abandon about 400 Bundy cattle they had rounded up under court orders, according to the indictment.
Members of the Bundy family had been illegally grazing cattle on federal public lands for more than 20 years, the indictment said.
Contact Jeff German at jgerman@reviewjournal.com or 702-380-8135. Find him on Twitter: @JGermanRJ