Question of training divides housing authority board, director
September 18, 2015 - 7:49 pm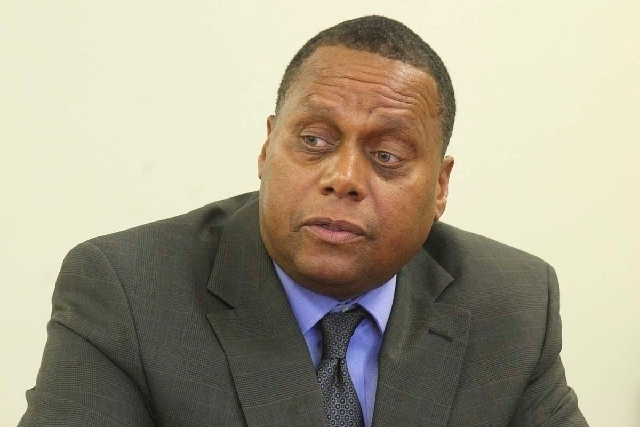 Those who supervise the embattled leader of the Southern Nevada Regional Housing Authority have been awaiting proof that he completed training on workplace harassment and discrimination prevention, which was recommended after a 2014 investigation of employee complaints.
But what Executive Director John Hill sent to his Board of Commissioners last week — including the citation of a 2013 workshop that predates the order to seek training — left many far from satisfied.
"The webinar took place before the investigation, which the investigation required that you get intensive discrimination, harassment and executive leadership training," Commissioner Dora LaGrande wrote last week in an email to Hill that she copied to other board members.
Her email drew a quick response from Hill's private attorney, Andrew Rempfer, who contended that one individual board member was attempting to exercise "control" over Hill.
This is the latest in a series of growing tensions between board members and Hill.
In August, the agency was fined $47,000 for six serious safety violations identified by the state's Occupational Safety and Health Administration. The violations happened in April when employees were repairing an underground water line. Board members took issue with not being told of the problem in a timely fashion and the subsequent late payment of the fines. Formal mediation is also underway between Hill and the board over accusations involving misuse of agency resources and failure to follow policies on the executive director's part.
Complaint Investigation
The additional training Hill was told to undertake was recommended after a 2014 independent investigation of gender discrimination complaints made to LaGrande alleging unfair practices on Hill's part with women on his executive team, according to documents obtained by the Review-Journal.
The investigation recommended that Hill attend "an intensive course on the prevention of harassment and discrimination as well as a cultural sensitivity course." It also recommended that he take "intensive executive training and leadership class(es)."
After repeated requests from board members seeking proof Hill had complied with the recommendation, the executive director on Tuesday emailed them details.
He had attended in 2013 the "Executive Director's Workshop for Today's CEO." On Nov. 17, 2014, housing authority attorney Teddy Parker gave him eight CDs that covered "a variety of training topics." He also attended a two-day "Managing Human Resources" training held in Las Vegas in September 2014.
Hill concluded his email by telling commissioners to "not hesitate to contact" him if they wanted to discuss the matter.
However, after LaGrande used her personal email account to express her dissatisfaction with his training — saying, "Tapes are not good enough for me as a commissioner because they are too passive and not considered to be training," — Hill involved his attorney.
"Please advise your board members of two things: (1) they have no authority to individually command Mr. Hill to do anything; … (2) ensure they preserve all electronically stored communications on their personal email accounts," Rempfer wrote in a Tuesday email to Parker and housing authority commissioners. "If they continue to use their personal email accounts to conduct county business, they are asking for a subpoena and an open records request."
Several commissioners subsequently said they have the right to question Hill in direct email, and that shouldn't prompt a response from Hill's attorney. They also maintain there's nothing in their handbook that prohibits them from using their private emails. In fact, that's where Hill emails them.
Commissioners React
Outgoing housing authority Vice Chairman Sanje Sedera said it's not professional for Hill to have his attorney respond when he's challenged.
"The only thing (LaGrande) is doing, is holding his feet to the fire," he said Thursday. "We, as commissioners, have the authority to express concerns."
Rempfer declined to comment on what he called "private matters."
Commissioner Patrick Smith said the issue should be taken to the agency's personnel committee. "We were not appointed to this board to be rubber stamps for John Hill," he said on Thursday.
Hill contended the 2013 workshop LaGrande called into question was relevant because it covered topics that were in the investigation. He declined to comment further.
Commissioner Rev. Dave Casaleggio said he believes the board made "a major mistake" in the matter.
"We left it up to John," he said Thursday. "I just think we did not give him any parameters as to what we wanted the training to be."
Contact Yesenia Amaro at yamaro@reviewjournal.com or 702-477-3843. Find her on Twitter:@YeseniaAmaro