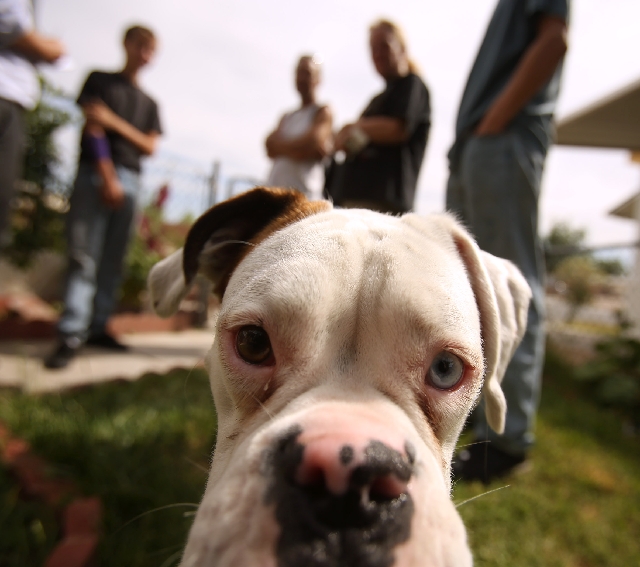 Pungent smoke filled Draven Avila's lungs, waking him before dawn Tuesday.
What he saw next — flames consuming the top of his double-wide trailer home — sparked the 16-year-old into action.
The teen ran out the front door, hopped a porch and ran to a back window. He used his right arm to shatter the glass.
As a bleeding Draven picked glass shards from the window frame, his 17-year-old brother, Diego Avila, helped their 14-year-old autistic brother, Geovanny, out of bed. Draven and Diego then carried their sibling out of the burning double-wide — at 3325 N. Nellis Blvd., near Cheyenne Avenue — through the broken window.
"I did what I had to do," Draven said Tuesday afternoon at the Carefree Manufactured Home Community. He was at a home a few streets over from where his own place was now just rubble and ash.
The Clark County Fire Department said the blaze started about 4 a.m. The cause of the fire, which resulted in about $30,000 in damage, was under investigation Tuesday afternoon.
Firefighters from Clark County, Las Vegas and North Las Vegas — 30 in all — responded to the blaze and were able to keep the flames from spreading to other homes.
The Avila brothers weren't the only ones who escaped harm Tuesday.
Shelly Avila, the boys' mother, said she was awake when the front of the home ignited. She ran out a side door as smoked filled a hallway. She went for a hose and, shortly after, was grabbed by someone who threw her over a back wall because she was too close to danger.
No more than two minutes passed between the time she knew her home was on fire and when she was tossed to safety, she said.
"All this happened so fast," she said. "I'm still trying to figure out how something so horrific can happen so quickly."
An adult roommate in the home also survived the fire.
The Avilas' dogs — Spike, a 2-year-old American bully; Karma, a 1-year-old boxer; and Yatzee , a 4-pound Chihuahua — also escaped the fire.
Other pets weren't so lucky.
Four parakeets, a parrot, a bull python and fish perished.
Shelly Avila said her family lost everything and the home wasn't insured.
The Avilas will rely on the generosity of family and friends at the mobile home park to help them pick up their lives. The Southern Nevada Chapter of the American Red Cross also is assisting the family.
All that mattered to Avila was that her children survived.
"I don't care if I lost a billion dollars," she said through tears. "I have my kids."
Avila said her family's survival was nothing short of divine intervention.
"It makes me think there is a God out there that helped my two sons synchronize to get my autistic son out of there," she said.
Contact reporter Antonio Planas at aplanas@review
journal.com or 702-383-4638.