'Quiet kingmaker' and Las Vegas banker E. Parry Thomas dies at 95
August 26, 2016 - 9:57 pm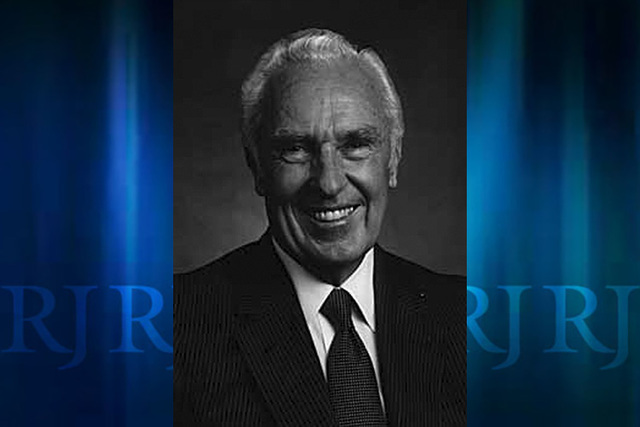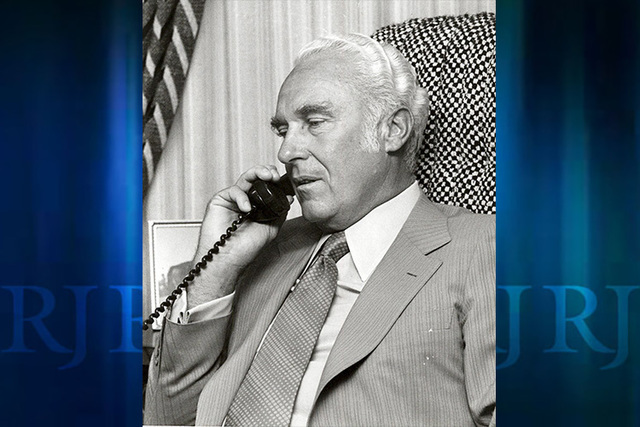 E. Parry Thomas, the banker who did more than any other person to win the status of legitimate businesses for Nevada casinos, is dead.
Thomas died Friday, with his wife and children by his side at his horse ranch in Hailey, Idaho, where he spent most of his retirement.
He was 95.
Thomas, who was still a Las Vegas resident when he died, loaned money to expand casinos that otherwise would have remained small mom-and-pop operations or minor western outposts of eastern organized crime. He enabled Howard Hughes, then regarded as America's most successful businessman, to purchase Nevada properties, enhancing the attractiveness of Nevada investments to others. And he got laws changed to allow publicly held corporations to invest in casinos, ushering in the era of mega-resorts and ushering out of mob control.
"Everything I built — the Golden Nugget, Mirage, Treasure Island, Wynn-Encore, were because of him," Wynn Resorts Chairman Steve Wynn said Friday from his home in Los Angeles, where he stopped for the night on his way back from the opening of Wynn Palace in Macau. "You name the buildings, including UNLV, and Parry Thomas' fingerprints are everywhere in this valley."
Along the way, Thomas reorganized the social service network of Southern Nevada, and in retirement he made horseflesh history as an owner and trainer of dressage mounts.
"Really from 1955 to 1990, that 35-year period, I would argue that no one had a greater impact on the future of Las Vegas than Parry Thomas," Jack Sheehan, the author of a 2009 biography on Thomas, "Quiet Kingmaker of Las Vegas: E. Parry Thomas," said Friday.
Wynn said he is helping plan services for Thomas on Sept. 6 at Encore.
Parry Thomas was born June 29, 1921, in Ogden, Utah, where he grew up. Although he stopped attending the Church of Latter-day Saints at age 14, his LDS upbringing would later help him establish strong ties with successful Mormon businessmen in Las Vegas.
His father was a plumbing contractor, so successful that he found himself the biggest depositor in a bank that failed during the Depression. His father took over the bank, and Parry helped him collect loan payments. Except for the World War II years, when Thomas was trained as a paratrooper-skier but served in an intelligence unit, he would spend the rest of his career in banking and related investment fields.
After the war he went to work for Continental Bank &Trust Co. of Salt Lake City. Walter Cosgriff, who headed Continental Bank, also owned a stake in the Bank of Las Vegas, which opened in 1954.
The Bank of Las Vegas was struggling, so Cosgriff sent Thomas to find out whether the bank should be closed. Thomas didn't think so, and ended up assigned to work here full-time.
In a 1999 interview for "The First 100," a newspaper series and book the Review-Journal published about the community's pioneers, Thomas told banking reporter John Edwards that he recognized, back in the '50s, that the casino industry would follow a growth pattern like any other. First came the pioneering phase. Then, if that proved successful, expansion followed. And finally, the industry entered into consolidation.
The Utah banker realized he had arrived during the pioneering phase. "We had a road map in front of us," Thomas explained. "All we had to do was to follow it."
In 1955, he broke with banking tradition by loaning money for a casino expansion. The $750,000 loan enabled Milton Prell to expand his Sahara Hotel, adding the Congo Room, 120 hotel rooms and other improvements.
Nate Mack was chairman of the bank, and his son, Jerome "Jerry" Mack, was involved in real estate. Thomas and the younger Mack became business partners and their names remain associated to this day, years after Mack's death in 1998. Jerry Mack succeeded his father as chairman. And when Cosgriff died in 1961, Thomas was promoted to bank president.
By the 1960s, the bank, which later became Valley Bank, was routinely doing business with casinos, and both Thomas and Mack saw that casinos' opportunities for growth were limited by a rule that casinos could be operated only by individuals licensed by the state. That meant publicly held corporations were not allowed because it would be impractical to license every owner of stocks that were constantly traded. The law's intent was to allow only law-abiding parties to own casinos, but it didn't work; clean-looking front men were licensed, but secretly represented real owners in organized crime. Yet, even for legitimate owners, the rule made it hard to sell a casino when an owner wished to retire, and an owner's divorce or death could leave ownership in limbo.
The partners were able to attack the problem from two sides. Thomas, a Republican, was on the Nevada State Board of Finance, while Mack, a Democrat, was his party's financial chairman. Even with good connections in both parties, it took years, but they finally pushed through a bill enabling corporate ownership.
Mack's daughter Karen wrote later, "That change in the law — a monumental feat at the time but a bill most Nevadans didn't even notice was exactly what made Vegas what it is today. That is the Big Secret. Without it, Vegas would still be in the dark ages. Parry and Jerry knew if they brought in corporate gaming, it would bring in the SEC — the laws of full disclosure and federal prosecution — and that, in itself, would eventually chase the mob out of town."
Thomas also helped the legitimization process along when billionaire Howard Hughes in the late '60s,went on a spree of buying both casinos and other real estate. Thomas acted as a nominee in the purchases so sellers wouldn't realize the buyer was a billionaire and jack up the price unfairly. When the buyer's real identity was revealed, Hughes' investments did much to remove the "mobbed up" stigma from the casino industry.
In 1968 Bank of Las Vegas merged with Valley Bank of Reno and, to avoid offending either end of an infamous municipal rivalry, the new entity wasn't named for either city. It became simply "Valley Bank," and by 1975 had built as its headquarters the most prominent office building in downtown Las Vegas.
The partners became known for civic service as well as business acumen. Realizing that the city's young university was running out of room to grow — especially if they waited for state funding to acquire land — the two bankers formed the Nevada Southern University Land Foundation, then personally guaranteed loans to it. The foundation used that money to acquire 300 acres and resell it to the university at cost, whenever the college had the money.
They also built the basketball stadium at UNLV, famously named The Thomas &Mack Center in honor of their contributions. They were angels of UNLV's William S. Boyd Law School, where other facilities also are named for them.
And the partners organized United Way to establish a fair mechanism for distributing the city's charitable contributions among many competing worthy causes.
Thomas was individually known for mentoring other businessmen, most famously Wynn. In the 1999 interview, Thomas claimed a key role by spotting the opportunity for Wynn's eventual coup at the Golden Nugget in downtown Las Vegas.
The Nugget's managers at the time, "a small clique of old timers," didn't own much stock in the Golden Nugget. Furthermore, "The management really wasn't doing anything, and it was going to languish if somebody didn't give it a swift kick," Thomas said. Stock in the Golden Nugget didn't reflect the enormous value of real estate the company owned. So Wynn and other investors bought a controlling interest in the company and threw out the old regime. Wynn, of course, proved an active and gifted manager, and has made casino history ever since.
"I was 21 when I lost my father and met Parry Thomas when I was 23," Wynn said Friday. "He was a second father to me. I actually called him 'Dad,' and he called me 'Son.' He was the most powerful man in the state for a long time, but still the most gracious and humble man you could know."
In 1992, BankAmerica Corp. bought Valley Bank. It had $630 million in loans outstanding to gaming companies. Although the bank had built its equity from $250,000 in 1954 to $400 million in 1992, Valley Bank officials realized even that was too small to satisfy the financial needs of a gaming industry grown gargantuan.
With his daily presence no longer required in Las Vegas, Thomas and his wife Peggy began spending more of their time at a home in Southern California, and at River Grove Farm, a horse ranch they had established in Hailey, Idaho.
"Parry chose to retire at the Idaho ranch because his wife was an avid horse lover," Sheehan said. "He said on the record many times that, 'She had stood by me as a great mother and great wife my entire career, so I owed my retirement to her.'"
Their keenest equestrian interest was dressage, and in that world they became best known for buying and sponsoring the training of Brentina, a Hanoverian mare who turned in wonderful performances at venues including the 2004 Olympics. A statue of Brentina is a feature of the entryway at Wynn Las Vegas.
Thomas married Peggy in 1947. Besides Peggy, Thomas is survived by four sons and a daughter. Peter and Thomas A. Thomas are both attorneys and managing partners of the Thomas &Mack Development Group, which manages commercial real estate besides developing it. Roger Thomas is a famous interior designer noted for his work on casinos. Steven Thomas is an orthopedic surgeon. The couple's daughter, Jane Thomas Sturdivant, is an artist and recreational dressage rider. Roger and Steven live in Las Vegas; Peter commutes between Las Vegas and Idaho; and both Peggy and Jane live at the Idaho ranch.
Review-Journal reporter Rachel Crosby and columnist John Katsilometes contributed.