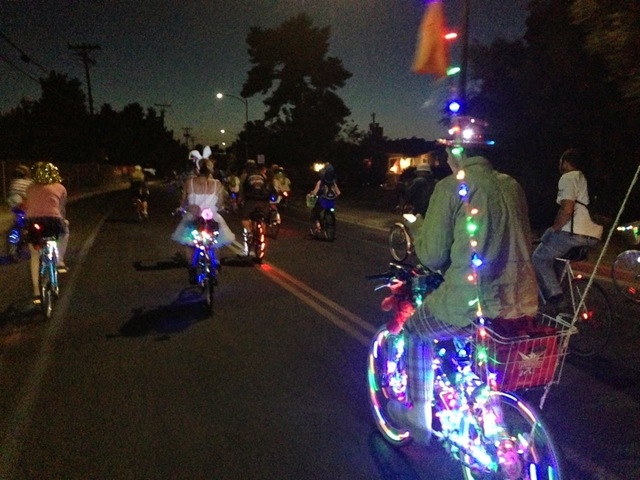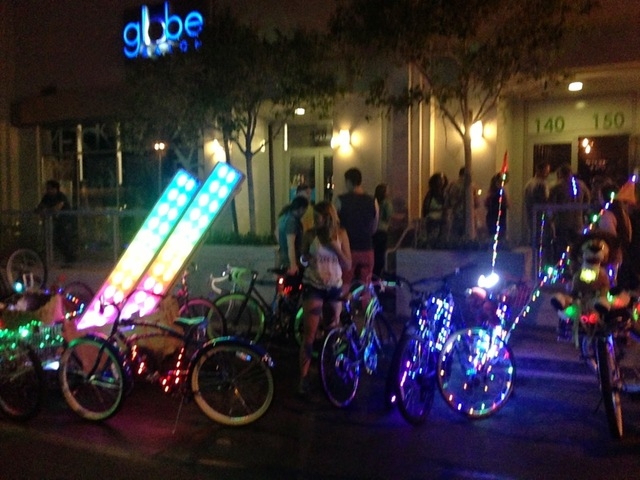 When growing up, Kathleen Kahr D'Esposito drew inspiration from The Beatles.
That's why the Huntridge neighborhood resident, who helps organize a popular downtown Las Vegas bicycle ride called "Blinking Man," has attached a Beatles theme to Saturday night's two-wheel event.
This weekend's Blinking Man bicycle ride, kind of a Burning Man on wheels held twice a year, is aptly named, "Magical Mystery Tour de Finale." Bicyclists are encouraged to decorate their bicycles in lights and wear costumes that conjure up John, Paul, George and Ringo.
"It's nice that the Beatles music is trans-generational and the Blinking Man ride is trans-generational, too," Kahr D'Esposito said.
Even without the Beatles theme, the bike ride typically attracts hundreds of bicyclists who adorn their human-powered chariots in colorful blinking lights and dress in offbeat, funky outfits. The bicyclists will gather at 7 p.m. Saturday at the Huntridge Tavern at Charleston Boulevard and Maryland Parkway.
"It's getting very, very big," Kahr D'Esposito said. "We'll do it until the city makes us get a permit. It's not commodified and there's open invitations. It allows people to be free to dress or decorate their bike in any way they want."
The ride requires no forms, waivers or fees. Several hundred bicyclists follow a course that meanders through downtown and is scheduled to make these pit stops: 7 p.m. at Huntridge; 8 p.m. at The Bunkhouse; 9 p.m. at The Bastille; 10 p.m. at Nacho Daddy and 11 p.m. at Biergarten.
Blinking Man fan Sarah Jane Woodall, a local blogger and model, enjoys pedaling the event while wearing colorful outfits.
"Blinking Man is hands down the most fun you can have in Vegas," Woodall said. "It's fun to see all the lights and costumes, and it's a riot to take over Las Vegas Boulevard, watching steam shoot from the ears of the apoplectic cabbies and bewildered tourists and winos who get in the way of our entitled white hipster fun run."
Kahr D'Esposito puts on the bike ride with her husband; her son; and her son's wife. Bicyclist activist David Levy of Las Vegas helps with leading the bike ride.
Saturday's ride will be its ninth rendition — and Kahr D'Esposito said it's undecided whether the ride will continue. She thought her son, Graham, who helps organize the ride, might move from Las Vegas. But he decided against it, so they're figuring out the bike ride's future.
The logistics of organizing a bike ride of this scope are getting more complicated because the crowd is so big, she said. The Facebook page for Saturday's rolling party says as of Tuesday at noon that 546 people are going and another 128 said they may go.
Contact reporter Alan Snel at asnel@reviejournal.com or 702-387-5273. Follow him on Twitter: @BicycleManSnel