Racing against winter: Mount Charleston faces major repairs after flood — PHOTOS
Updated September 7, 2023 - 7:05 pm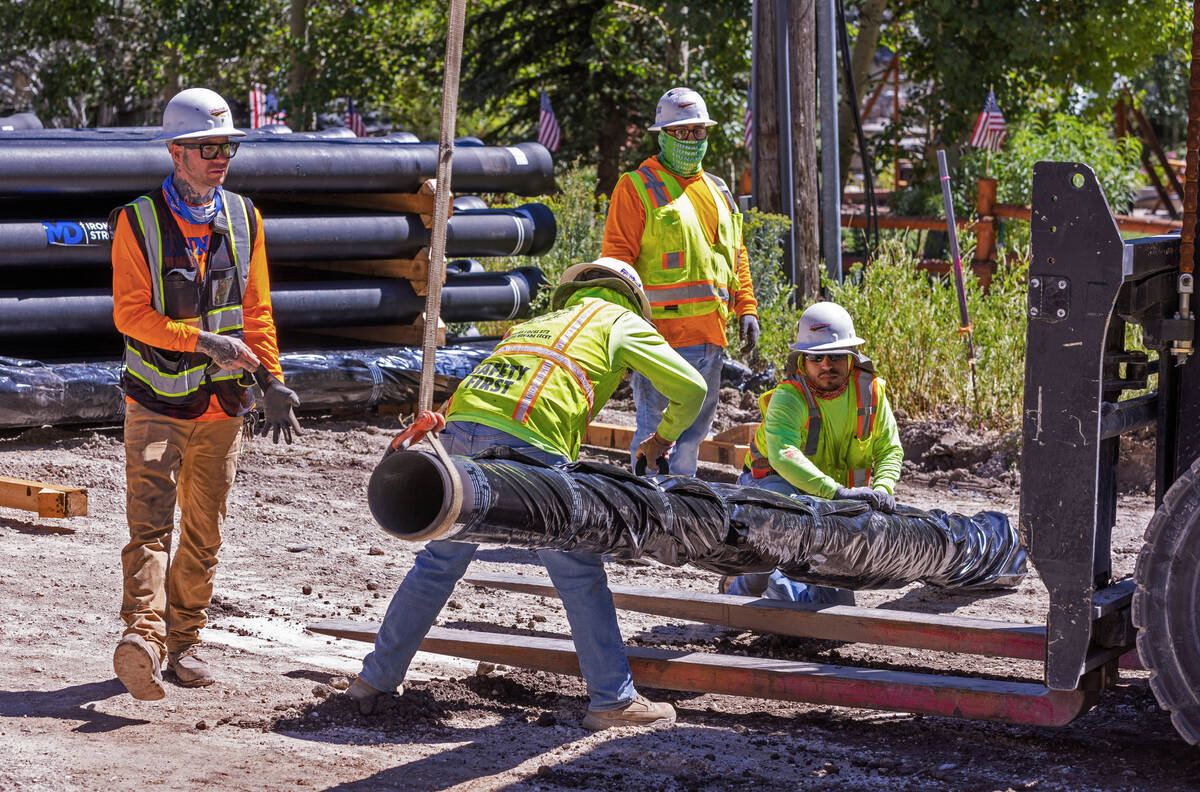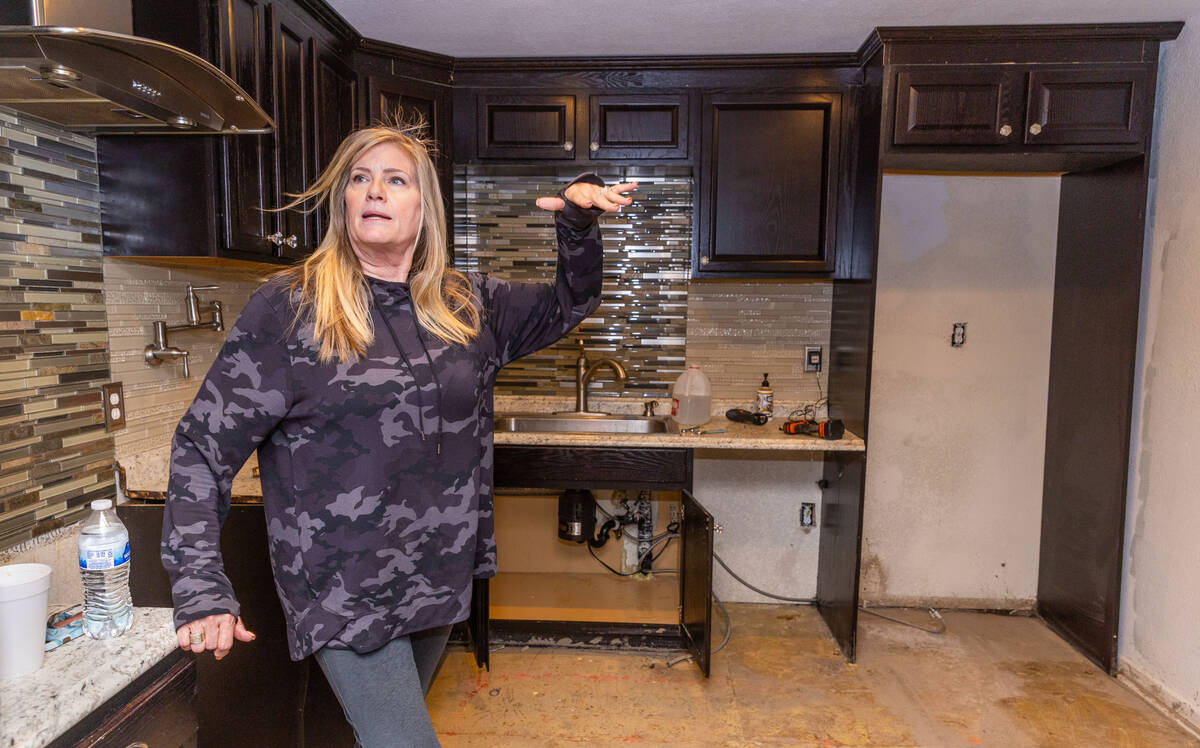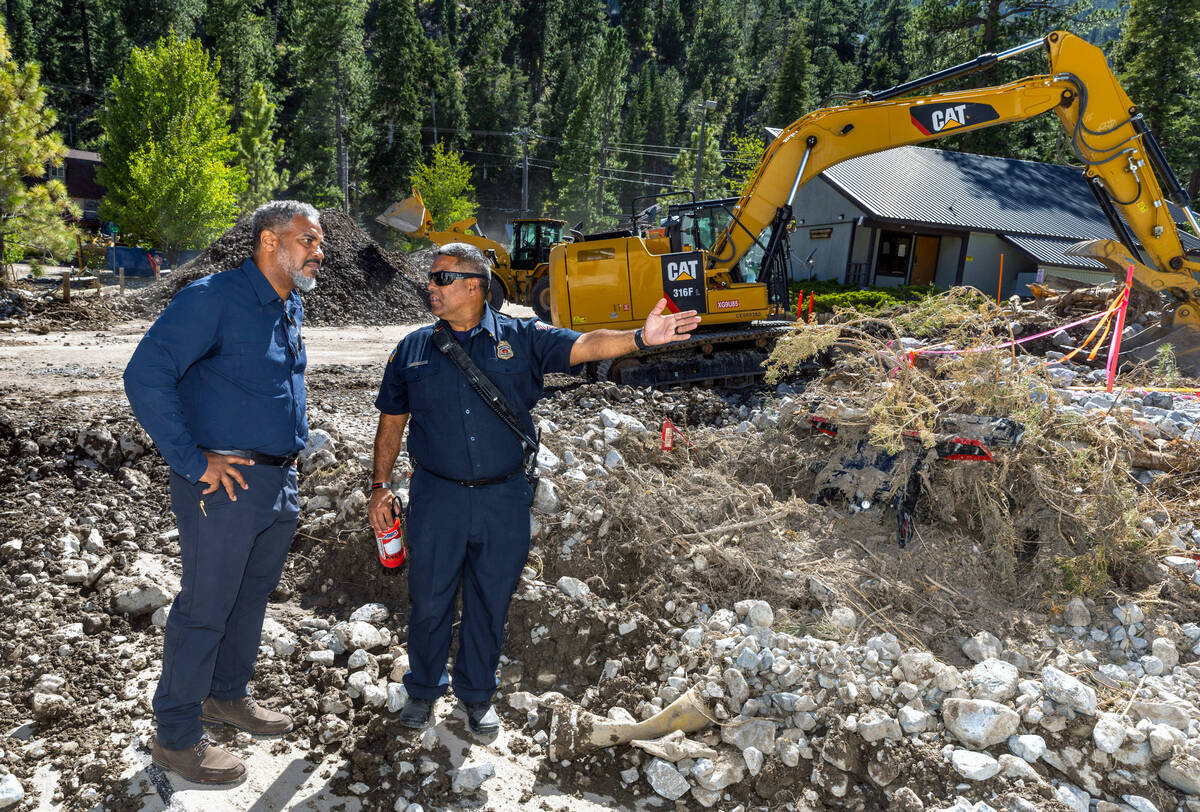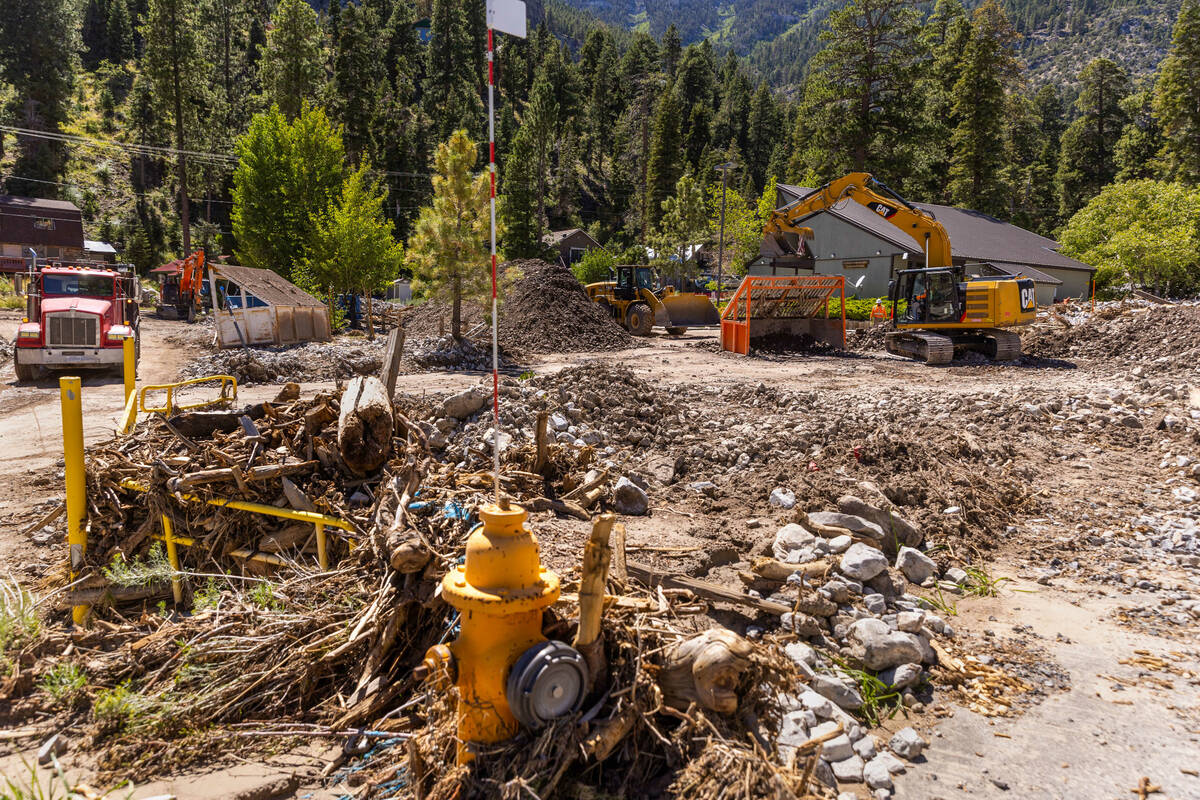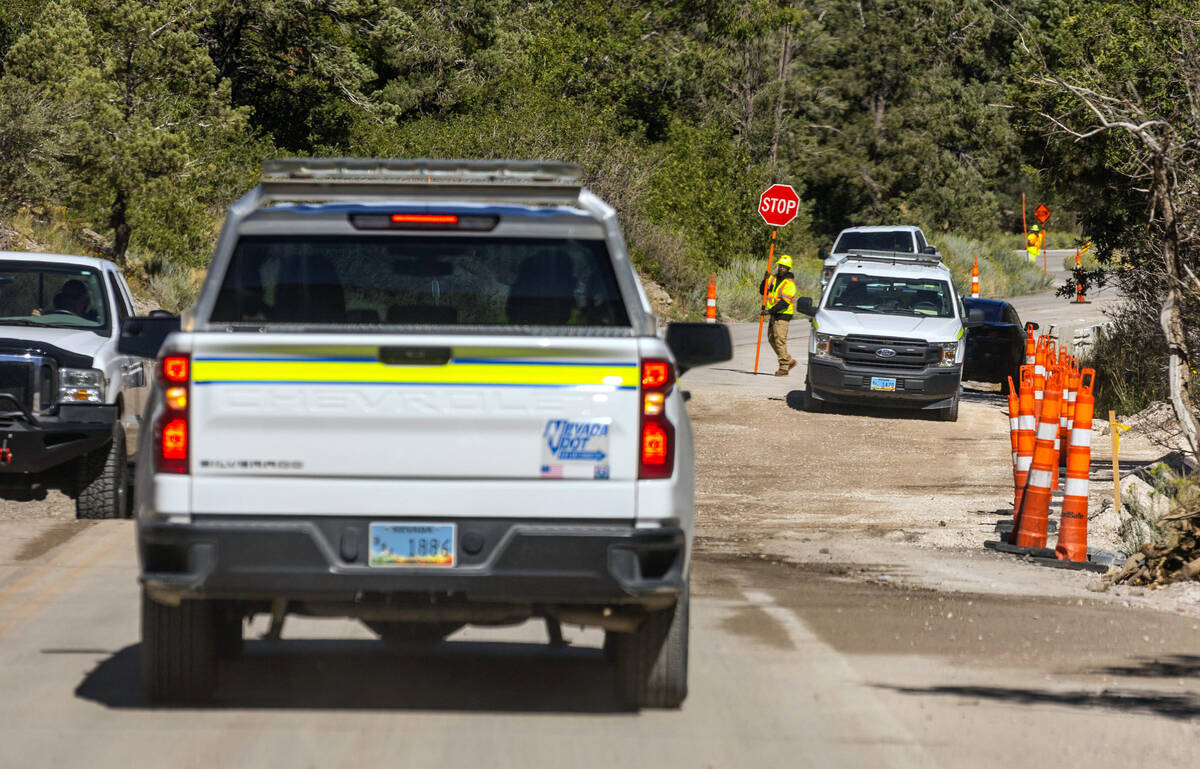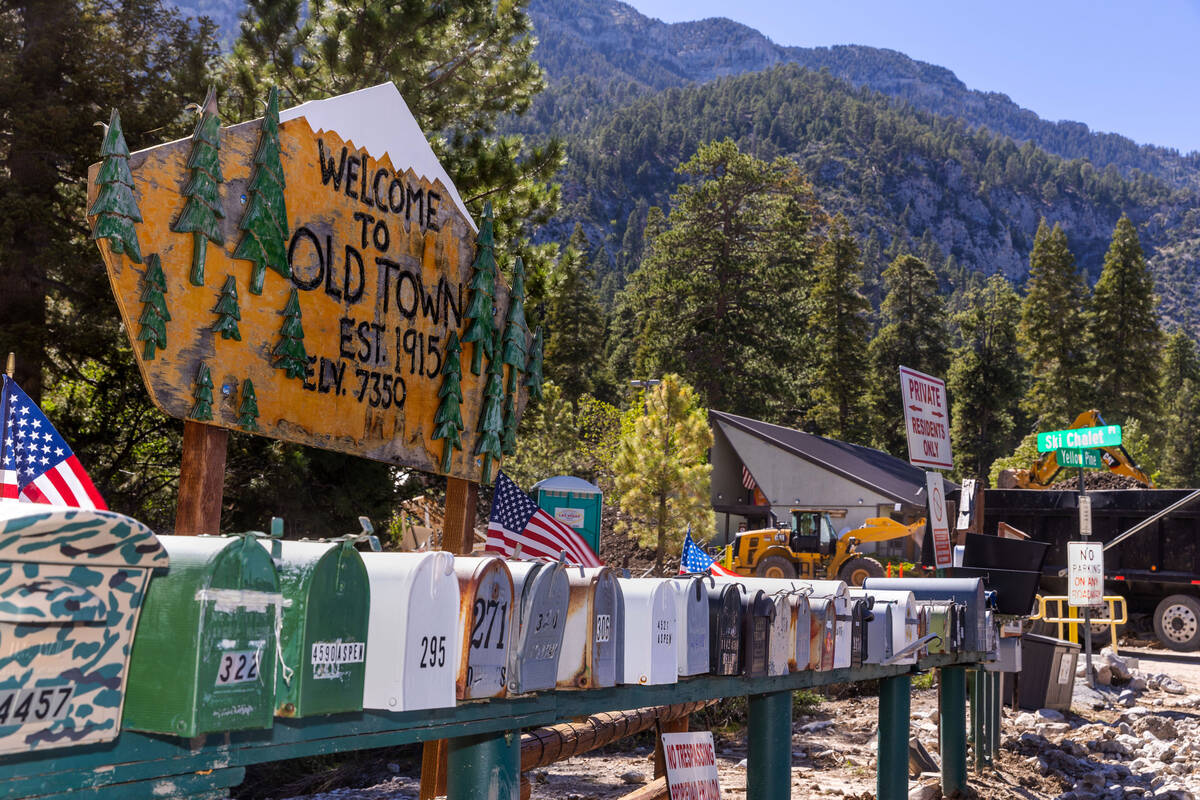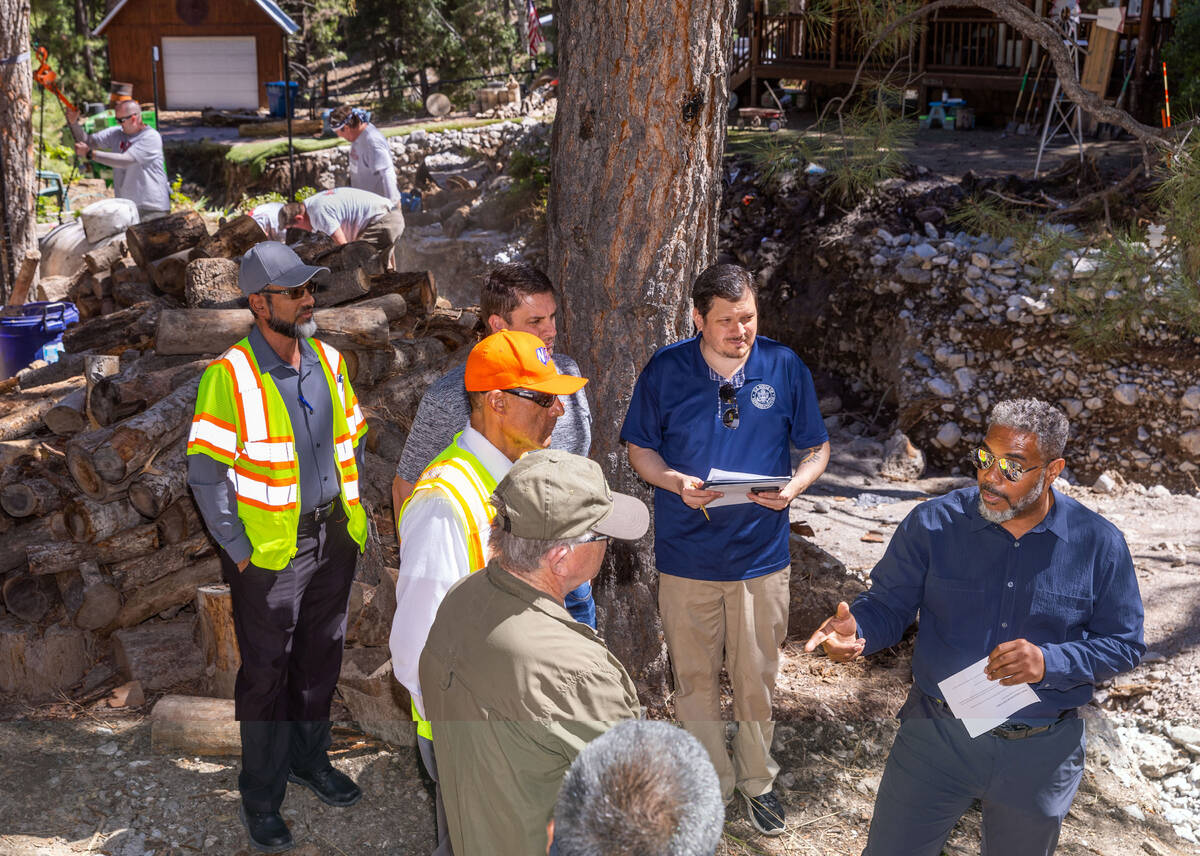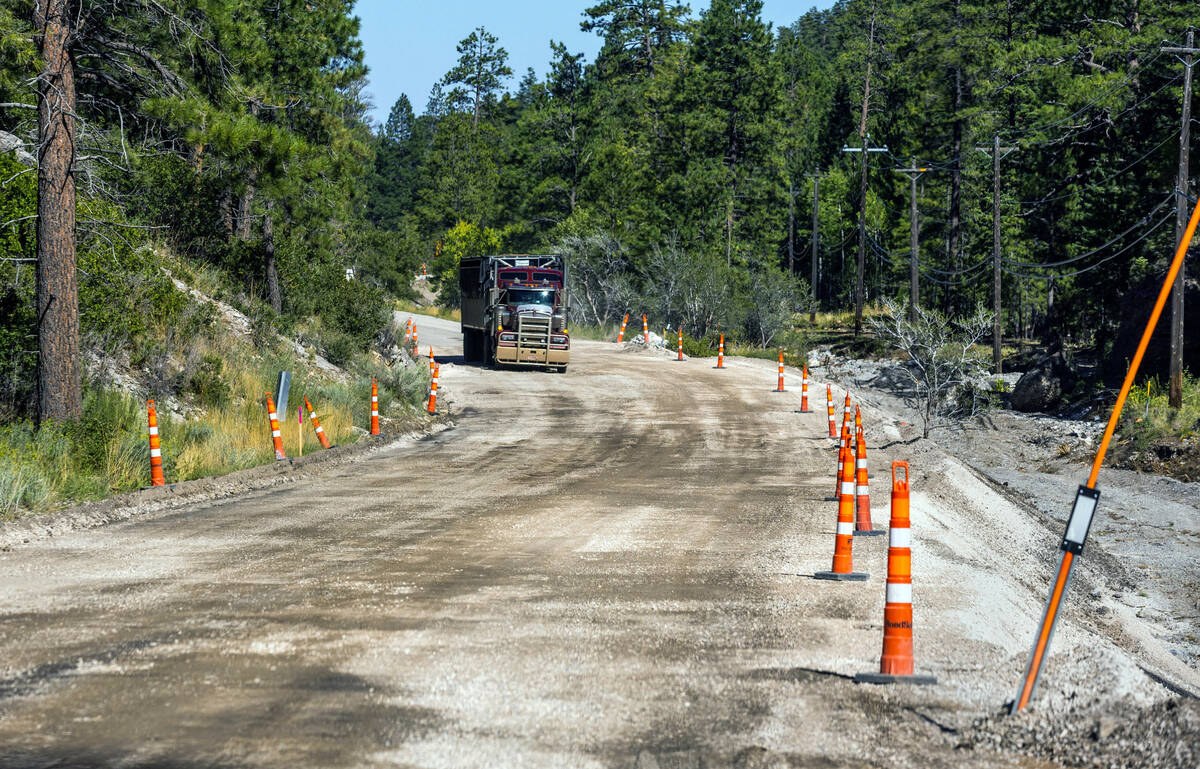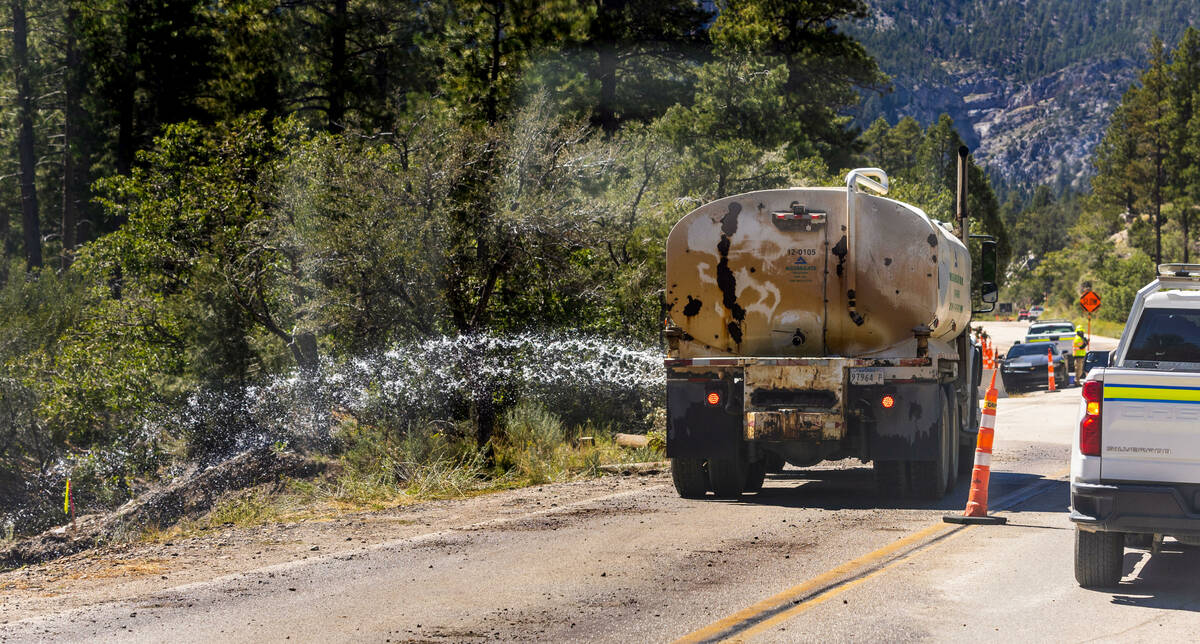 Tia Koester remodeled her fixer upper on Mount Charleston in 2014. But after storms brought on by Tropical Storm Hilary flooded her house last month, she's going to have to do it again.
"I gutted it all the way down to the bones, so I know exactly its entire infrastructure," said Koester, who spent hours on Aug. 21 pushing the mud out of her house, with the creek in her backyard turned into a river. "This time around I'll even get a better idea of how to make it great."
Two weeks ago, the storm ravaged the small town of about 150 residents, bringing eight inches of rain and three feet of flood waters. Large chunks of asphalt washed away, trees were knocked down and the water lines were damaged, leaving some residents without water.
Now the cleanup process is underway, with officials racing against the clock to repair areas before winter hits the popular recreation area.
Rep. Steven Horsford, D-Nev., toured the damage Wednesday alongside Clark County Commissioner Ross Miller and other officials who are part of the rebuilding process.
Horsford said it is fortunate that no one was killed and there were no serious injuries.
"While there is damage to homes, and to utilities and water systems and a lot of the roads — some of which are privately owned — those all can be repaired, but lives cannot," he said.
Road to repair
Officials hope the five miles of damaged roads will be fixed by early October.
Mario Gomez, a district engineer with Nevada Department of Transportation, said Wednesday during a press conference at the mountain community that they are around 40 to 50 percent done with the repairs.
Deer Creek Road — which leads to Angel Peak — and Nevada State Routes 156 and 157 were the most damaged, Gomez said.
Forty-three sections of road were substantially damaged, with the longest stretch of 860 feet completely washed out. Contractors are working 12-hour days, seven days a week to repair them, he said.
"We are still working against the upcoming inclement weather," Gomez said.
Piping in water
The Las Vegas Valley Water District, which operates the Kyle Canyon Water District, is also working to repair the damage to water systems.
There is still no timeline for when water service will be restored to the Old Town neighborhood, which "far and away sustained the most damage," David Johnson, deputy general manager of operations for the water district, told Clark County commissioners Tuesday.
A potable water tank has been set up beside the nearby fire station for residents to use, and some locals have been going to the nearby hotel for showers.
The water district issued an order for all Kyle Canyon customers to boil their water on Aug. 21. That order was lifted on Aug. 26 for Rainbow Canyon where the damage was the least severe, Johnson said. The district lifted the boil order on Sept. 2 for Echo Canyon and Cathedral Rock residents, but Johnson noted that crews were working to restore service to four homes in the Echo Canyon area.
Johnson said the water district is pursuing all available funding to pay for repairs, including insurance, federal and state emergency funding and possible grant funds.
Recreation, school yet to reopen
It is unclear when the mountain getaway will fully reopen.
There are some areas that might not reopen within two years, but hopefully there are other areas that will be open sooner, according to Deb MacNeill, area manager for the Spring Mountains National Recreation Area for the U.S. Forest Service.
They are still in the emergency stabilization phase, MacNeill said. Her priority is to facilitate the reopening of the highways. Then, officials can begin to assess the damage to the forest and trails.
Once the water district finishes repiping, the park rangers will start moving to the trails in Kyle Canyon to assess the damage, she said.
The 12 students who attend Lundy Elementary School on the mountain are also currently attending classes at Indian Springs Schools, roughly 45 minutes away, while Lundy undergoes repairs.
Avoiding a repeat
As they rebuild, officials want to make changes to the infrastructure to ensure a similar event does not recur.
The Army Corps of Engineers is leading an assessment, and in a couple of weeks will have a report that gives guidelines to prevent future issues, Mount Charleston Fire Chief Jorge Gonzalez said Wednesday.
Horsford said he will advocate and support an emergency declaration for Mount Charleston so it can receive additional funding and disaster relief. He will work with Clark County leaders to explore what resources are available and what additional requests need to be made.
For Koester, the storm reminded her how communities can help each other during a disaster, and how powerful nature can be.
"I think people get trapped up here," Koester said. "They come and I think they really underestimate Mount Charleston. … It only takes a minute. Be careful when you come up here. Be prepared. And never take anything for granted."
Contact Jessica Hill at jehill@reviewjournal.com. Follow @jess_hillyeah on X. Review-Journal staff writer Colton Lochhead contributed to this report.
RELATED
These recent disasters have scarred Las Vegas-area mountains — PHOTOS
'Ice is a big need right now': Mount Charleston residents cope with damage
'It was pretty wild': Mount Charleston feels Hilary's wrath; valley spared