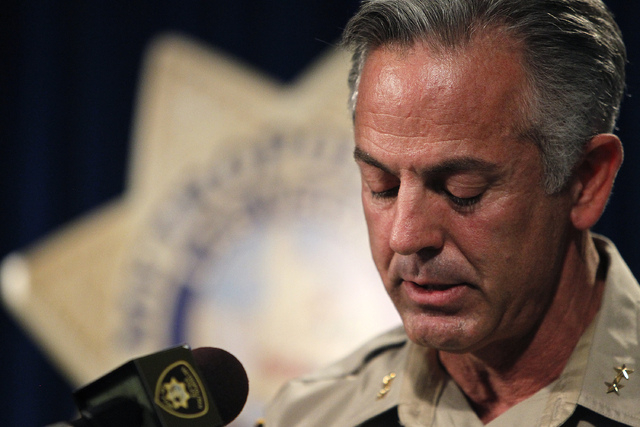 Las Vegas police officers often felt isolated because of their unreliable radio system, infamous for dead zones and dropped calls. But those days are over.
Metro patrol officers are doubling up after the controversial radio system failed last week, leaving an officer on his own during the worst possible time — a police shooting.
Officers will remain paired until the failed "Desert Sky" system is replaced by a new system, possibly just a few months from now, Clark County Sheriff Doug Gillespie said Thursday.
Several incidents led to Metro's decision, but the policy was implemented on Tuesday, shortly after officer Ryan McNabb had problems communicating with colleagues during a police chase and shootout on June 26.
McNabb was responding to a suspicious vehicle call on Lake Mead Boulevard and Walnut Road when he noticed a car with its high beams on.
The officer tried to pull the car over, but the driver, Joshua Bacharach, sped away. Bacharach fired multiple shots at McNabb's car before he crashed at Carey Avenue and Lamb Road.
Although McNabb tried to alert officers about the shooting, none of his radio transmissions were heard, Gillespie said.
"You have responding units arriving on an officer-involved shooting where gunfire has been exchanged with a suspect, and they don't know that," he said.
Enough was enough, the sheriff said.
"This isn't the first time we've done this (doubled up) because of some of the radio problems," Gillespie said. "But I'm not standing down until the new system is up."
Metro unveiled its $42 million "Desert Sky" digital radio system in 2010, but decided to dump Harris Corp.'s clunky system because its many transmission problems raised concerns about officer safety.
The department hired Motorola to replace Harris for $26 million, and the new system was supposed to be running by January.
Gillespie said Motorola is "speeding up" the installation, but the new system won't be ready for field testing until at least August. He said he'll know more about Motorola's timeline on Monday.
Assistant Sheriff Joe Lombardo said fewer patrol cars will be on the street, although the same number of officers will be working during the department's three shifts.
Lombardo said the change won't affect officer response times, although Gillespie noted that officers "will be stretched thin."
Although Metro's radios didn't work in the McNabb shooting, some of the agency's other technological achievements were on display.
McNabb was wearing one of the agency's new body cameras during the shooting, Gillespie said, and the camera captured the officer's frustration with the radios.
The officer fired at Bacharach after the crash. McNabb didn't hit him, but Bacharach later was found hiding in a backyard and taken into custody with the help of a police dog.
Bacharach later was treated for dog bites and arrested on four charges, including attempted murder. His preliminary hearing was set for July 17.
It's unclear when the video might be released to the public, as the shooting is under criminal and internal review, but Gillespie said the video could be used as evidence in the agency's ongoing lawsuit against Harris to recoup some of the wasted $42 million.
"I think we have a great case," Gillespie said. "I think we've been more than patient with (Harris). And in my opinion, for Harris at this point in time to challenge us in litigation? OK. We'll go make our case."
It wasn't just McNabb's shooting that prompted the new policy, Gillespie said.
Officers working in the agency's Southeast Area Command last week lost all radio communication for about 35 minutes, he said.
"We've got eight area commands, and one of the radio systems goes down," the sheriff said. "It's not acceptable."
Contact reporter Mike Blasky at mblasky@reviewjournal.com. Find him on Twitter: @blasky
Contact reporter Francis McCabe at fmccabe@reviewjournal.com or 702-224-5512. Find him on Twitter: @fjmccabe