Raiders license plate design circulating on social media not final
Updated May 18, 2018 - 4:27 pm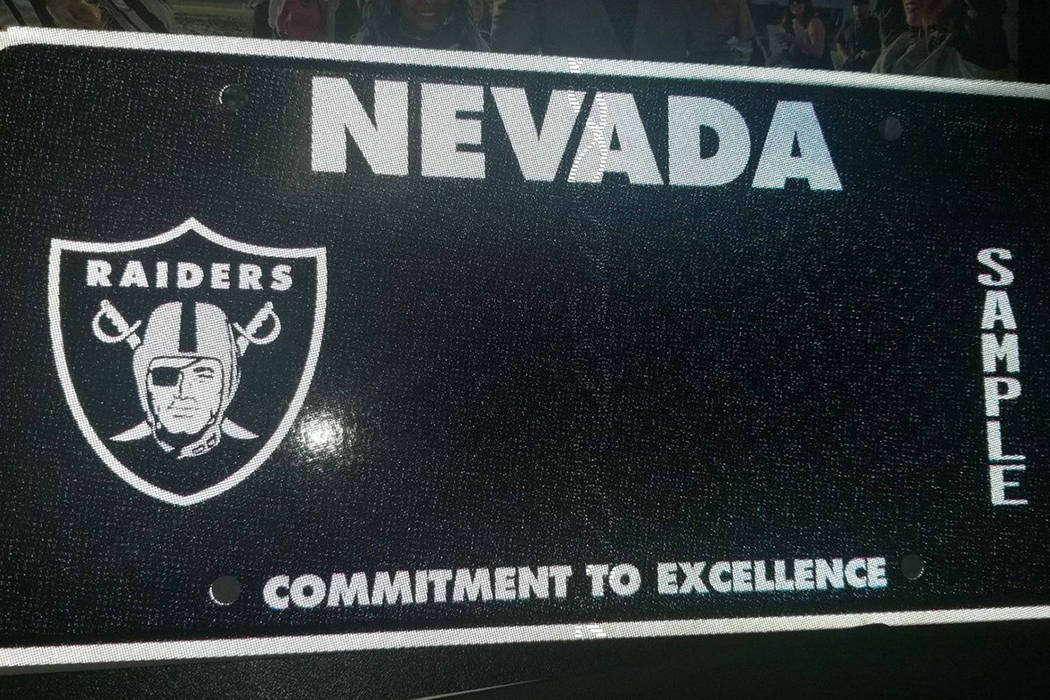 Images of specialty license plates bearing the Raiders' logo are emerging online, but motorists who are fans of the NFL team shouldn't get too excited.
The photos circulated on social media are only mock-ups presented earlier this month to the state Legislature's Commission on Special License Plates that were recommended for approval, Kevin Malone, a spokesman for the Department of Motor Vehicles, said Thursday.
"This is definitely not the final design," Malone said. "There are still many steps to be taken before the plate can be issued."
Although a firm date has not been set, Malone said the DMV intends to start selling the specialized plates "well before" the Raiders kick off their first season in Las Vegas in 2020.
In the meantime, Malone said that DMV and team officials are still working on designs for the plates, which must undergo field testing by the Nevada Highway Patrol.
Raiders insignia, logos and messages may take up roughly one-third of the specialty plates, leaving enough room for "Nevada" at the top and the license number.
State lawmakers signed off on a plan to permit the specialized Raiders plates during the most recent legislative session.
An initial issuance would cost motorists $62, with $25 going to the Raiders Foundation, a charity "committed to increasing community and civic health through military support and youth development," Christopher Mallory, executive director of the Raiders Foundation, wrote in an application to the DMV.
It would cost $30 to renew the plates annually, with $20 going to the football team's charity.
The Raiders Foundation distributed more than $400,000 in contributions, gifts and grants and also served about 1,400 meals to youths and veterans in 2017, Mallory said.
The Golden Knights are also working with the DMV on a specialty plate that will not be attached to a charity.
Contact Art Marroquin at amarroquin@reviewjournal.com or 702-383-0336. Follow @AMarroquin_LV on Twitter.