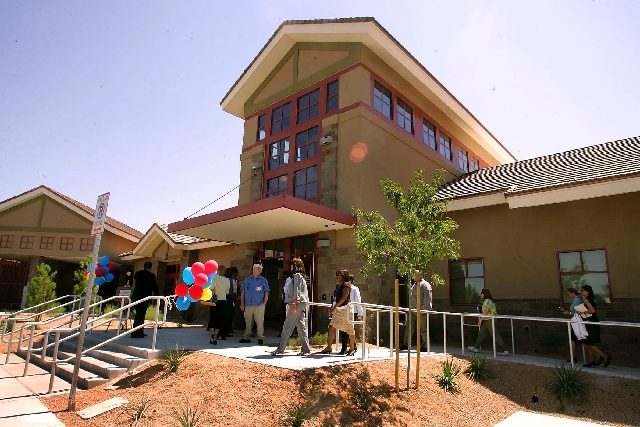 The Rawson-Neal Psychiatric Hospital is making positive strides toward keeping its federal funding.
The federal Centers for Medicare and Medicaid Services announced Friday it has approved a plan of correction submitted May 6 by the Southern Nevada Adult Mental Health Services, which oversees the Las Vegas hospital.
However, the mental health facility still faces the risk of losing millions of dollars in federal funds in the wake of an unannounced inspection by federal officials and also could face penalties in a separate federal investigation.
Rawson-Neal received $3.2 million in Medicare funding in 2011-12.
The plan of correction was submitted after the hospital was found to be out of compliance with two of 23 conditions that hospitals are required to meet to participate in Medicare. At the end of April, the federal centers gave the state 10 days to correct "serious deficiencies" in its mental health discharge policies or face a loss of federal funding.
Dr. Tracey Green, Nevada's health officer, said officials "feel excited and optimistic" about the plan's approval.
"We've been implementing (changes) since we first had a complaint filed," she said. "We are just improving on processes that were either in place or were not in place and needed to be implemented."
Rawson-Neal came under scrutiny after James F. Brown, who had been discharged from the hospital, was bused in February to Sacramento, Calif., where he had no family or support waiting for him.
Now that the plan of correction has been approved by the federal agency, the next step will be for it to conduct an announced full validation survey of the hospital, said Rufus Arther, survey and certification branch manager for the western division.
During the visit, inspectors will look for violations of all 23 Medicare Conditions of Participation, which are federal rules to help protect the health and safety of patients.
Problems with "discharge planning" and the "governing body" put Rawson-Neal out of compliance with two conditions.
Full validation surveys are typically conducted within 90 days after a health care facility has received a letter outlining deficiencies found during a prior survey, Arther said. The Centers for Medicare and Medicaid Services sent such letter to Rawson-Neal administrators on April 25.
The plan of correction had to meet four different criteria for it to be accepted, Arther said.
The hospital could still risk losing federal funding if problems are found by visiting CMS officials. The hospital needs to be in compliance with of all 23 conditions to maintain its federal funding.
"The hospital's not out of the woods yet," said Jack Cheevers, spokesman for the federal agency.
Federal officials also are conducting a separate survey of Rawson-Neal to see if it's meeting requirements of the Emergency Medical Treatment and Active Labor Act, which has its own set of conditions for hospitals that offer emergency services, Arther said. That will follow a similar process, he said. If there are deficiencies, the hospital will be asked to submit a plan of correction.
If problems persist, there's "certainly the potential that there could be some monetary penalties," he explained.
The Office of Inspector General under the U.S. Department of Health and Human Services would be the agency to issue the penalties, Arther said.
Monetary penalties for hospitals from 2008 to 2013 range from $20,000 to $180,000, according to settlements under the patient dumping status posted on the Office of Inspector General's website.
Contact reporter Yesenia Amaro at yamaro@reviewjournal.com or 702-383-0440.