Rawson-Neal Psychiatric Hospital retains accreditation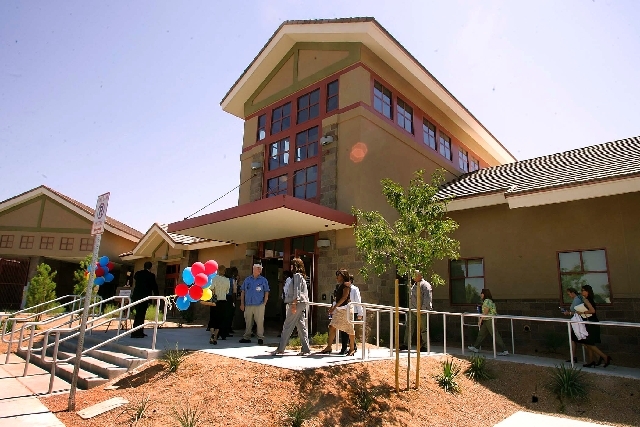 Rawson-Neal Psychiatric Hospital in Las Vegas will remain accredited after months of being in the national spotlight for allegations of patient dumping.
The Joint Commission, an independent organization that accredits hospitals, determined this week that Southern Nevada Adult Mental Health Services, the agency that oversees the hospital, will receive renewed accreditation, state officials said late Wednesday.
"We are very excited," Dr. Tracey Green, the state's chief medical officer, said. "It means that we are moving in the right direction."
The agency that oversees the hospital was up for its regular accreditation review. The independent organization recently looked at the agency's hospital and behavioral health care program as part of the review, conducted in the midst of allegations of patient dumping across state lines.
Rawson-Neal came under scrutiny after James F. Brown, who had been discharged from the hospital, was bused in February to Sacramento, Calif., where he had no family or support waiting for him.
The Joint Commission conducts full hospital accreditation surveys once every three years, according to state officials. Last time officials from the independent organization were at Rawson-Neal for accreditation reasons was in June 2010.
Within the next 45 days, the Joint Commission will conduct a follow-up, unannounced inspection to ensure the hospital is complying with its plans to improve medical staff oversight and staff documentation, state officials said.
"Any time they come out to investigate … if they found anything very serious, you are always at risk (of losing the accreditation), but we are moving in a direction of improvement of all areas," Green said of the next inspection.
Southern Nevada Adult Mental Health Services on Wednesday also received notification by the Joint Commission on the renewal of accreditation for its laboratory services, state officials said. The next lab inspection will take place in 2015.
Officials at the Joint Commission on Wednesday didn't return several calls and email seeking comment.
Green said if the agency had not received the renewed accreditation, it wouldn't be able to bill Medicare and Medicaid and it wouldn't be able to receive any other federal funding.
In a statement, she said, "Hospital staff has made tremendous improvements in the two areas primarily identified in recent surveys – medical staff oversight and improved documentation related to discharge planning.
"The necessary changes to documentation processes are already in place including rearranging and streamlining how the patient file is organized."
Additional changes related to discharge planning meetings and communication involving all staff also have been implemented, Green said.
Contact Yesenia Amaro at yamaro@reviewjournal.com or 702-383-0440.
• View the hospital accreditation from The Joint Commission