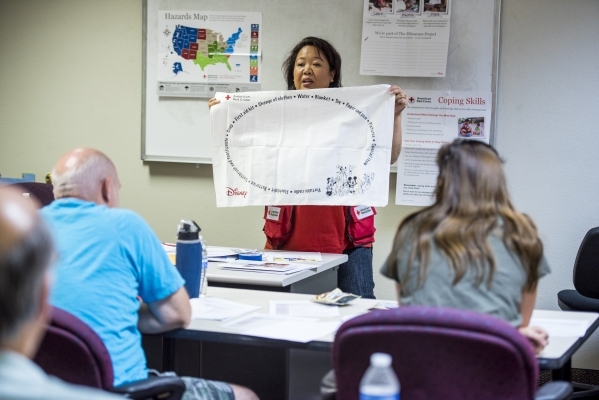 Red Cross trains future volunteer instructors for the Pillowcase Project, which aims to prepare children for emergencies and natural disasters.
Henderson resident Brittany Norris has six months until she leaves for the Dominican Republic to serve in the Peace Corps.
Before she goes, she has decided to soak up as much knowledge as possible.
On Saturday morning, she and three others attended a Red Cross training class for future volunteer instructors for the Pillowcase Project, which aims to prepare children for emergencies and natural disasters.
"It's important for kids to know how to respond in emergencies," Norris said. "Of all the projects the Red Cross has, this one was the most personal for me because I want to inform as many kids as possible."
She said knowing how to respond during an emergency is crucial.
"For their own safety, kids can learn things that will save their lives," she said.
The Pillowcase Project began 10 years ago after Hurricane Katrina wreaked havoc in the southeastern United States.
"During Hurricane Katrina, when college students evacuated, they put their stuff in a pillowcase," said Lynn Rivera, a preparedness and response specialist for the Red Cross who taught the class at the group's regional headquarters, 1771 E. Flamingo Road.
"This program, which was developed with kids in mind, lets them learn about emergencies, how to prepare for them, practice and share what they learn with the people at home."
Rivera added that the Pillowcase Project is often presented to third-, fourth- and fifth-graders at schools across the Las Vegas Valley and at community centers and Girl Scout troops.
She said the biggest emergency in Southern Nevada and across the United States is house fires.
"We respond to a house fire in Las Vegas every 18 to 19 hours, and in the last three months we've responded to a lot of apartment complex fires," she said. "It's a lot for kids to deal with, and though we can't lessen the stress and trauma of any disaster, if they can feel more prepared and cope with it properly, then we've done our job."
Each child who participates in the Pillowcase Project receives a pillowcase with Disney characters and a list of what they should put inside.
Items such as flashlights, extra batteries, soap, shampoo, water and other necessities are encouraged.
Rivera said children are told to draw a map of where they live and the best routes to escape during an emergency.
"This program helps kids from panicking, so they're able to take the lead within their family and talk about what the plan is," she said. "It's important to identify the different ways to get out, have a meeting place and talk about it so they're more prepared and less anxious about what to do."
Mike Wensel, a volunteer for the city of Henderson's Get Ready Stay Ready emergency preparedness program, attended the class to learn more about how to get children and their families involved in emergency planning.
"We go to local schools, after-school programs, senior centers and senior apartments to explain the importance of being prepared and having an emergency kit," he said of the Henderson program. "It's important to have a plan and know what to do."
Rivera said she hopes the Pillowcase Project, which has been in Clark County since May 2014, continues to expand.
"I hope we're able to bring it to all the kids in the community because it's really that important," she said.
For more information about the Pillowcase Project, visit www.redcross.org or call 702-791-3311. To obtain a free smoke alarm or receive help making a fire escape plan, call 702-697-1707.
Contact Ann Friedman at afriedman@reviewjournal.com or 702-380-4588. Find her on Twitter: @AnnFriedmanRJ
TIPS FOR HANDLING EMERGENCIES
— Make a family plan of what to do during an emergency and practice it to ensure that everyone gets out of the home within 2 minutes.
— Make sure your home has smoke detectors and that you test them once a month.
— Put together an emergency kit complete with a toothbrush, toothpaste, shampoo, soap, etc. If you've got a pet, make sure you have supplies for them, too.
— Parents need to include their children in planning for emergencies. If they're part of the plan, they'll be more likely to get out safely.
SOURCE: Lynn Rivera, Red Cross preparedness and response specialist